Local
Here's why a Vermont man put up a giant, illuminated middle finger sculpture on his front lawn
"If you don't want to look at the building, look at this."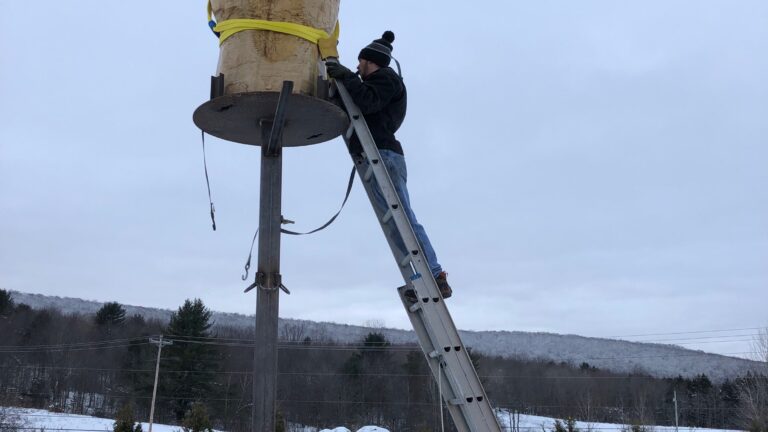 For drivers traveling on northwestern Vermont's Route 128 through Westford, it'd be hard not to notice a rather outsized, impolite gesture.
But don't worry, Ted Pelkey says the 700-pound wooden middle finger sculpture on his front lawn isn't for them. Rather, Pelkey says the sculpture — which sits on top of a 16-foot pole — is the product of an "uphill battle" more than 10 years in the making with local town officials over a garage he wants to build on his property.
"I'm not trying to cause hate and animosity to the people who live in that town, because there's very good people in that town," the 54-year-old Westford native says of his fellow residents in the 2,000-person town. "All the people are very good people."
With the exception, Pelkey says, of the Westford Selectboard, Development Review Board, and other town leaders, who have blocked his efforts to get a permit to build the 8,000-square-foot garage, so he could move his truck repair and monofilament recycling businesses in nearby Swanton to his own property.
Officials say Pelkey's applications have fallen short of the town's standards, but he thinks they're biased against him. And as the ongoing dispute continued into this fall, Pelkey decided to make his feelings toward the town's board members more public.
"I was sitting at a bar and said to my wife, 'Hey, I want to get a statue made of a middle finger, and I'm going to put it up on the lawn,'" he told Boston.com in an interview.
All in all, Pelkey says commissioning the massive sculpture and mounting it on the platform in his yard, which was done on Nov. 30, cost around $4,000. The display even includes two floodlights, so that it can be viewed at all hours.
"If you don't want to look at the building, look at this," he said.
And the thing is, the town really doesn't have a choice.
Why can't officials do anything about the sculpture?
Pelkey says he originally expected that he would be forced to take it down.
Vermont is one of the few states in the country with a ban on billboards, otherwise defined as "off-premise advertising signs." And while Pelkey is clearly advertising his fury with local officials, his giant middle finger sculpture isn't technically a sign for his business, according to the Vermont Agency of Transportation.
"Although the structure is visible from a state highway, it is outside of the State Right of Way and not within our jurisdiction," Jacqui DeMen, a spokeswoman for the agency, told Boston.com in an email. "The structure does not meet the statutory definition of 'sign' and thus can't be regulated under the Vermont Billboard Law."
DeMent did additionally note that Vermont's billboard law does allow municipalities to adopt local ordinances that are stricter than the state law. However, Westford officials reportedly looked into the town's zoning regulations and came to the same conclusion as the state.
"He apparently can do what he's done," Allison Hope, chair of the Westford Selectboard, told the Burlington Free Press.
Instead, Pelkey's giant wooden middle finger falls under the category of public art (on a related note, the age-old gesture is generally considered a constitutionally protected expression of free speech).
"The Pelkeys can do what they like to exercise their free speech within the laws and regulations," Hope said.
Pelkey said that finding out that the sculpture was considered "public art" was the "most wonderful thing I've ever been told in my life."
What led to this point?
Pelkey has been trying to build the garage for more than 10 years. He says he has no plan to expand his businesses — neither the four-person filament company nor the repair shop he runs with his son — but would like them to be closer to home. Not only would it save him the several thousands of dollars a month in rent for his current Swanton space and perhaps provide some additional capacity, but it would also be more convenient if he didn't have to drive 25 miles back and forth each day.
"You can get out of bed in the morning, take your coffee, walk across the driveway, and go to work," he said. "What would you want to do?"
Pelkey admits that, when he first went to the DRB, his application wasn't the most detailed, but he says he later hired an engineer and a lawyer to put together what he thought was a pretty comprehensive proposal.
However, his efforts have still repeatedly failed to get town approval — most recently with the DRB's denial of a building permit last fall. According to a notice of the decision obtained by the Free Press, the application reviewed by the town lacked information about the structure's use and security lighting. Pelkey is appealing the decision.
According to Pelkey, his application for the garage received above the requisite number of points needed under Westford's form-based code during preliminary meetings, so he was puzzled when the ultimate decision came back saying it was lacking. He sees different reasons for the denial: a bias against him among town officials, which he attributes to a personal grudge with at least one DRB member, as well as residual small-town animosity with other officials.
"I've been put through the wringer by these people, and it's just not right," he said. "I haven't been treated fairly at all."
Hope says she was aware that Pelkey and DRB Chair Matt Wamsganz shared a fraught personal history — which Pelkey declined to elaborate on, but said dates back to a former job. According to the meeting minutes of the DRB hearing last fall, Pelkey's lawyer, Brian Monaghan, asked for Wamsganz's recusal before the meeting began. But Wamsganz said he believed he could still be impartial.
"We're all professional adults in this realm who are volunteering our time and energy for the benefit of town residents (we would hope)," Hope told Boston.com in an email. "Even if one person on the DRB has had somewhat less than stellar interactions with a member of the public, it doesn't mean they can't deal with any applications that have to do with that person in an appropriate manner."
Hope and the two other Selectboard members all joined the volunteer panel within the last two years. She says they've tried to treat Pelkey's application as they would for any other resident, even if her understanding is that he has dealt with town employees and volunteer boards with "animosity and threatening language" in the past.
"From my own personal perspective and what I've seen/heard/read, the town staff and boards have been professional and appropriate toward the Pelkeys, almost to a fault," she said. "That behavior is not always reciprocated, but we continue to make decisions in a professional and equitable manner nonetheless."
Pelkey, of course, says he is the one being wronged. His team met with Hope and other town officials for a mediation session several months ago to see if they could come to an agreement, but he still hasn't heard back from the town on their decision. Frustrated by the perceived delay, Pelkey said he made the decision in October to put up the middle finger sculpture.
"The town of Westford has played with me for 10 years, and we all know that was 10 years of my prime existence, when I was hustling more than I'm hustling today," he said. "I'm just sick of it."
What happens next?
According to Hope, Pelkey's appeal is set to have a possible court hearing in January. She says the escalation in animosity hasn't made the process work "any more (or less) efficiently … but they sure can make the process more challenging for all involved."
Pelkey has no plans to take down the sculpture, which he hopes has "shed some light" on the dispute — both figuratively and literally.
"I want it lit up, so you can see it day and night," he said, referring to the floodlights. "It's getting dark early nowadays, right? Four o'clock, it's dark. People want to see it."
Before the sculpture, Pelkey says the vast majority of local residents were probably unaware of his efforts to move his businesses. But by 7 a.m. when he left for work Friday, he said 10 people had pulled off the road to check it out. Drivers interviewed by local TV stations were largely un-offended — if not amused — by the sculpture, though one told WCAX that it wasn't exactly spreading love.
"It was critical to me to make sure that my neighbors and the people who live in this town understood that I didn't put that up there for them," Pelkey said. "It is aimed directly at the people who sit in our town office."
Except for the town clerk, Nanette Rodgers, who Pelkey quickly clarified was, in his opinion, "a great person."
"But the rest of them — the Selectboard, the DRB, the zoning administrator, town planner — they deserve it," he said. "I'm hoping that maybe some good comes out of it. Maybe."