Local News
What you need to know about the opening of the third recreational marijuana dispensary in Massachusetts
The Salem shop will begin recreational sales Saturday. But you'll need an appointment.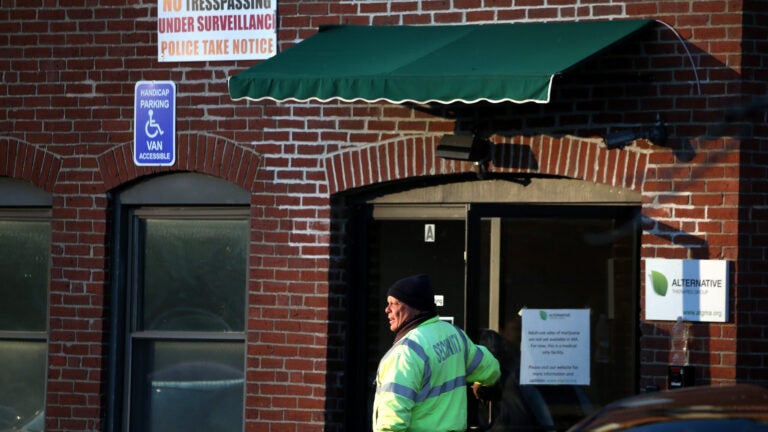 Eastern Massachusetts is getting its first recreational marijuana dispensary this weekend. But things are going to run a little bit differently than they did at the state's first two pot shops.
After getting official authorization Tuesday afternoon from the Cannabis Control Commission to commence operations, Alternative Therapies Group, or ATG, announced that their Salem dispensary will begin recreational sales this Saturday at 9 a.m.
The catch, however, is that customers will need to make an appointment to get in the door.
The 50 Grove St. store, which became the Bay State's first medical marijuana dispensary in 2015, is the third establishment to open up sales to all customers over the age of 21, after Massachusetts residents voted to legalize marijuana in 2016. Just 15 miles from Boston, ATG will be the first recreational dispensary to open in the state's more populous eastern region.
The state's first two recreational marijuana dispensaries were hit with hours-long lines and snarled traffic upon opening last month, so — especially given ATG's location in a densely populated area — officials are hoping to mitigate any such issues before they arise in Salem.
How will the appointment system work?
Chris Edwards, the executive director of ATG, says the company has worked out an agreement with city and state officials to — at least initially — require appointments for all recreational customers. Edwards told Boston.com that they will initially have 80 appointment slots an hour, but could easily ratchet that up if they find they have more capacity.
Customers will be able to make their reservations on ATG's website. Appointments appear to be available every 15 minutes from 9 a.m. to 6:45 p.m.
Medical patients will still be allowed to visit the facility without an appointment.
"We're making a concerted effort not to interfere with how our patients are using our facility now," Edwards said over the phone Tuesday evening.
Edwards said that ATG fully intends to allow recreational customers to also visit on a walk-in basis once supply and demand in the region stabilize. However, he  was unwilling to put any timetables on when that might be.
"As soon as that becomes feasible, we'll do it," he said.
Edwards says they're trying to learn lessons from the rollouts in Leicester and Northampton, especially given ATG's proximity to Boston and the fact that their downtown location has limited entry points.
"As long as people heed [the appointment system], we expect to have a pretty manageable flow of people," he said.
Salem officials emphasized Tuesday that customers without a reservation will be turned away and not allowed into ATG.
How do I get there?
ATG says its on-site parking lot will only be available to registered medical patients and recreational customers with handicap plates.
Otherwise, both store and city officials are urging customers not to drive to the Grove Street store.
In a press release Tuesday, Salem Mayor Kim Driscoll's office said the city has imposed temporary resident-only parking zones in the neighborhoods closest to ATG and will also be increasing parking and traffic enforcement in the area "for the foreseeable future."
Instead, officials are asking customers to take the MBTA commuter rail to the city; the Salem Commuter Rail Station is roughly a 30-minute ride from Boston's North Station on the Newburyport/Rockport Line.
From there, ATG is running a free shuttle bus, looping between the commuter rail station's "kiss and ride" zone, the nearby Universal Steel lot at 297 Bridge St., and ATG's Grove Street shop, which is about a mile away. The two 28-passenger shuttles will run between the three locations seven days a week from 8:45 a.m. to 7:15 p.m. Only those with confirmation of a valid reservation and a photo ID will be allowed on the bus, according to city officials.
For those without commuter rail access or who are otherwise forced to drive, there are still options for parking.
ATG has designated a stretch, just down the street from their store, on the south side of Harmony Grove Road for customers to park, as well as the 297 Bridge St. lot, which will be served by the shuttle.
ATG is also advising local customers to consider walking or biking.
"We've already sent out parking passes to residents neighboring the site," Driscoll told the Salem News. "We think even with the reservation systems, there will be long delays in trains and traffic."
Salem officials are encouraging residents to call police to report illegally parked vehicles, trespassing, or "any other nuisance behavior."
What can I buy?
According to its online menu, the medical dispensary currently sells 10 different strains of flower (priced at $47 for an eighth of an ounce, not including tax), as well as pre-rolled joints, infused chocolates, tinctures, capsules, topicals, and vaporizer concentrates.
However, Edwards says they aren't yet able to sell edibles to recreational customers, due to the state's potency limits for non-medical users. When ATG opens, recreational customers will be able to buy flower, pre-rolls, and some of the concentrates, according to Edwards, who said the company is working to differentiate medical-only products on its online menu.
There will also be initial limits on the quantity that customers can buy.
While state law allows customers to buy up to one ounce of marijuana for non-medicinal use, the Salem shop says it will be limiting purchases to up to one-quarter ounce of flower "until further notice."
ATG will also only be accepting cash for transactions, as most banks are still wary about getting into the industry due to the federal prohibition on marijuana. The Salem dispensary says it does have an ATM at the shop.
Anything else?
As with all other recreational dispensaries in the state, customers will have to show a valid photo ID proving their at least 21 years old before they're allowed inside ATG.
The dispensary is also reminding customers that public consumption is strictly prohibited and that individuals cannot possess more than one once of marijuana in public (you can have up to 10 ounces at home).
Salem officials say they are approaching ATG's opening as they would any other large-scale event. After all, they do have plenty of experience.
"It's exciting. It's historic. It's been a long time coming," Edwards said Tuesday. "We're just hoping that people are respectful and that this is a positive rollout."