Local
Daughter of murdered Sandy Hook principal remembers day of school shooting six years later
"I still do not believe that there is 'healing' from a trauma like this. You just learn to survive. For six years, I have survived."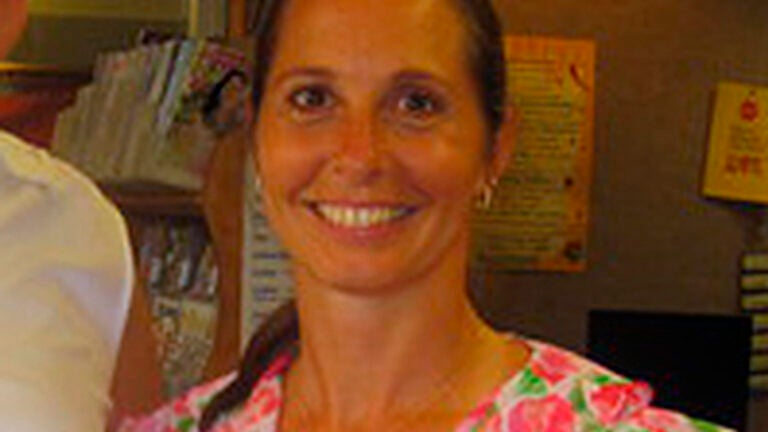 In the last hours of her life, Sandy Hook Principal Dawn Hochsprung went into work happy. She played some jokes on a colleague, helped someone get a coffee stain out of a sweater, and returned a scarf she'd borrowed to wear to an event the night before.
Then the shooting began that would leave Hochsprung and 25 others, including 20 children, inside the Connecticut elementary school dead on Dec. 14, 2012.
"I am grateful to know that she was so happy that morning," Hochsprung's daughter, Erica Lafferty Garbatini, wrote on Twitter Friday.
Her mother ran toward the gunfire, and, on the sixth anniversary of the massacre, Lafferty Garbatini wondered what the 47-year-old mother of two daughters was thinking in her final moments.
"She saw the shooter," she wrote. "She turned briefly to warn the others. 'SHOOTER, STAY PUT!' I wonder if she knew that those words would be her last. I wonder if she knew she would be killed for walking out of that room. I wonder what she thought in those seconds between being hit and death. Pain? The school? Her children? Mom? Grandchildren?"
Lafferty Garbatini recalled the hours of anguish as she and her sister learned of the shooting, saw it reported on the news that their mother had been shot, and drove to the school.
"We drove there with hope, Mom was just making sure all of the kids are safe," she wrote. "She will call back. Maybe she was just grazed, we will meet her at the hospital. She will recover. I knew, but did not want to admit, that my world was about to come crashing down."
For a while, she remembered, she was able to keep herself in a state of denial. But then it was confirmed — her mother was dead from multiple gunshot wounds.
Lafferty Garbatini went on to describe her mother's funeral — how she and her sister were told an outfit with sleeves was needed to cover the gunshot wounds and the hours they stood as "thousands" came to pay their respects to Hochsprung.
"Six years ago, my mother's life, along with 25 others, were stolen from this world," Lafferty Garbatini wrote. "Six years ago, my life was changed forever. I still do not believe that there is 'healing' from a trauma like this. You just learn to survive. For six years, I have survived."
Read her full Twitter thread below:
Mom ?

— Erica Lafferty Garbatini (@ELaffGarb) December 14, 2018
Six years ago she was getting her last hour of sleep. She would wake up and get ready for work just like it was any other day.

I am grateful to know that she was so happy that morning, playing jokes on her colleague, helping to get a coffee stain out of a sweater

— Erica Lafferty Garbatini (@ELaffGarb) December 14, 2018
Was that gunshots? Holy shit, it was gunshots! She stood from her chair and walked towards the door of the conference room. She saw the shooter. She turned briefly to warn the others. "SHOOTER, STAY PUT!"

— Erica Lafferty Garbatini (@ELaffGarb) December 14, 2018
Did she think there was hope for her survival? It was just after? just before? 10am when I got a breaking news alert on my phone from NBC. "SHOOTING AT SANDY HOOK" I called my sister, she was shopping at Target with two of her children, Charlie, 2 and Alyson, 6 months.

— Erica Lafferty Garbatini (@ELaffGarb) December 14, 2018
The news was on. A woman, a parent maybe, told a reporter that the principal had been shot. Ryan threw the remote at the couch when he heard those words. Tina was in disbelief. I heard a scream. Tina was scrambling to get the batteries back in the remote to rewind the tv

— Erica Lafferty Garbatini (@ELaffGarb) December 14, 2018
I was a mess. Tina, somehow, was holding it together. I was leaving voicemails for teachers that I knew, on the school's answering machine. No response. Tina called our cousin, MaryAnn, she needed to go take care of Aly. She had never drank from a bottle, Ryan would need help.

— Erica Lafferty Garbatini (@ELaffGarb) December 14, 2018
We drove there with hope, Mom was just making sure all of the kids are safe. She will call back. Maybe she was just grazed, we will meet her at the hospital. She will recover. I knew, but did not want to admit, that my world was about to come crashing down. So much more happened.

— Erica Lafferty Garbatini (@ELaffGarb) December 14, 2018
Dawn Lafferty Hochsprung.
Age 47
Cause of Death: Multiple Gunshot Wounds

— Erica Lafferty Garbatini (@ELaffGarb) December 14, 2018
Six years ago, my life was changed forever. I still do not believe that there is "healing" from a trauma like this. You just learn to survive. For six years, I have survived.

— Erica Lafferty Garbatini (@ELaffGarb) December 14, 2018
My sister and I were tasked with picking out what she would be buried in. A beautiful green dress. Sandy Hook Green.

— Erica Lafferty Garbatini (@ELaffGarb) December 14, 2018
We decided that her cute little feet should be comfortable for eternity – she would be buried in her 25+ year old Uggs that her father brought home for her from a trip to Australia.

— Erica Lafferty Garbatini (@ELaffGarb) December 14, 2018
Sleeves were necessary to cover the gunshot wounds that she suffered from. We went back to her closet and selected a black cardigan, I think? Maybe we asked someone else to drop one off. I don't remember.

— Erica Lafferty Garbatini (@ELaffGarb) December 14, 2018
Then I saw the line of people waiting to get in. So many people. I was shuffled through a back door and brought in to see her.

— Erica Lafferty Garbatini (@ELaffGarb) December 14, 2018
Looking back, I am assuming that they were chapped from the many, many hours that she spent in the "temporary morgue" in the Sandy Hook School parking lot.

— Erica Lafferty Garbatini (@ELaffGarb) December 14, 2018
I don't know how long we were standing there – 12? 13? hours. Thousands of people. Most I did not know. 99.8% of those that I did know, I do not remember seeing.

— Erica Lafferty Garbatini (@ELaffGarb) December 14, 2018
https://twitter.com/ELaffGarb/status/1073571673906003968