Local
Former State Police lieutenants face more charges in OT scandal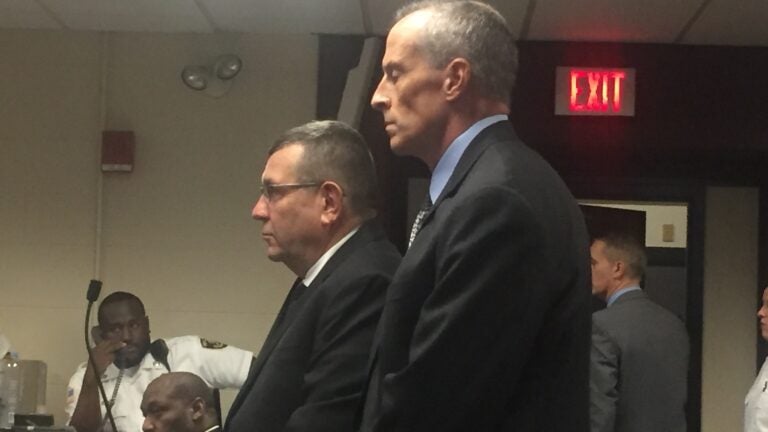 Three former State Police lieutenants were indicted on additional charges Friday in an ongoing state probe into overtime abuse at a now-defunct unit that previously patrolled the Massachusetts Turnpike, according to the attorney general's office.
A Suffolk grand jury returned additional indictments Friday against David Wilson, a 58-year-old Charlton resident; John Giulino, a 68-year-old Lanesborough resident; and David Keefe, a 53-year-old from Norfolk. They are alleged to have stolen thousands of dollars through claiming bogus overtime in 2015, according to the attorney general's office.
Wilson, Giulino, and Keefe were charged Friday with one count each of larceny over $250 by a single scheme, procurement fraud, and public employee standards of conduct violation, prosecutors said.
The attorney general's office previously charged the men in connection with overtime fraud that is alleged to have occurred in 2016. The former State Police commanders are expected to be arraigned on the new charges in Suffolk Superior Court at a later date, authorities said.
Timothy M. Burke, a Needham-based attorney who is representing Giulino and Keefe, said his clients deny the charges.
"This is a flawed investigation; there is nothing that indicates that either of my clients had ever written any so-called ghost tickets,'' he said. "This is based on allegations that they were not present for the full course of the four-hour shift, which we intend to litigate fully.''
Burke added, "Anybody who knows either of these two officers knows them as them as decent and honorable members of the law enforcement community, and we believe the jury would support that.''
A message left with the attorney for Wilson was not immediately returned late Friday afternoon.
A probe uncovered that Wilson, Giulino, and Keefe allegedly submitted claims for overtime shifts they did not work or from which they left early, according to the attorney general's office.
At the time, all three were supervisors in Troop E, which patrolled the Pike. The unit was disbanded earlier this year after the overtime scandal became public.
Prosecutors allege that the offenses occurred during overtime shifts for a program that was intended to increase the presence of troopers on the Pike to curb speeding and aggressive driving.
Wilson was paid more than $270,000 as a shift commander in Troop E's Duty Office in Boston. Of that figure, more than $120,000 was overtime, according to the attorney general's office.
Prosecutors now alleges Wilson submitted fake claims for 116 hours of overtime, meaning he collected at least $11,000 in illegitimate pay.
"Wilson allegedly regularly scheduled his overtime shifts directly before his regular shifts but submitted claims for both shifts so that he was double paid for a number of overlapping hours,'' the statement said.
Giulino, meanwhile, made more than $215,000 in 2015 while he worked as commander of the Westfield barracks. That year, he collected more than $66,000 in overtime.
Prosecutors said he allegedly submitted claims for 180 hours of overtime that he didn't work. That meant he made at least $18,000 worth of bogus overtime, according to authorities.
The attorney general's office said he allegedly did not work those shifts or left early from them and that he tried to conceal such misconduct by submitting fake traffic citations to State Police to "make it appear they had been issued during his overtime shifts, when in fact they were not issued during overtime shifts or never issued at all.''
During 2015, Keefe was the commander of the Weston barracks and made more than $204,000, including more than $61,000 in overtime pay. Keefe is alleged to have submitted claims for payment of at least 50 hours that he did not work, which resulted in at least $5,000 in overpayment, according to the attorney general's office. Keefe "regularly left early from these shifts and at times did not work them at all,'' according to prosecutors.
In addition to the attorney general's office's investigation, the US attorney's office for Massachusetts is also probing bogus State Police overtime.
Ten current and former troopers now face federal and state criminal charges for allegedly falsifying payroll records and submitting phony "ghost'' traffic citations to collect thousands of dollars for work never performed.