Local News
So you want to grow your own marijuana? Here's what to know.
If you want to grow good weed, you'll have to work for it.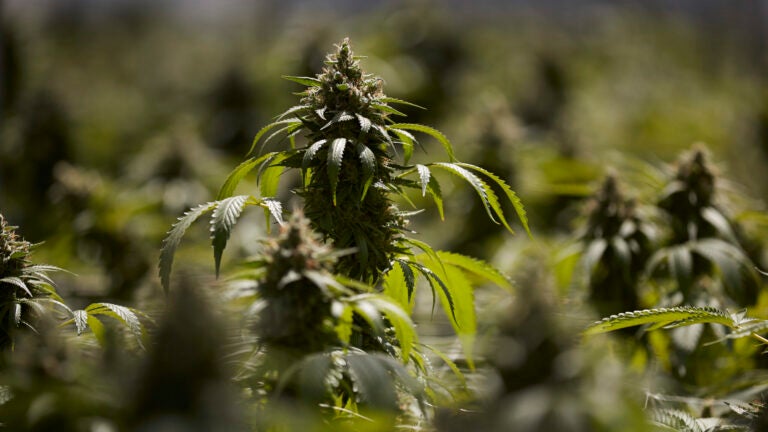 Maybe it's the convenience of having it in the house, or perhaps you like to do things yourself.
Whatever your reasons are, Massachusetts state laws allow you to take things into your own hands when it comes to marijuana — green thumb included.
People over the age of 21 can grow up to six marijuana plants in their homes (with a maximum of 12 plants per household), so long as they are kept in a locked location and out of public view.
If you're thinking about growing your own marijuana, there's plenty to know — where to get seeds, the equipment needed, and, of course, what to keep in mind when tending to your crop.
"There is an up-front cost at first … and it takes time and effort," Jon Napoli, owner of the Boston Gardner in Roxbury, told Boston.com. "If you want the reward at the end, you have to be patient and put in time every day."
Here's a crash course in what growing your own marijuana entails:
How do I get the seeds?
The quickest and perhaps the most direct way to get your hands on some seeds would be to receive them from someone who already has their own grow setup. (Legally, a person can give up to an ounce in seeds, similar to the law surrounding gifting harvested marijuana. You can also have up to 10 ounces of marijuana in your home, although any amount over an ounce must be locked up.)
But if you don't have that option, you may be able to find some elsewhere.
State regulations allow for licensed retailers to sell seeds, but it's not clear at this point in time if dispensaries will have those in stock.
Many people purchase seeds online, although it is important to note that under federal law, both possessing marijuana (seeds included) and mailing it across state lines remains illegal.
Online shopping can also be a bit risky, according to Will Ried, manager of Rootdown Hydroponics Indoor Garden Center in Medford, who cautions that if you're getting seeds from a random seller, you may not be getting your money's worth.
Overall, seed prices vary. A look at a few online sellers showed prices between $20 and $200, depending on the strain and how many seeds you want (how many are in a single pack also varies between retailers).
What are the basics?
Seeds
Traditional cannabis plants are either male or female.
If you purchase regular seeds, each seed therefore has a 50-50 chance of growing into either one. Male plants are helpful if you're looking to produce more seeds, but female plants, which have bigger flowers with higher cannabinoid levels, are the ones you'll want to harvest, according to Matt Reisman, owner of Gardin Hydroponics & Soil in Braintree.
It can make a packet of regular seeds a real challenge — and a real gamble.
For beginners, Reisman recommends growing from feminized seeds — seeds that, in short, are made to not create any male plants, according to the marijuana information website Leafly.com.
Temperature and lighting
Generally speaking, marijuana plants require about 80 degrees during the day and around 50 degrees at night, Reisman said.
Eighteen hours of light is needed for traditional cannabis seeds to grow in the vegetative cycle. To flower, the plants should have an even 12-hour split between red-orange light and darkness, he said.
How long does it take to grow?
The growing process varies in length, but it usually takes at least four-and-a-half months for a small grow, Reisman said.
However, auto-flowering plants — which stem from a different strain, according to Leafly — require only 70 to 75 days to grow and flower and do not need any changes in their lighting period, said Dan Ruta, manager of Gardin Hydroponics & Soil.
The tradeoff for the faster process though is that these small plants produce less to harvest, he said. (Auto-flowering seeds also have feminized versions, Reisman said.)
"You don't want to give them too many changes at once because they're just a very sensitive strain," Ruta said.
How much marijuana can I harvest from one plant?
There's no simple answer, according to Ruta.
Many factors play into what you end up with, including the strain, how long you let the plant vegetate, and what kind of nutrients you use.
"There's a very long list of variables that apply to a yield," Ruta said.
What is certain, however, is that you'll have to re-seed every year, he said. Cannabis is not a perennial plant.
What do I need to have?
Equipment can be costly — depending on what you plan to do.
Ried advises beginners to start small. While the law allows for up to 12 plants in a home (six per person), it doesn't mean you should go for the limit, he said.
"Especially if it's your first time, I would recommend two or three (plants) really at the most, four if you have the room for it, just because they can quickly spiral and it's … a lot easier to handle issues with three plants rather than 12 plants," he said. "So starting small and being able to scale your grow is kind of a good place to start."
For indoors
An indoor setup essentially means replicating outdoor conditions in a controlled environment — one where a quality light is your best friend and most important component.
"The number one thing is if you have a bad light, it's just not going to come out great," Reisman said. 
High-wattage lights can be pretty inexpensive on websites like Amazon, and Reisman cautions potential buyers that the wattage advertised isn't always what you get.
He recommends a ceramic metal halide lamp for beginners — a good quality "high intensity discharge," or HID, light that's very energy efficient and used for growing the plant.
For the flowering stage, a red-orange light is needed, so a high pressure sodium lamp, another kind of HID light, is handy, according to Leafly.
Other lighting options include fluorescent lights — while inexpensive, they are less efficient — and LED lights, which can be costly, the website says.
A small tent — one that's 2-by-4, 3-by-3, or 4-by-4 feet — is also key to both maintaining the right conditions and keeping the marijuana odor from intruding into the rest of your home, according to Ried. Leafly also recommends placing your setup in a spot with easy access to fresh air that's also cool and dry.
A fan is must for air circulation. A carbon filter also helps remove that well-known smell from escaping the tent, Reisman said.
Depending on how much you're willing to splurge, a reverse osmosis system can give you purified water for your plants, although spring water also does the trick if you're a new hobbyist looking to save some cash, according to Reisman, who said simple nutrient programs — versus a multi-bottle nutrient system — can also provide for a good grow for beginners. Ried said growers can go either way on synthetic or organic nutrients regardless if the grow is indoors or outside.
For a more advanced setup, a dehumidifier and an air conditioner can prove useful, depending on the kind of environment you are looking to create, according to Napoli, who said a strain like indica yields a shorter plant more suitable to a small space.
"As far as just like specialty equipment, that really becomes a thing if you're getting into hydroponics. … You can get certain controllers and timers and stuff like that that will regulate a lot of your fans or your filters," Ried said. "There's nothing super specialty I would say you need other than the lighting."
Altogether, a simple indoor rig could set you back a few hundred dollars, the experts say.
For outdoors
A small, outdoor grow doesn't have to be a complex setup, according to Reisman.
But keep in mind that the law requires plants be in a locked area, so that means either installing a greenhouse or putting the plants in a fenced-in area under lock and key, Ruta said. The other legal requirement that plants must be kept out of public view means a tall fence (think at least 6 feet, Ruta said) is also a must have.
Organic nutrients that you can find at most garden stores can make for a good outdoor grow, but, naturally, how well your plants fare in the great outdoors also depends on other factors, Reisman said.
Mother Nature in New England, unlike the warmer weather states like California, does not always provide the best conditions for marijuana growing, experts say. (Some advice: Take growing tips from websites based in other parts of the country with a grain of salt, Ried said. "There's no perfect way to do this.")
Lots of rain and humidity is problematic and could leave plants moldy and prone to fungus. An outside grow would require keeping plants particularly clean and checking for pests.
"You want as much sun as possible, and, unfortunately in New England, you start losing that sun in the fall and that's when your plants are starting to flower," Napoli said.
If you're looking for a strain to plant outdoors, Napoli said sativas can grow pretty big, which makes them appropriate when you have the space outside. A greenhouse works best though, since the flowering period for sativa may be a bit too long for the Massachusetts climate, he said.
Is it difficult?
"It's definitely something that you have to pay attention to and take care of and spend time every day on," Napoli said.
While there's a common perception that marijuana is a weed — meaning it'll simply just grow — it doesn't mean you'll get a quality harvest, according to Reisman.
"Find a store where they're willing to mentor you and excited to help you," Reisman advises. "Don't be embarrassed … everyone's a beginner once."
Bumps in the road may come, but don't get discouraged, Ried said.
"I would say if you're afraid you're going to kill it, you're going to miswater (sic) it, you're going to mishandle it, they're pretty resilient," he said. "Don't let that scare you."