Local
Homeless people slept under this Route 2 bridge. Then spikes were installed where they once rested.
"Over the years as we've dealt with this it's a very hard balance to strike. It's one of the few matters I'm not sure if there is a right answer or clear approach."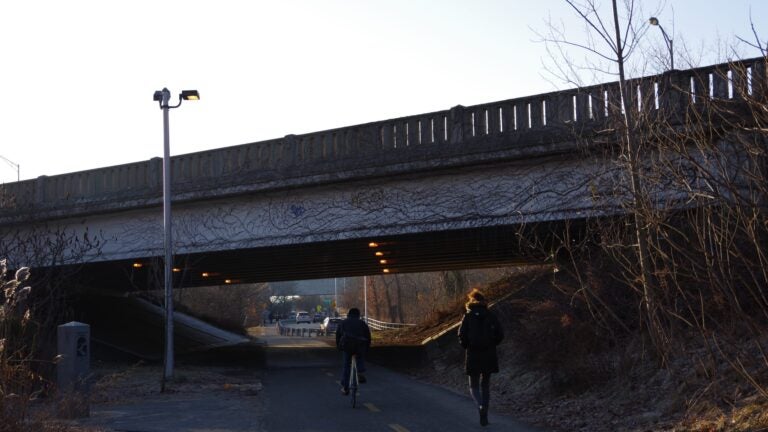 Starting right around the time colder weather arrived in October, the Route 2 overpass on the Arlington and Cambridge line started experiencing a change.
It wasn't road construction or an upgrade to the well-trafficked bike path that traverses beneath the structure, just north of the Alewife MBTA station.
But the difference was notable. It was about people — and their absence.
A small homeless encampment that used the hulking highway frame for shelter left just when the seasons shifted and fall swept along. And now spikes sit on the ledges where the people — moved and directed toward a shelter and other programs by town officials — once lay.
The additions installed in December are the latest chapter in Arlington's recent history between the town and the local homeless population as officials have worked to balance public safety and health concerns with a compassionate response to a chronic issue experts say is only growing in Greater Boston.
"Over the years as we've dealt with this it's a very hard balance to strike," Arlington Town Manager Adam Chapdelaine told Boston.com. "It's one of the few matters I'm not sure if there is a right answer or clear approach."
In 2015, two homeless men allegedly injured two young men in a nonfatal shooting in Arlington's Thorndike Field parking lot nearby, leading to public concerns over safety and the brief consideration from local officials of a proposed bylaw aimed at cracking down on camping on public land without a permit.
While a homeless encampment in a wooded area off Route 2 was cleared by police at the time, Chapdelaine said people still lived around that area in early 2018, with some moving underneath the overpass after police intervened at a large camp near Route 2 where hypodermic needles were found.
The new location, along the Minuteman Bikeway that guides hordes of commuters to Alewife Station, led to more public worry and pushback, according to Chapdelaine.
He received emails about concerns over public safety in the overpass, especially for those walking from the train station alone at night. Others centered on the living conditions for people who sought shelter beneath the busy roadway.
The town and police department intervened after health officials discovered a colostomy bag and human waste, "not just in plain sight but almost on the walking path," Chapdelaine said.
"No one wrote to me saying kick these people out of here, but people wrote to me saying this looks like a situation that can be improved," he said.
Christine Bongiorno, the town's Health and Human Services director, said in an email her department and local police have partnered with the City of Cambridge "in their well-resourced and humane efforts to support this vulnerable population."
Arlington police also have two mental health clinicians that are regularly in touch with the homeless community and an outreach team is in weekly contact to learn about their needs and provide information on resources, she said.
Opiate use and the chance of an overdose under the bridge was a concern, Bongiorno said. Additional trash barrels and removal measures were also put in place.
"Many of the people living in this area were offered supports and moved off site sometime in mid-October," Bongiorno said. "It is our understanding that one seasonal shelter in Cambridge opened around that time."
The town directed folks to the Somerville Homeless Coalition, according to Chapdelaine.
The organization works to help people without a place to stay find permanent housing or a treatment facility, among other services, and also runs its own shelter, according to Executive Director Erin Bradley.
Space is limited these days though. Of the 16 beds afforded to the coalition, all are currently full, she said.
"Many days that shelter is not only packed but we have a waiting list of about six months," Bradley said in an interview. "We don't really have enough beds for those in need right now."
Bradley, citing privacy issues, was unable to comment when asked about how people from the Arlington encampment used the coalition's programs.
"Each case is individual, and we just try to work with the clients on an individual (basis)," she said.
In December, MassDOT — which has jurisdiction over the Route 2 bridge — installed the spikes underneath the overpass after receiving feedback from the town.
"This area is directly underneath the bridge and only inches from the bridge beams and was not designed to accommodate pedestrians or other unauthorized uses," department spokesman Patrick Marvin told Boston.com in an email. "As a result of feedback from municipal stakeholders and in order to ensure safety, measures were installed at this location to discourage trespassing."
Chapdelaine said he doesn't hold a "false assumption" that the problem of local homelessness in Arlington is solved though.
"We're trying to be as compassionate as we can with the resources we have available and yet it's still a challenging issue," he said.
Over the past year, homelessness in Massachusetts grew significantly and by more than in any other state, according to a recently released report from the U.S. Department of Housing and Urban Development.
Between 2017 and 2018, the state's homeless population increased by 14 percent, or about 2,500 people — a five-year high jump that brought the total population up to an estimated 20,000 people.
Kelly Turley, associate director of the Massachusetts Coalition for the Homeless, said the numbers reflect "really just [the] tip of the iceberg count" based on how the report records the homeless living throughout the country.
Still, she pointed to the rising cost of housing in Massachusetts as a main trigger for the uptick.
"We're seeing more and more households that [have] unaccompanied adults, families with children, or increasingly young people that are under the age of 24, who are experiencing homelessness out on their own," Turley said. "We're seeing that households can't keep up with the rent and they're experiencing higher levels of housing instability and homelessness."
The state made recent investments in its homeless prevention initiatives, according to Turley. The Residential Assistance for Families in Transition program, which provides assistance to families at risk of becoming homeless, for example, received a $5 million increase to its budget this fiscal year over the previous year.
But those investments aren't to scale with what's needed to handle the size of the issue, Turley said.
Some solutions could come from municipalities pointing individuals toward resources while leveraging others, although that process could prove difficult in rural regions and suburban communities where outreach organizations may be less abundant than they are in cities, Turley said.
"It definitely is trickier in areas that don't have a concentration of, for example, nonprofits that focus on the issue, and so we see there are communities that have a higher concentration of resources and services and that may be where people have to travel to to access resources," she said. "And if there aren't resources, we see people who are trying to sometimes just stay off the grid, because there's no positive reason to come forward and self-identify as experiencing homelessness."
In 2016, Arlington officials opted to create a task force to study and address homelessness in town — a decision made after the proposed public camping bylaw was scrapped.
The creation of the group "seemed like a positive step forward given that there were efforts to clear out the encampment without having a next step," Turley said.
According to Chapdelaine, the town never got the task force up and running and he did not provide a specific reason why. He said, however, "it's probably time" to do so.
Turley said it's important that lawmakers also offer homeless people the opportunity to weigh in on decision making.
"I think that perspective is really important as we're developing policies and, in this case, figuring out a response," she said. "Oftentimes those voices are not part of the conversation or minimized. But the insights, perspectives, and recommendations that people on the front lines have are really critical."