Local
What does 2019 have in store for marijuana in Massachusetts?
2018 was a big year for legal weed in the Bay State. 2019 could be the year things get interesting.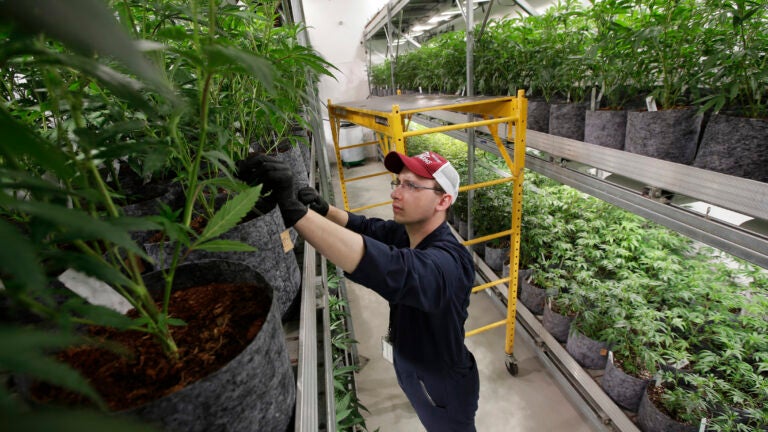 2018 was a pretty big year for legal marijuana, both nationally and in Massachusetts.
After a two-year wait, the Bay State witnessed the opening of the first few recreational marijuana dispensaries in the entire eastern half of the United States. By the end of the year, there were five stores across the state selling weed to anyone who had an ID showing they were over 21 — and maybe a little patience.
2019 is poised to be the year that a full-fledged marijuana industry begins to really take shape.
"People will get to see, over the course of the year, what a real market looks like," Kris Krane, a prominent cannabis industry consultant, told Boston.com.
As more recreational marijuana businesses — and more different types of businesses — are licensed and open, Krane says the market should begin to normalize, meaning less lines and, eventually, lower prices. But while the industry is still developing, officials are working to make sure that they have the right rules in place so the industry is as safe and fair as it is lucrative.
Will the dispensary floodgates open?
By this time next year, experts say the number of dispensaries open around the state will be in the dozens.
Krane sets the over-under at 45. Kevin Conroy, a former Massachusetts deputy attorney general, also puts the number of new pot shops somewhere in the 40s.
"We're going to see a pretty big expansion," said Conroy, who is currently a partner at the Boston-based law firm Foley Hoag and works with cannabis companies in the licensing process.
Steve Hoffman, the chairman of the Cannabis Control Commission, says the agency has found its stride licensing dispensaries headed into 2019.
"I think we're in a rhythm where … four to eight retail stores will open every month," Hoffman told the Boston Herald last month, noting that the CCC is also licensing cultivators, product manufacturers, labs, and other business types.
"It's not just retail stores, but that's certainly the most visible part of the rollout," he said.
Jim Borghesani, a cannabis industry consultant and former spokesman for the 2016 legalization campaign, estimates that the state could see somewhere in the range of 50 to 60 cannabis businesses of all license types open this year. And while the dispensaries are the most consumer-facing, the licensing of cultivators could have a big impact on the supply and diversity of marijuana products in 2019 and beyond.
Unlike the state's medical marijuana program, there is currently no vertical integration requirement for adult-use cannabis companies, meaning that dispensaries do not have to grow and process the marijuana they sell to customers. Rather, the CCC is licensing cultivation companies that solely grow, process, and package products to sell to retail stores.
Experts say these wholesale producers will significantly increase the diversity of marijuana products — including things like edibles, cannabis-infused drinks, and CBD products — available on the market, as well as the overall supply. Amid the early surge of customers, the first five dispensaries that opened have all limited individual sales to make sure they have enough products to go around. Conroy thinks a lot more cultivators will come online toward the end of 2019.
"The CCC is putting a real emphasis on cultivation because we're going to need the product to meet demand," he said.
Will we see any other types of businesses?
Don't believe the recent headlines; it will probably still be years before social consumption businesses, like cannabis cafes, open their doors in Massachusetts.
However, the CCC is planning to begin work on the rules for businesses where customers can consume marijuana on-site in 2019. In October, the board approved a motion to begin developing a social consumption pilot program with local municipal leaders, and they plan to revisit the subject, as well as businesses that deliver directly to consumers, at their meeting next week on Jan. 10.
"We will be discussing a timeline for delivery and social consumption, the lower-capital business license types that we voted to reserve for small businesses and equity program participants," Shaleen Title, one of the the five CCC commissioners, told Boston.com in a statement.
Hoffman told the Herald that he expects the CCC to vote on draft regulations for both types of licenses by the end of June, as well as potential "tweaks" to existing regulations. Both social consumption and delivery are very complicated subjects with a lot of questions that need to be decided, he noted.
For example, will regulators need to go to the Legislature to change the laws so businesses can allow customers to smoke indoors (or will social consumption be limited to edibles and vaping)? Or will the state allow delivery companies without a physical, brick-and-mortar retail store?
"The best way forward for both delivery and social consumption is some kind of controlled pilot where we could implement, learn, see if it's working, adjust before we implement it on a wide-scale basis," Hoffman said.
CCC Commissioner Britte McBride suggested in October that the agency begin by only licensing delivery for microbusinesses, which are companies that are limited in size under their regulations.
"I think it would enable us to implement and enforce regulations in a way that we could figure out what is scalable and what works," McBride said.
Will the state be able to make the industry more equitable?
Officials say the future licensing of delivery and social consumption businesses aligns with the agency's goal of making the marijuana industry equitable and accessible to the populations most harmed by previous drug law enforcement, since they require lower start-up costs compared to cultivation and retail companies.
And entering 2019, the progress toward that goal is something they'll be closely watching.
Last month, the CCC opened up applications for its social equity program, which provides professional training, technical assistance, and mentoring to license applicants who are from communities disproportionately impacted by high rates of arrest and incarceration for cannabis and other drug crimes, as well as those with a past drug conviction or with a spouse or parent with a drug conviction.
The program is a first-of-its-kind initiative and seeks to redress the disparities of the War on Drugs, which resulted in the disproportionate incarceration of blacks and Latinos. The CCC also gives priority review to "economic empowerment applicants" from disproportionately affected communities. However, according to data released last month, just 3.1 percent of license applications had come from minority-owned businesses.
Title says the CCC needs to focus on "robust data collection" to track the effectiveness of the equity program.
"Given the striking lack of diversity in the current group of licensees, data-driven decision-making around our mandates for diversity and equity will be key," she said.
Experts say that minority entrepreneurs are finding it difficult to access the necessary capital to start a marijuana business, especially so due to the banking industry's reluctance to enter the cannabis industry.
Due to the federal prohibition of marijuana, the vast majority of banks have decided that serving recreational marijuana businesses is too risky of a venture. Currently, only two (relatively small) financial institutions in Massachusetts are taking on recreational marijuana businesses as customers. That means there aren't many options for getting a loan for entrepreneurs without deep-pocketed friends or family.
However, Krane is "cautiously optimistic" that 2019 could see legislative action to resolve the predicament.
"This is the first year that we might see real reform at the federal level," he said. "And banking reform is most likely to go first, if we do see something."
Sen. Elizabeth Warren has introduced a bipartisan bill to amend the federal statute so that the prohibition on marijuana does not apply in states that have legalized the drug, which among other things would make it less risky for banks to operate in the adult-use industry. Krane doesn't foresee Warren's entire bill passing anytime soon, but says Congress — particularly with Democrats in the House majority — could very realistically pass more narrow legislation ensuring banks can get into the cash-heavy industry without fear of a federal crackdown.
"You could see a real shift in the way that business is done," he said.
However, partisan politics could get in the way. Borghesani noted that there's been no indication that Sen. Mitch McConnell, the Republican majority leader, would allow a Senate vote on legislation associated with Warren, who's considering a 2020 bid for president.
"We're seeing increased pressure to loosen bank resistance as more states legalize and more members of Congress support financial reforms, but I don't anticipate major breakthroughs anytime soon," Borghesani said.
Krane also suggested that the CCC should reconsider its rules against a single company being given more than three licenses of a single type — which was included to prevent big companies from dominating the industry — in order to allow some established companies to partner with local prospective, minority-owned businesses.
Will more towns mellow out?
While 2018 was the year Massachusetts saw its first legal weed sales, 2019 could be the year more local towns begin to see a different type of green.
More than half of Massachusetts communities had at least temporarily banned recreational marijuana dispensaries (and, in most cases, all cannabis companies). And while the vast majority of the more than 100 moratoriums on licensing pot businesses expired on the last day of 2018, there are still more than 80 indefinite bans. There are also towns without any sort of ban that simply aren't signing the necessary host community agreements with cannabis companies.
"They're not banning them, they're just delaying that," Conroy said.
Pro-legalization advocates have long contended that those towns will reconsider those measures as they idly watch their neighbors benefit from the windfall of tax revenue.
"When towns start seeing all the tax revenue that begins to flow into their neighboring communities, my guess is that we'll start to see a thawing," Krane said.
In Colorado, where recreational marijuana became legal to possess and sell in 2014, 221 of the state's 322 municipalities still ban pot shops, according to a state report this past September.  However, there have been towns that eased their stance and began licensing dispensaries — to the tune of millions in tax revenue.
"Local opposition will eventually wane, but it will take a while," Borghesani said, noting that the vast majority of bans and moratoriums in Massachusetts were imposed before any stores even opened.
"So those actions were based on fear and falsehoods, not on facts or reality. I think as more stores open there is going to be a significant reconsideration among a lot of leaders and voters," he said. "They're going to look at the security and the muted appearance of these stores — not to mention the money they're generating for towns — and they're going to realize that their fears were utterly unfounded."
Borghesani says another "major problem" is the policing of the host community agreements. Municipalities are allowed to impose a local tax of up to 3 percent on marijuana retail sales, as well as a "community impact fee" of up to 3 percent of gross annual sales that is "reasonably related to the costs imposed upon the municipality" by the company. But as The Boston Globe has reported, some towns and cities are demanding even more from dispensaries seeking a host community agreement.
"The cannabis legislation allows communities a total of six percent of gross sales, a figure far beyond anything any other business pays, and towns are making operators pay even more," Borghesani said. "It's unfair, and it should be stopped."
The CCC ruled in August that it wasn't clear that they had the legal authority to do anything about the payments, which sparked criticism from the activist community. Hoffman told the Herald last month that they might ask state legislators to explicitly outlaw the excessive payments when they revisit the current regulations, but added that the CCC is still in "assessment mode" and that "most of the cities and towns are playing the game the right way."
"If we feel there is a need for legislative action, we'll go when the Legislature reconvenes, which I think is late January, and ask them for help," he said. "But we haven't made that determination yet."
How will the state crack down on stoned drivers?
As legal weed becomes increasingly available, local officials have been raising alarms about the dangers of marijuana-impaired driving, which remains as illegal as ever. Some studies have found an increase in crashes involving drivers with marijuana in their systems in states that previously legalized the drug for recreational use.
"We are very concerned that this will happen in Massachusetts as well," says Jeff Larason, the highway safety director for the state's Executive Office of Public Safety and Security.
Marijuana activists dispute the evidence of increased impaired driving in states with legal weed. First, testing for marijuana impairment is an inexact science and the evidence is less clearcut than it may be perceived. Borghesani says the research is "too inconclusive [with regards to] actual increases in cannabis-impaired driving" and that any upticks could be attributed to increased enforcement for the drug, as opposed to more drivers under the influence.
"They may be nabbing a higher percentage of the same number of impaired drivers," he said.
Nevertheless, Massachusetts was among six states to receive a federal grant last month to provide "instrumental" training to 450 officers on detecting drug-impaired drivers and getting them off the road. Larason says the funds will be used to provide police officers Advanced Roadside Impaired Driving Enforcement (ARIDE) training, a two-day course on drug impairment in the context of traffic safety.
The grants can also be used to train Drug Recognition Experts. Earlier this year, public safety officials on the CCC's Special Commission on Operating Under the Influence said the state needed to ramp up the number of its DREs as more pot shops open. But Larason said not all officers are cut out for the more extensive training.
"Because of the complexity and technical aspects of the DRE training, not all police officers may be suited for the training," he said.
The CCC's OUI special commission also voted late last month to ask legislators to extend the state's "implied consent" law to drug-impaired driving. As it currently applies to alcohol, the law says that drivers implicitly agree to submit to a breathalyzer, if suspected of drunken driving, and can lose their license if they refuse to do so.
Massachusetts is one of five states without implied consent for drug-impaired driving. The special panel wants lawmakers to change that.
"We are going to really encourage the Legislature to strengthen the law in the areas where it needs to be strengthened to deal with impaired motorists from drugs," John Scheft, a lawyer and OUI commission member, told MassLive.
However, in the absence of any reliable roadside test for marijuana impairment, civil liberties advocates say the state shouldn't be expanding the implied consent law based off its current 12-step test.
"Our position is if a motorist faces legal penalties for refusing to take a test, that test should be based on evidence and science," Matt Allen, the ACLU's representative on the OUI commission, told MassLive.
Allen reportedly said he would like to see more studies done to scientifically validate the current test before making any recommendations to lawmakers. Either way, it's another complex debate the Legislature may take up in the upcoming session.
There is also the simple and less controversial public awareness campaign that state officials launched ahead of the new year.
"One challenge is to get the community of users to recognize the dangers, to take it seriously, and to support safety," Larason said. "We are concerned about drivers who use to the point of impairment. Just as with alcohol there are responsible users and levels/types of use that may not create dangers on the roads. From a safety side, we prefer that all drivers are sober, whether it's alcohol, marijuana, or some other drug — legal or not."