Local
Firefighters battle 4-alarm fire in Cambridge
No serious injuries have been reported.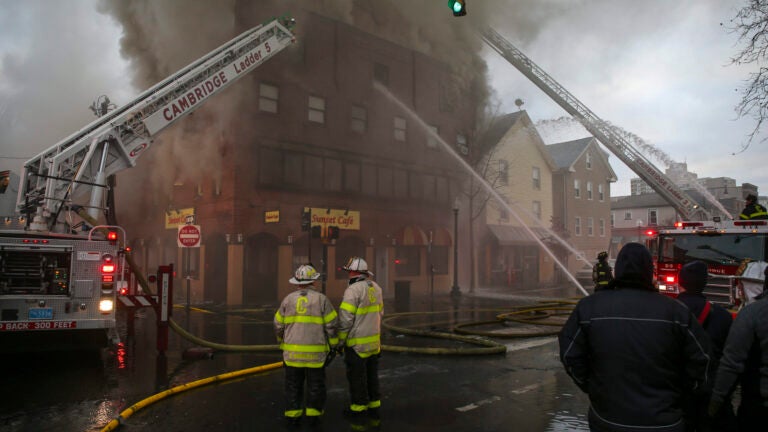 Firefighters battled a blaze in Cambridge on Monday morning that reached four alarms and forced the evacuation of fire crews from working the fire within the building.
The Cambridge Fire Department responded to a report of a structure fire at a building on Hunting Street just off Cambridge Street around 5:41 a.m. The blaze was raised to three alarms around 6:21 a.m., when firefighters were ordered out of the building.
3 alarms box 21 for Hunting at Camb St – all companies evacuated from bldg pic.twitter.com/mO4f6L982m

— Cambridge Fire Dept. (@CambridgeMAFire) January 14, 2019
A fourth alarm was called about 10 minutes later. 
4th alarm Box 21Hunting at Camb St Protecting exposure bldgs in this densely built up area pic.twitter.com/HooamxGceQ

— Cambridge Fire Dept. (@CambridgeMAFire) January 14, 2019
Firefighters continued to battle the fire from outside the buildings. Cambridge police asked people to avoid the Cambridge Street area. 
The fire department reported around 10:22 a.m. that the blaze had been contained.
As @CambridgeMAFire continues to work the Hunting Street fire, please avoid the Cambridge Street area. Our Traffic Units will provide direction. #CambMA pic.twitter.com/s72cwZLOyL

— Cambridge Police?? (@CambridgePolice) January 14, 2019
Progress report on the 4th alarm Box 21: Fire has been contained. Some mutual aid companies are starting to make up.

— Cambridge Fire Dept. (@CambridgeMAFire) January 14, 2019
The department said as of 7:47 a.m. that no serious injuries had been reported related to the blaze and displaced residents could go to the nearby Frisoli Youth Center. 
Twenty residents were impacted by the blaze, according to the Red Cross, which was on hand with city officials to help those displaced by the fire.
4th alarm Box 21: No serious injuries reported at this time. Displaced residents can check in at the Frisoli Youth Center. pic.twitter.com/gH57Q4LR5s

— Cambridge Fire Dept. (@CambridgeMAFire) January 14, 2019
https://twitter.com/CambridgeMAFire/status/1084803605864112129