Local News
This eerily perfect circle of ice is floating in a Maine river
"It looks like a picture from space."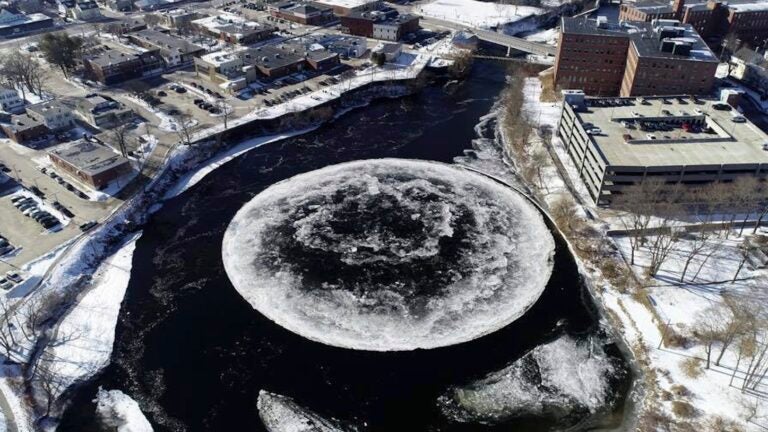 A mysterious sight is capturing attention in Westbrook, Maine.
An eerily perfect — and gigantic — circle of ice has appeared in the Presumpscot River. Within the bounds of the disk, the river's water is frozen in place, propelled by passing currents to rotate slowly like a giant, icy turntable.
"It looks like the moon has landed in Westbrook, Maine!" the city wrote of the mottled blue and white chunk of ice.
It looks like the moon has landed in Westbrook, Maine! Come in down to @CityofWestbrook @DWTNWestbrook and see the Westbrook Ice Disk! pic.twitter.com/JBaMDy2ZBq

— City Of Westbrook ME (@CityofWestbrook) January 15, 2019
According to the Portland Press Herald, the moon-shaped piece of ice is about 100 yards across and has been growing in size.
"It kind of looks like a crop circle," Doug Bertlesman, a web developer who works in a building overlooking the spot where the spinning circle of ice formed, told the newspaper.
Rob Mitchell, who owns a nearby office building, told the Press Herald he notified the city on Monday morning when he spotted the otherworldly chunk of ice.
"There were ducks sitting on it," he said. "The ducks were rotating on this big Lazy Susan. It was a big duck-go-round."
The uncanny nature of the ice has not gone unnoticed on social media. 
"It looks like a picture from space," wrote Tiffany Nelson on the city's Facebook page.
"It's where the aliens landed," Larry Liston commented.
When another city resident shared a drone video of the ice rotating, Rachael Delcourt referenced another legend from the city — the large tropical snake nicknamed "Wessie" who made the river home in 2016.
"The Return of Wessie," she wrote of the ice disk.
The Ice Circle in my backyard! Check it out! It's amazing !!!!!!!!!!!!! I also want to thank everybody for sharing my video and this story of my hometown of Westbrook!!!Here's a YouTube link where I land on it!https://youtu.be/nP-l8Use1qAThis is a like to my SoundCloud for the full track I created on my Roland jdxi.https://soundcloud.com/adam-farnsworth-4/starship

Posted by Adam Farnsworth on Monday, January 14, 2019
"It's pretty wild to look at," Bertlesman told the Press Herald. "It's certainly not every day that you can watch a spinning circle of ice in the river."
The city shared a video of the "Westbrook Ice Disk," encouraging people to go check it out from the nearby River Walk.
https://vimeo.com/311380574