Local
What we know about Boston's potential first recreational marijuana store
The Friend Street dispensary is owned by a company "poised to be one of the largest operators in the country."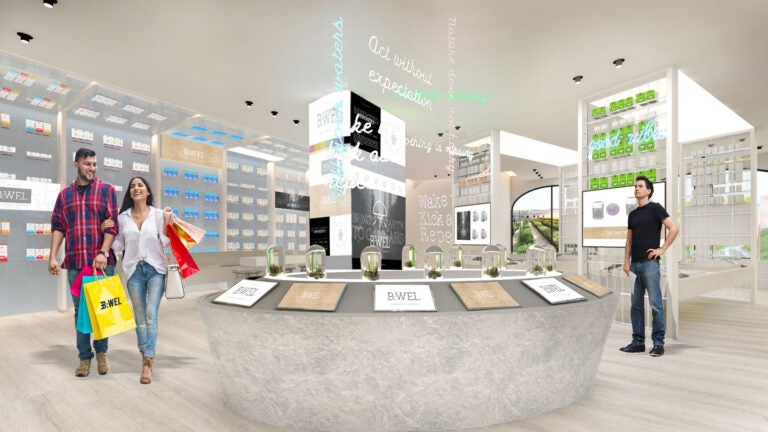 As the ranks of recreational marijuana stores across Massachusetts continued to grow this week, the company hoping to open the first adult-use dispensary in Boston took a big step toward its eventual opening.
Ascend Massachusetts announced Tuesday that the company had received a conditional use permit from the city's Zoning Board of Appeals to begin construction on the downtown pot shop they're planning to open around the corner from TD Garden later this year.
Andrea Cabral, the CEO of Ascend Massachusetts, said it was "honored to be chosen as the first company awarded a license for an adult-use retail store by the city of Boston," which could make it the first recreational marijuana dispensary in a major East Coast city. But there's still much work to be done before the multi-story 272 Friend St. store opens its doors.
Here's what we know about Ascend's plans, the company itself, and what the dispensary will look like.
What does this week's approval mean for Ascend's opening date?
Ascend still has to get a state license from the Cannabis Control Commission, but approval from the zoning board is the final hurdle to get past in the city-level licensing process. It also allows Ascend to begin renovating the five-story building. Cabral says Ascend plans to begin construction in February.
The Boston Business Journal reports that the renovations are expected to be "substantial" and will take six to nine months. According to Cabral, the redesigned facade and interior development, which will combine modular glass blocks with the building's masonry walls, are "inspired and linked to the heritage of the existing building and the history of the neighborhood."
Ascend plans to both finish construction and open sometime in late 2019.
Who's behind the store?
Ascend Massachusetts is a subsidiary of Ascend Wellness Holdings, a vertically integrated national cannabis company founded last March by Boston-based investor Abner Kurtin. Prior to Ascend, the Tufts University and Harvard Business School alum spent more than two decades managing capital, including as managing director of the prominent Boston-based Baupost Group hedge fund.
AWH also has fledgling operations in Illinois (whose newly elected governor has pledged to legalize recreational marijuana) and Michigan (which recently legalized recreational marijuana). Last month, the company closed on a $40 million venture capital funding round.
"With a potential 30 million cannabis consumers in these three strategic markets, Ascend is poised to be one of the largest operators in the country," Kurtin said at the time.
Ascend says their Friend Street location will be their "flagship store" in Massachusetts, with plans for three "high-end" adult-use pot shops in three different Boston-area locations. The company is also building a 360,000-square-foot cultivation facility in Athol.
Cabral, the first woman to be elected Suffolk County sheriff and Gov. Deval Patrick's former public safety chief, was hired to be the CEO of Ascend last June. In an interview at the time, she told The Boston Globe that she plans to work directly with the Suffolk County sheriff's office to hire people recently released from jail to work at Ascend's Boston store and their cultivation facility.
"We're going to hire local and we're trying to provide as much opportunity as possible," Cabral recently told Boston city officials, according to BBJ.
During the local application process, Ascend received letters of support from a number of local community groups and lawmakers, including state Sen. Joseph Boncore, state Rep. Aaron Michlewitz, and Boston City Councilors Josh Zakim and Ed Flynn.
What will the store be like inside?
According to Cabral, Ascend will occupy all five floors of the 272 Friend St. building, with the first two floors devoted to its retail space. The company is planning to use the first floor to display Ascend-branded products (including flower, vapes, lotions, tinctures, and edibles), while the second floor will have "branded retail with select featured products."
Ascend has hired the The Andrus Group, a New York design firm with experience in urban concept stores, to manage the construction project.
"The integration of technology with product displays will create a fully digital selling and educational experience that focuses on improving the personal customer experience, allow for an easy and quick selection of products and provide useful educational information," Cabral said.
BBJ reports that a quarter of the first floor will be devoted to allowing people to wait inside, since the state's first recreational marijuana dispensaries experienced long lines outside their stores. Salem's Alternative Therapies Group, which is currently the dispensary closest store to Boston, decided to take customers by appointment only in order to avoid disruptive lines and traffic.
"We have to prevent queueing outside the facility because that was a community concern," Cabral said at a recent hearing, according to BBJ.
Ascend expects to serve 200 to 300 customers a day and has the capacity to accommodate 80 people at a time. Given Boston's population, Cabral said it was possible that they, like ATG, could decide to be appointment-only at certain times.
Cabral says the additional floors will be used for product inventory, education and engagement spaces, and offices. According to BBJ, the company is considering using the third floor for medical marijuana sales.