Local
Cultivate is lifting its limits on marijuana purchases during weekdays
Of course, customers will still have to adhere to state limits.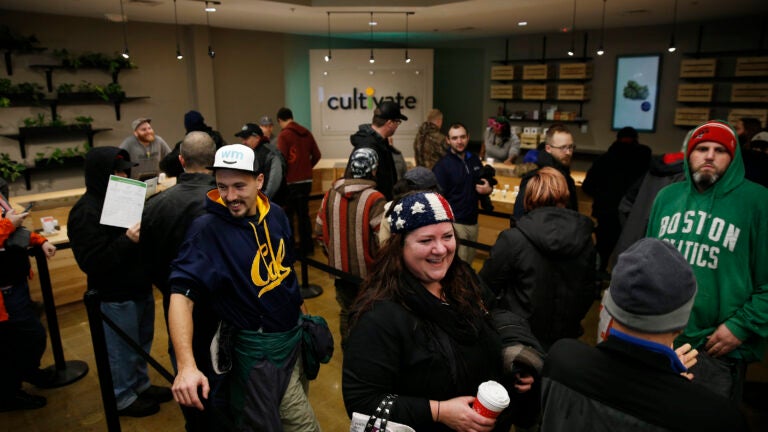 Customers willing to brave the lines at Cultivate will soon be able to buy as much recreational marijuana as legally permitted by the state of Massachusetts.
Beginning this Monday, the Leicester dispensary is lifting its self-imposed limits on individual purchases during weekdays, making it one of the few shops where customers can buy up to the state maximum: 1 ounce of flower or the equivalent of five grams of concentrate, per transaction.
The decision comes nearly two months after Cultivate became one of the first two stores to begin selling adult-use marijuana on the East Coast. The company began restricting purchases in December, after initially imposing no additional limits.
Purchase limits of up to one-eighth ounce of flower, two pre-rolls, and one package of edibles will still remain in place on weekends — during which the central Massachusetts shop is still seeing wait times on average of around three hours, according to spokeswoman Francy Wade.
"When we opened as one of the first two adult-use dispensaries east of the Mississippi, we realized the consumer demand was even more than we expected," Sam Barber, the president of Cultivate, told Boston.com in a statement. "Our team has worked tirelessly to ramp up production over the past month-and-a-half to meet that demand with the highest quality products."
Wade says the dispensary has hired 15 more employees to help increase production capacity. Additionally, the steady rollout of other adult-use dispensaries around the state has resulted in more options and helped ease the initial crush of customers at Cultivate.
Industry experts have said it could be several years before the still-fledgling market fully stabilizes.
Nearly every other adult-use marijuana store in Massachusetts has maintained some sort of individual purchase limits in order to ensure they have enough inventory to deal with the imbalance of supply and demand. Several have also begun requiring customers to make online reservations in order to visit in an effort to avoid disruptive lines and traffic.
Northeast Alternatives, a Fall River dispensary that is slated to become the state's eighth shop to begin selling recreational marijuana Sunday, is the only other store that says it will not have any initial purchase restrictions below the legal limits.