Local
'Even a kid can make a difference': The Brookline fifth graders telling Dunkin' to ditch the plastic straw
Amanda He and Sophia Cukras are behind one of Change.org's biggest plastic straw petitions.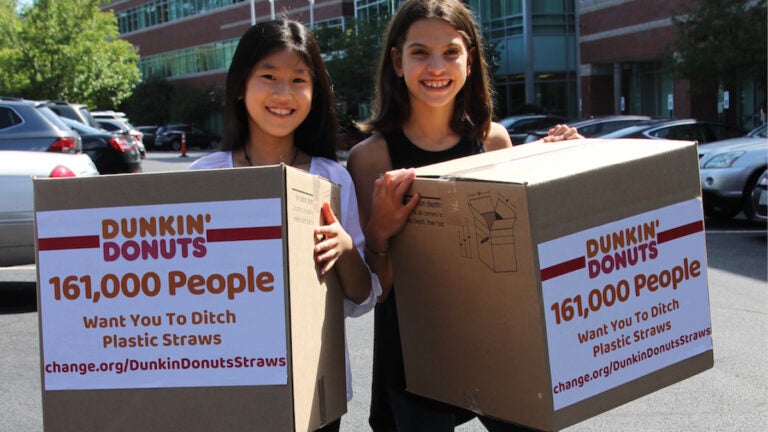 Two Brookline fifth graders have rallied over 166,000 people behind a plea for coffee giant Dunkin' to move away from plastic straws.
Eleven-year-old Amanda He and 10-year-old Sophia Cukras were in science class at The Park School in Brookline when they learned that Americans use an average of 500 million straws a day — a statistic that shocked the self-proclaimed  "green girls." The two joined their school's Earth Club and launched a Change.org petition calling for Dunkin' to adopt a "plastic straw upon request" policy.
"We got into thinking, are all those plastic straws needed?" Amanda said. "If even one chain of companies banned the plastic straws, that would make a difference."
The petition requests that Dunkin' continue to stock plastic straws for anyone with a disability requiring they use one, but default to a biodegradable straw. Over 166,000 people have signed on since the petition was created last summer, and support continues to grow.
In a meeting organized by Change.org last August, Amanda and Sophia spoke to Dunkin's sustainability officer at Dunkin' headquarters in Canton. Amanda said Dunkin' promised at the meeting to test out alternatives including paper straws, sippy cups, and bamboo straws.
Dunkin' officials wrote in a statement to Boston.com that they "respectfully accepted" the petition last August and have been searching for a long-term alternative to the plastic straw.
"We will continue to evaluate and test all available alternatives until we believe we have found the best solution based on cost, performance, quality, commercial viability, and environmental impacts," officials wrote.
But Sophia said the pressure isn't off yet.
"The more support we get the better, and the more we pressure Dunkin' Donuts to make a change, the more they will actually feel that they have to ban plastic straws," she said. "We just were hoping that it could be sooner."
The girls plan to propose to town officials a town-wide "plastic straw upon request" policy. Brookline enacted a ban on disposable plastic bags and polystyrene containers in 2013, and Amanda and Sophia hope that the town will follow its own example with another plastic pollutant.
The green girls have encouraged most of The Park School's fifth grade class to sign the petition, but not without educating their peers about why such a cause is important, Sophia said. They hope to inspire the younger generation to hold corporations to task.
Petitions targeting single-use plastic straws surged in popularity last year, Michael Jones, Change.org managing director and spokesperson, said. Amanda and Sophia's was one of the site's largest petitions last year, and the second largest in history to target Dunkin'.
Change.org has about 60 active petitions concerning plastic straws, Jones said, running the gamut from messages to large companies — like Amanda and Sophia's — to smaller, community-focused efforts. Change.org has noticed that petitions made by young people seem to be especially effective in pushing businesses to make change. 
"I've been deeply impressed by their activism," Jones said. "It's not like we see waves of young people starting petitions like this, but, when we do, I think they're extremely powerful."
The green girls' story is reminiscent of a similar Change.org petition made last year by Mya Chau and Eve Helman — two sixth graders from Calgary, Canada, who called for Starbucks to develop a sustainable cup.
After Chau and Helman amassed over 884,000 signatures, Starbucks moved to test a cup with a bio-liner and partially plant-based material for its paper cup, according to previous reporting by The Calgary Herald.
"I really do think the chorus of young voices on this are really getting the attention of restaurant chains, of national corporations, of global corporations," Jones said, "who know that as these kids get older they're going to have to do better by these folks."
Amanda said she never expected for the petition to garner as much support as it has. She never expected to influence the policy of a national corporation or take on a roll as president of The Park School's Earth Club. But the experience has shown her that her age is no indication of what she can accomplish.
"Even a kid can make a difference," she said.