Local
Charlie Baker wants to fix Massachusetts's electric scooter problem
The new bill filed by the governor would clear a hurdle for their return.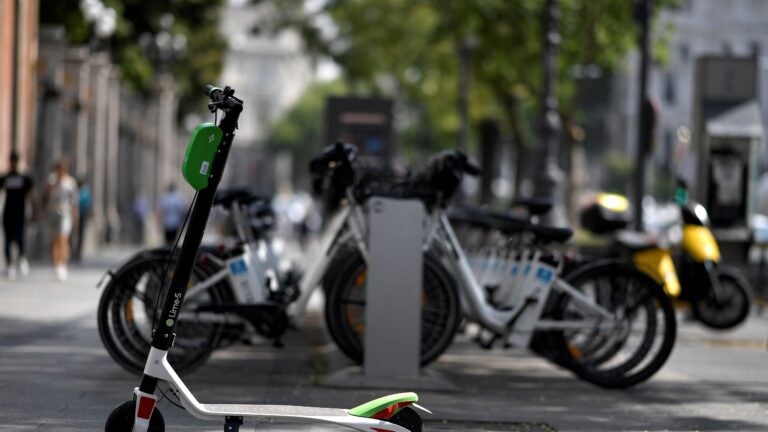 Gov. Charlie Baker proposed legislation Tuesday that would clear the way for the return of electric scooter-sharing companies in Massachusetts.
The Republican governor's road safety bill would, among other things, change state law to treat electric scooters and electric "pedal assist" bicycles the same way as regular, human-powered bicycles.
Currently, electric scooters fall under the umbrella of the state's "motorized scooter" law, which dictates the vehicles must be equipped with brake lights and turning signals (most models have neither).
Officials in Cambridge and Somerville cited the statute last summer when they ordered the California-based scooter-sharing company Bird to cease operations in their cities. Boston officials, who are working to develop a regional program to bring dockless electric scooters back to the area this year, have said the decades-old law, which was originally intended to regulate faster, gas-powered scooters, likes Vespas, is a "significant" hurdle for their efforts.
If passed, Baker's bill would remove that hurdle.
It would also require electric scooter riders to wear a helmet, if under the age of 16; yield to people walking; and provide an audible signal when passing. The bill also states that scooters would be prohibited from blocking vehicle or pedestrian traffic when parked (improperly parked scooters are a major concern among critics).
Baker's bill would also call for the Massachusetts Department of Transportation to establish a "micro-mobility advisory working group to propose future changes for safe adoption of emerging and undefined low speed mobility devices." The governor's office says such micro-mobility devices present both  "opportunities as a compliment to current means of transportation", as well as "challenges as an industry without any existing statutory framework."
Bird, Lime, and Lyft are among the companies interested in bringing their scooter fleets to the Boston area.
Several similar scooter bills have already been introduced by state lawmakers this session — including one, as WBUR reported earlier this month, by state Rep. Michael Moran that would also require companies to carry insurance and pay a tax of $0.20 per ride.
The road safety bill filed Tuesday by Baker is also hardly just about scooters.
The legislation would also ban the use of handheld phones while driving. Currently, Massachusetts and Maine are the only states in New England that do not require drivers to use hands-free electronics. Baker backed a similar proposal in 2017.
The new bill would also allow police to stop drivers for not wearing a seatbelt, stiffen penalties for impaired driving, and require large, state-owned vehicle to have side guards, as well as crossover and convex mirrors, in an effort to address concerns about bicyclist safety.
"We look forward to working with our colleagues in the Legislature to pass this comprehensive road safety bill into law," Baker said in a statement Tuesday.