Local
'Worst part of this job': How Massachusetts superintendents decide to call a snow day
"You worry about getting the kids to school safely. It's totally stressful. And there's nothing scientific about it."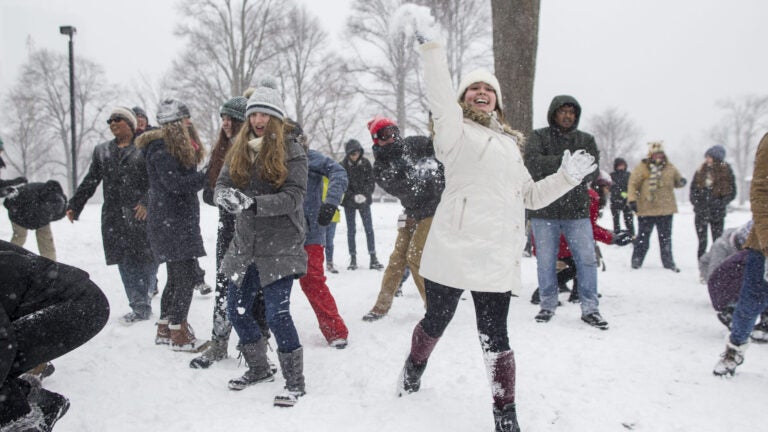 Robert Tremblay doesn't get much sleep the night before a snowstorm hits. Like other superintendents, he is responsible for deciding whether classes at his district will be canceled the following day.
"It's the worst part of this job," said Tremblay, the superintendent of Framingham Public Schools. 
Other superintendents and district officials in Massachusetts — including those from Boston, Somerville, Revere, Hull, and Triton Regional on the North Shore — noted that "making the call" isn't easy, and even when the choice seems obvious, it's difficult to avoid criticism altogether.
"Nobody's ever happy with the decision," Tremblay said. "You worry about getting the kids to school safely. It's totally stressful. And there's nothing scientific about it."
So how do these officials decide on a snow day?
What the timing looks like:
Because of the size of Boston, the decision to cancel school is primarily made by Mayor Marty Walsh's office in consultation with the Office of Emergency Management and various departments, including public works, transportation, police, and fire, according to a city official.
The official said the timing of the call depends on the severity of the storm.
Five officials from other districts said that, when possible, they prefer to call for a snow day the evening before a storm arrives. When forecasts and conditions are unclear or inconsistent, they said they typically wait until the early morning hours to decide.
Tremblay said he refers to the Massachusetts Emergency Management Agency for updates, and he also confers with local officials for their perspective.
"And so the minute you start hearing that something's coming, we begin those conversations usually the day before," he said.
On the South Shore, Hull Superintendent Michael Devine said he communicates with the fire chief, the director of public works, the district's facilities manager, and leaders from nearby districts.
"If we know it's going to be a big one, I prefer to call the night before because so many families have to figure out child care. I want to give them as much time as possible," Devine said. "If we're not sure, I try to make the call after talking with the chief and director by 5:30 a.m."
The factors they weigh:
All of the district leaders we spoke with expressed a similar priority when deciding whether to cancel school: safety.
Susana Hernandez Morgan, the director of communications and grants for Somerville Public Schools, said officials monitor several forecasts to gather an understanding of a storm's severity, temperature, and snowfall as well as the projected road conditions.
"Every storm presents unique challenges, and we have to take into consideration not only conditions at the time that we're making the decision, but other factors that might impact safety, such as whether previous storms have created treacherous conditions for vehicles and/or pedestrians," Morgan wrote in an email.
In Framingham, Tremblay said sidewalks — and whether they will be safe for the nearly 3,000 students who walk to school daily — are one of the biggest hurdles he has to deal with.
"My biggest fear is a student walking in the road and getting clipped by a car," he said. "It's my like my nightmare, my pervasive nightmare."
Triton Regional Superintendent Brian Forget is responsible for managing schools in three North Shore towns — Newbury, Rowley, and Salisbury — that provide busing to approximately 2,600 students, so he makes his decision based on a few factors.
"Is there a safe space for students to stand and wait for the bus? Is it safe for the buses to traverse and get from home to school? And are the schools ready to be opened?" he said.
And because Hull is on a peninsula, Devine said the coastal community faces unique predicaments, especially where electricity and flooding are concerned.
"Last year was bad. There were places in town that flooded for first time since 1978," he said. "Another issue we've had, if the power goes out, it usually goes out for the entire town. There are only a few access points on the peninsula for power to come in. If one goes out, the whole town goes dark."
Revere Superintendent Dianne Kelly said in addition to the factors other districts weigh, like the timing of the storm, she also strives to prioritize the needs of families.
"When parents have to go to work, and we are debating whether kids are safer at home all alone, maybe with no power, or in school — those are things we talk about as well," she said.
Delays and make-up days play a role:
The Massachusetts Department of Elementary and Secondary Education requires that districts schedule 185 school days and operate 180 of them during a school year, according to the department's website. 
Although the state does not advise districts on when a snow day should be called or under what conditions — even when the governor declares a state of emergency — the department has several recommendations for scheduling, which, for public schools, is decided by the school board or committee. The department's suggestions include starting the school year before Labor Day, holding a week-long vacation in March rather than a winter break in February and spring break in April, and notifying parents of potential scheduling changes.
To avoid losing a full day and making it up later, some districts have opted for "blizzard bags," where teachers and students complete class remotely during a snowstorm, Tremblay said, though Framingham has not implemented the practice. 
Like snow days, delays also present pros and cons, the district officials said.
Kelly tries to refrain from calling delays for two reasons: student safety and the fact that many parents have to get to work.
"I'd always rather err on side of caution and be wrong than take a gamble and have students come in and the storm be worse than predicted and then someone ends up getting hurt," she said.
In cases when the conditions make it possible to open school, but the commute may be challenging for some, Kelly said Revere schools open at a regular time and then make allowances for students who arrive late.
While delays can complicate food services and busing, Tremblay said, the extra hour or two allows for improved accessibility and visibility on the roads.
"Everybody's really moving at the normal time they would come to school. It just gives you an expanded window of time to to get there," he said.
Delays also prevent the schools from having to make up days in the future, when the learning environment may not be as "optimal," Forget said.
"Certainly the time on learning, and the time with teachers in classroom, that's paramount," he said. "It's hard to say that a day in June — on June 25 — when it's 93 degrees outside and we don't have air conditioning, that really those are meaningful educational instructional days."