Local News
Victor Pena, accused of kidnapping Olivia Ambrose, made his first court appearance. Here's what happened.
Boston police apprehended Pena, 38, on Tuesday after finding Ambrose in his Charlestown apartment.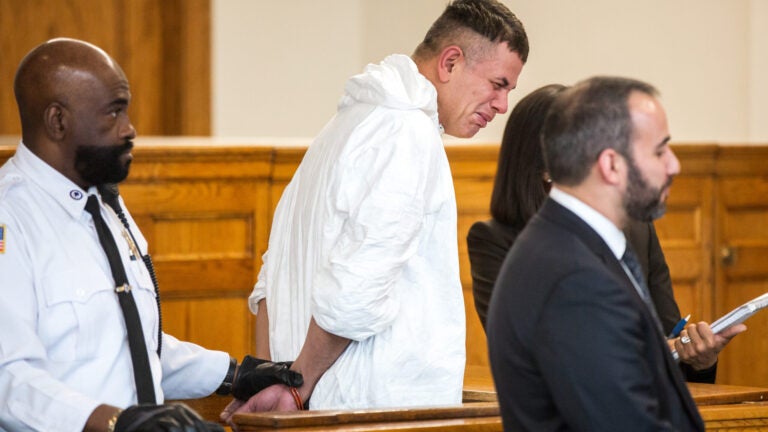 The 38-year-old man accused of kidnapping Olivia Ambrose, a 23-year-old Jamaica Plain woman, and holding her against her will in his Charlestown apartment was ordered Wednesday to undergo a 20-day mental health evaluation at Bridgewater State Hospital.
A court clinician who examined Victor Pena made the recommendation for further evaluation, telling the judge the 38-year old was complaining of symptoms of psychosis, including hearing voices and having paranoid thoughts.
"He does not appear to know why he is in court today, can't name the charge, and simply can't engage with any sort of reasonable communication with his attorney," Dr. Jodie Shapiro said of Pena, who she pointed out was emotionally "overwrought" in the courtroom.
Pena has been charged with kidnapping. He will be held without bail until his next court appearance on Feb. 11.
He was arrested Tuesday at his 49 Walford Way apartment, following what Boston Police Commissioner William Gross called an "extensive investigation" into the disappearance of Ambrose, who was reported missing by her family on Sunday. The 23-year-old was found in Pena's residence and taken to a hospital for evaluation.
The timeline
Ambrose was at Hennessy's bar near Boston's Faneuil Hall on Saturday night to see a band with friends and her twin sister, Franny.
"We were all here," Franny told WBZ. "We were just dancing in front of the band and then somewhere, just like around 10 p.m., I don't know, I guess we got separated and then she left at 11."
Franny told Boston 25 News she grew concerned when she couldn't reach her twin.
"Generally if she's not doing anything on the weekends she'll FaceTime me even though we live in the same city," she said. "But yeah, we'll just sit on FaceTime and won't even really be talking, we'll be watching our own Netflix shows or something … we just keep in contact."
According to WCVB, Franny went to Ambrose's Jamaica Plain apartment. She had recently moved there from her hometown of Wenham.
"I went to her apartment, and she hadn't been there," she said. "It was set up for her to come home, with pajamas on the bed and everything."
After failing to reach her, Ambrose's family filed a missing person report on Sunday, and police asked for the public's help in the search. They started to piece together a timeline based on surveillance videos:
At 11:04 p.m. on Saturday, Ambrose leaves Hennessy's, at 25 Union St., with a male who "was later identified and eliminated as a suspect," according to Gross.
At 11:42 p.m., two males, one of whom is later identified as Pena, invite Ambrose to "walk with them" near Congress and State streets. "Twice, Pena was observed engaging Ms. Ambrose on Congress Street — to the point where, at certain points, he was physically guiding and holding on to her," Gross said at a press conference Tuesday evening after Ambrose was found.
"It's obvious from the video surveillance that she did not go along willingly," he added.
Pena allegedly directed Ambrose toward the State Street MBTA station.
"Only Pena had his arms around [Ambrose]," Gross said.
At 12:01 a.m. on Sunday, Pena is spotted with his arm still around Ambrose at the Community College MBTA station in Charlestown, according to police.
At 12:13 a.m., Pena and Ambrose are seen near the Bunker Hill Mall, Green Street, and then headed toward the Bunker Hill Housing Development, Gross said.
"A short time later, phone records indicate Ms. Ambrose's phone was in the general area of the Bunker Hill Housing Development," according to police.
What happened next
Gross said at the press conference that "throughout (Monday) night, fields were searched, the grounds of high schools, the buildings, even dumpsters."
Boston police worked with transit police and housing police, he said. Photos of Pena, who had not been identified at the time and was referred to as a "person of interest" by police, were shared widely on social media Tuesday afternoon.
UPDATE: #BPD release images of person of interest in relation to Missing Person Olivia Ambrose. Anyone with info relative to this person's ID is asked to call detectives at (617) 343-4248, CrimeStoppers at 1(800) 494-TIPS or text 'TIP' to CRIME (27463). https://t.co/h8CHmPidWa pic.twitter.com/SB1DLj5mRO

— Boston Police Dept. (@bostonpolice) January 22, 2019
"Eventually the investigation led us to 49 Walford Way," Gross said.
According to court documents obtained by NBC10 Boston, two groups of detectives worked independently on Tuesday afternoon to identify — through canvassing the area and examining recovered video — Pena as the suspect in Ambrose's abduction and to locate his residence in the apartment complex.
"Additionally, the detectives received information that the victim's cell phone had just been activated and she was sending messages to her mother," police wrote in the documents.
The location of the phone was at 49 Walford Way.
Officers went to the door of Pena's apartment, "concerned for the well-being of the victim and the fact her life was in danger," according to the documents. There, police said they found the 38-year-old had installed a private lock on his door.
"The detectives waited approximately 20 minutes knocking numerous times repeatedly in an attempt to have the occupant open the door," according to the documents.
Authorities began drilling to remove the locks, and Pena allegedly opened the door before all of them were dismantled. When he did, the detectives "immediately engaged" him as he stood in the doorway.
"The detectives could see the victim standing next to Pena crying with a horrified look on her face," police said in the documents.  
According to police, Pena "resisted violently" when officers attempted to put him in handcuffs.
Ambrose was transported to a local hospital for evaluation, police said.
The 23-year-old told detectives she was being held against her will by Pena and that he took her phone and refused to let her leave his apartment, according to the documents.
"She appears in good health," Gross said Tuesday evening. "But, as for state of mind, I cannot attest to what state of mind."
He said officers didn't see any weapons in Pena's apartment, but police were still actively investigating the case.
On Wednesday, police announced that the other man seen in the surveillance video from Congress Street on Saturday night had turned himself in to police and is being considered as a witness at this point in the investigation.
UPDATE: Additional male seen in surveillance video cleared by detectives as part of the Olivia Ambrose investigation. https://t.co/jBnVQ7Je3s pic.twitter.com/3u7I5DlwB2

— Boston Police Dept. (@bostonpolice) January 23, 2019
Gross thanked the public — and the Ambrose family — for its assistance Tuesday evening.
"You never gave up on your sister, your daughter, your loved one," he said of Ambrose's family. "And the people of Boston never gave up either, as not only did they send us every tip possible, that we had to vet, but words of comfort and support."
Also at Tuesday's press conference, Gross stressed that the investigation remained active, and, on Wednesday, police continued to urge anyone with information about the incident to contact the department by calling 1-800-494-TIPS.
What we know about Victor Pena
An unnamed official told The Boston Globe that Pena has had multiple run-ins with MBTA Transit Police over the last decade, two of which allegedly involved "menacing interactions" with women. According to the Globe, neighbors also described unsettling behavior by Pena involving women and girls.
An unnamed city official told the newspaper that Pena has been living in the Charlestown housing complex for 10 years and is on Social Security disability but does not have a physical disability.
Pena's criminal record includes a July arrest in Rhode Island at Twin River Casino on charges of cheating and obtaining money under false pretenses, according to WPRI. 
The Globe reports he has also had several restraining orders filed against him and a long history of threatening behavior toward women. In 2004, one woman accused him of sexual assault in an application for a restraining order, while in 2008 another woman accused him of refusing to let her leave a family member's home and grabbing her neck.
During his court appearance Wednesday afternoon, the 38-year-old sobbed quietly during the proceedings.
The court clinician who evaluated him told the judge that his behavior appeared to be "somewhat psychotic but also bizarre."
"He's complaining of symptoms of psychosis," Shapiro said. "He's complaining that he's hearing voices, he's expressing some paranoid thoughts, he is very, very difficult to redirect. He continued to fall to his knees at times during the interview and to begin to pray, asking for forgiveness, and then at times sucking his thumbs."
Shapiro said that Pena told her that he drinks and smokes marijuana a little and that he had been forced to use cocaine, though she said she questioned the "veracity" of that claim. He also reported some "suicidal ideation."
She said Pena didn't demonstrate a clear understanding of why he was in court, and she recommended he be further evaluated at Bridgewater State Hospital.
"Your honor, it would appear that he does have some psychotic symptoms, although it is quite possible that he's exaggerating some of those symptoms — some of the symptoms were just so bizarre as to suggest an exaggeration," Shapiro said.
Pena's brother, Jose, told the Globe he believes the incident stemmed from a misunderstanding, saying that his 38-year-old brother is a "little bit mentally challenged" after oxygen was cut off to his brain during a childhood medical procedure.
Jose Pena told the Globe that his brother called him from jail Tuesday night and said that he met Ambrose on Saturday night, that she went willingly to his apartment where she spent the night, and that she stayed again Sunday. Jose Pena said his brother told him that Ambrose said she was afraid her father would be angry and she was cleaning the apartment, according to the Globe.
"Him kidnapping her, I'm 100 percent sure he didn't,'' Jose Pena told the newspaper. "She was helping him out, cleaning his apartment."
His brother is a hoarder, he said.
Pena was born in New Jersey and grew up in Puerto Rico before moving back to the Northeast in his late teens, the Globe reports.
What the Ambrose family is saying
After Ambrose was found, her family released the following statement through a spokeswoman, Gina Addis, to various media outlets:
"The Ambrose family is so grateful for the monumental efforts of the Boston Police Department and the MBTA and Transit police who have worked tirelessly over the last three days to bring Olivia home. They also want to thank all of the staff at [Hennessy's] Bar who have been so helpful since Olivia went missing. The Ambrose family is also so appreciative of all the efforts, prayers and good wishes of their friends, family and complete strangers who have helped in the efforts to find Olivia. And finally, they want to thank Olivia's co-workers at Toast who sprang into action and were instrumental in getting the word out. The family is overjoyed."
Ambrose, a University of Edinburgh graduate who works at Toast, a software company in Boston, returned home Tuesday night to Wenham, according to WHDH.
Her mother, Heather, told the station that the relief of having her daughter home was almost indescribable.
"She's very strong, and she's doing OK," she said. "It's going to be a process, but she's OK. We're just so happy to have her back. We know the outcome isn't always like this."