Local News
This is what Marty Walsh and Marc McGovern had to say after seeing safe injection sites in Canada
The mayors of Boston and Cambridge visited the facilities aimed at harm reduction in Toronto and Montreal.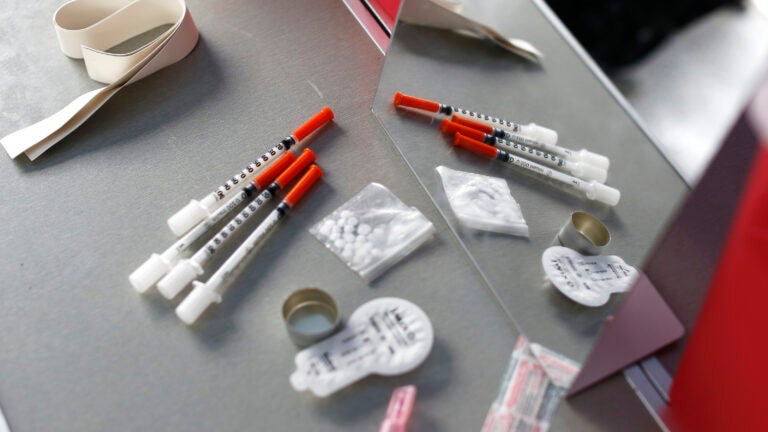 Boston Mayor Marty Walsh and Cambridge Mayor Marc McGovern say they were impressed by the facilities they toured in Canada last week where people struggling with addiction can inject drugs under medical supervision.
Proponents of safe injection sites say the facilities save lives, reduce stigma, and fall under the approach of harm reduction for tackling the opioid epidemic. But critics say the sites encourage drug use and bring crime to the surrounding neighborhoods.
Walsh, speaking to reporters about his trip earlier this week, said that when he first heard about the concept of supervised injection sites, it wasn't something he felt he could support. But after visiting the facilities in Toronto and Montreal, he said he feels differently.
"After seeing them firsthand, it's a completely different impression I have," he said in a recording, shared by his office.
But he said that doesn't mean he's ready to have one established immediately in Boston, pointing out that the Canadian facilities "didn't happen overnight," rather they grew out of needle exchange programs that initially added counseling, outreach, and other programs.
"I think initially the fear is, 'Safe injection sites, oh my God.' People are like, 'Oh my God, we shouldn't be doing that,'" Walsh said. "But really when you get down to the understanding of it, these were needle exchange programs that the people who were going in and taking clean needles and turning in their used needles, they'd just stay there and use the drug there and they're monitored. There's a full-time nurse, there's counselors and staff there. It's a whole system in place, and it really is amazing."
Both Walsh and McGovern are on the state's Harm Reduction Commission, which the Cambridge mayor told Boston.com will issue a report with recommendations in March. He said four members of a Cambridge opioid working group were on the visit to Montreal with him. That group is also due to issue a report around the same time as the state.
McGovern said he was also impressed by the look and staffing of the sites he saw in Montreal, which included a mobile facility.
"They had staffed with a nurse, a social worker, other clinical staff, so it's a very supportive environment but also one that feels like you're in a medical facility," he said. "I think people know why they're there. We went back to a couple of the sites at night, both Thursday and Friday night, and there was no activity outside of the facilities. Nobody congregating, there weren't people hanging out, there weren't drug dealers out in front of the building. You wouldn't have even known that they were there."
McGovern said he thinks supervised injection sites are "absolutely" something that Cambridge should be considering and pursuing. Personally, he said he believes the facilities are a good idea.
"We're talking about harm reduction here," he told Boston.com. "Battling addiction is a multi-front war, right? So we have to do more about treatment. We have do more about prevention. We have to do more education. We have to go after the pharmaceutical companies that are pushing OxyContin on doctors. We have to go after doctors who overprescribe. There's lots of things that we have to do, but harm reduction is one of those things. You can't get someone into treatment if they're dead. And this is about saving lives and the data is clear — these places save lives."
The Cambridge mayor said he made a point in Montreal of asking business owners in the area what they thought about having the facility nearby.
"Half the people I talked to said they didn't even know that it was there, that's how inconspicuous it was," he said. "So I think it was really helpful to go up and actually be in a site, to see how they're run, to see what the facilities look like, and then really equally as important was to see the neighborhood. And get a sense of what the impact was on the community. And it was all positive."
Walsh said he, and police officers who visited the sites with him, walked away impressed by the facilities but there are "obstacles" that need to be addressed in Massachusetts before anything can be started — such as funding and buy-in from the state and federal governments.
"It's something that we're going to look at," he said. "At the very least I think very soon we have to do more harm reduction in Boston, in Massachusetts. I think we have 20 needle exchange programs in the Commonwealth, the biggest one being in Boston, the oldest one being in Boston. We have one. I think we have to start looking at branching these out and start thinking about harm reduction a little bit more and educating people on shooting with dirty needles and what it means. There's a lot more to come."
McGovern agreed that nothing could happen overnight and that work would have to be done to find the best method for the city and how it would fit in with a potential regional approach.
"There's a long way to go," he said. "Not only the legal hurdles that have to be figured out. But then even if Cambridge were to open one of these sites in Cambridge, there's a community process that has to happen, there's an education process that has to happen. There's a lot of steps. So nothing's happening tomorrow."