Local
'A true public safety crisis': Methuen began to lay off 50 officers. And there could be more cuts coming, officials say.
"We can't overspend the budget. It's illegal."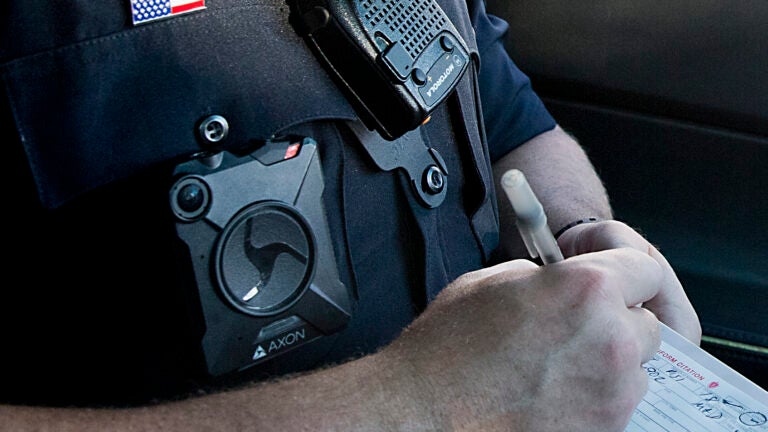 The City of Methuen started to dole out pink slips to 50 police officers and three K-9s this week following the City Council's decision last year to cut nearly $2 million from the department's budget.
The employee cutbacks, while not finalized yet, are slated to significantly reduce the number of the approximately 70 patrol officers the city deploys, potentially by early March, according to Paul Fahey, chief of staff for Mayor James Jajuga.
The city's five school resource officers could also be removed, he told Boston.com Friday, characterizing the potential changes as a "true public safety crisis."
"We're only going to have enough police to do basic patrol, respond to 911 calls," Fahey said.
The department, with currently 100 employees on its roster, may ultimately see even more layoffs, he added.
Last year, a police union contract negotiated by former Mayor Stephen Zanni's administration spelled out significant raises for five superior officers in the department, who were on track to each earn $432,295 a year.
Fahey said the current administration went back to the table with the union, which agreed to downscale those increases so the officers would receive $188,206 on average. But without agreeing to those new terms, councilors opted to cut $1.8 million from the police budget — money needed to cover the extra costs.
According to Fahey, the city has the cash on hand, too. Over $2 million is sitting in a reserve account created solely for police expenditures that replenishes by $1 million each year, he said.
Police Chief Joseph Solomon called the layoffs "a debilitating blow to public safety not only in Methuen but the entire Merrimack Valley," in a Facebook post Thursday.
"A level funded budget to last [year's] level is all that is needed to save these jobs and ensure public safety and our [residents'] safety!" he wrote.
Solomon's office did not immediately return a request for comment Friday.
"It's not only crazy, it's dangerous and it's unnecessary," Solomon told The Boston Globe Thursday.
There is, however, time for the City Council to stop the layoffs from taking hold when the group meets on Feb. 4.
The council would need at least a 6-1 vote to make a change, according to Fahey. Two members of the nine-member body — the chairwoman and vice chairwoman — have recused themselves from the proceedings due to personal connections to the police department, he said.
Appointed acting Chairwoman Joyce Campagnone said the council is trying to keep all of its options open, but added she would like to see "this put to bed once and for all."
"It's kind of hard," she said in an interview. "We say we don't want to affect the public safety but yet you don't want to put it on the taxpayers if there's any increase. It's just right now, I would say my hope is that we can come to some sensible agreement (for) both parties."
If the cuts move forward, officers would have a hearing before the Civil Service Commission likely early next month, Fahey said. The officers would ultimately step down later in February.
The city needs to honor the union contract because a violation could put Methuen in a costly legal bind, according to Fahey.
Furthermore, the city is already under close watch from the state after the school district spent $4 million over the previous fiscal year's budget, he said.
Fahey indicated the mayor's office isn't confident that the City Council will rectify the situation.
"At this point, given the comments that were made at the last meeting, we're not feeling confident that they're going to make this move and we can't wait. … We can't overspend the budget," he said. "It's illegal."
In a lengthy statement shared on social media, City Councillor At Large Jessica Finocchiaro said there's no simple answer, but she thinks there's some potential for a solution.
"I don't have the words to express my frustration and anger at the past half years worth of back and forth regarding the Superior Officers contract concerns within this department between the Mayor and City Council," Finocchiaro said. "There were many ways along the way to avoid this. I do believe there is still a glint of hope for a few limited ways in which this could be resolved in a better way than the road we are currently heading down. I hope that every reasonable and legal alternative to this situation will be given full consideration, because the alternative is wrong for our community. I still do believe we can end this without losing half our department, but I will note that the powers of a few Councillors and even the powers of the Council as a whole is unfortunately fairly limited on personnel issues in my opinion."
Campagnone said the council is trying to do the best it can with the money available.
"I just don't want to see our community put into harms way about our public safety," she said. "We have policemen in the schools, we have policemen on the street that are very much needed, so I just don't want to jeopardize the safety of our community in any way, but I also think it has to be a fair agreement."