Local
Mass. U.S. attorney says safe injection sites are illegal — and he'll enforce the law if they open
"Rule of law issues matter."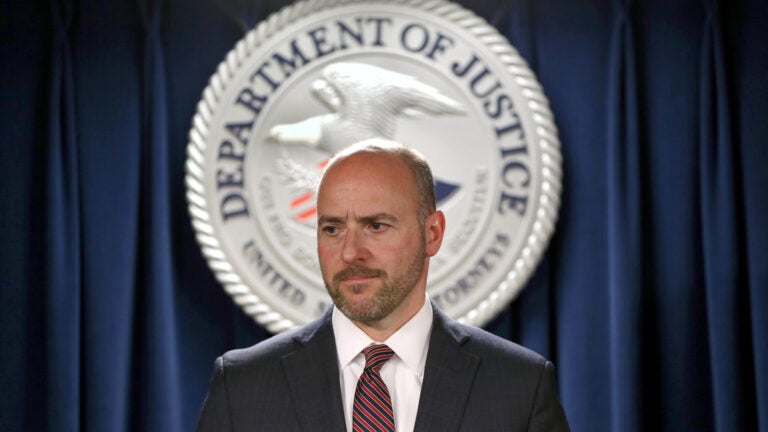 Days after Boston Mayor Marty Walsh and Cambridge Mayor Marc McGovern toured safe injection sites for opioid users in Canada, Massachusetts's U.S. attorney says he wants to make this clear: Those facilities are illegal under federal law.
And he'll take action if one opens in the Bay State.
"On my end, I have a federal statute that on its face would make this illegal and I'll enforce it," U.S. Attorney Andrew Lelling told WBUR Tuesday.
The facilities offer people struggling with opioid addiction a place where they can inject drugs under medical supervision. Proponents argue the practice can save lives amid the deadly epidemic. Critics say though that the sites can undermine efforts to limit drug use and could carry crime into communities.
Lelling told WBUR's Deborah Becker that he thinks studies on the issue have been mixed, adding that he is philosophically opposed to the practice, viewing it as "declaring defeat" against the epidemic.
In a op-ed published in The Boston Globe Monday, Lelling pointed to the findings of a 2018 study by the RAND Corporation, which he noted found that "most of these studies are marred by methodological flaws and ignore risks people care about, like the risk that giving addicts somewhere to take drugs might extend — not shorten — their period of addiction."
He emphasized to WBUR his primary concern with any potential site in Massachusetts is that federal law prohibits them.
"My real objection is that it is illegal," he said. "Rule of law issues matter, and what I've noticed lately — I think this is the result of increasing political polarization — is people appear to be more and more tempted to simply ignore federal laws that they don't like, so marijuana, immigration, now supervised injection sites, and it doesn't work that way."
After their trips to Toronto and Montreal last week, Walsh and McGovern said they left impressed by the sites they toured.
McGovern said he thinks the facilities are "absolutely" worth considering and pursuing in Cambridge.
"We're talking about harm reduction here," he told Boston.com last week. "Battling addiction is a multi-front war, right? So we have to do more about treatment. We have do more about prevention. We have to do more education … There's lots of things that we have to do, but harm reduction is one of those things. You can't get someone into treatment if they're dead. And this is about saving lives, and the data is clear — these places save lives."
However, the Cambridge mayor added that "there's a long way to go" before one potentially opens in the Bay State.
"Not only the legal hurdles that have to be figured out," he said. "But then even if Cambridge were to open one of these sites in Cambridge, there's a community process that has to happen, there's an education process that has to happen. There's a lot of steps. So nothing's happening tomorrow."
If creating a safe injection site were to move forward in Massachusetts before any changes, it certainly wouldn't be the first time local drug policy contradicted federal law.
Since the state legalized the use and sale of recreational marijuana, however, Lelling's office has opted to not crack down on retailers. Instead, Lelling said, officials have focused their resources on battling opioid-related problems, particularly drug traffickers.
The decision to enforce federal law against any possible safe injection site is consistent with that, according to Lelling.
"I'm not going to countenance facilitating distribution and use of opioids to addicts. I can't do that," he said. "The opioid epidemic is arguably the number one priority of the Justice Department, and sort of turning a blind eye to injection sites doesn't seem to me to fit with that. It seems to me to be a bad idea."
Asked what measures his office could consider to enforce the law, Lelling said it depends on how the issue plays out.
"All I can say is that the Controlled Substances Act, for example, allows for civil enforcement. It allows for criminal enforcement," he said. "So on the civil side that would mean perhaps seeking an injunction to block the opening of such a site or civil forfeiture of the premises or the equipment. On the criminal side, prosecution of those involved in running a site, so it's up and running. And again, there's forfeiture on the criminal side. So I don't know exactly how this would proceed but I think those are the tools that are on the table."