Local
Marty Walsh has a plan for dockless electric scooters in Boston
A proposed ordinance to regulate the micro-mobility businesses is sitting before the City Council.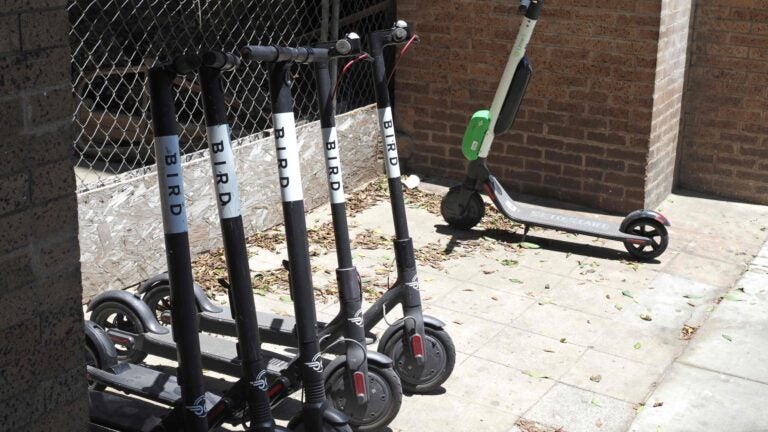 As Boston continues to see growing popularity around dockless bikes and other transportation-sharing options across the city, Mayor Marty Walsh now has a proposal that would let electric scooters, prohibited in the Hub last summer, glide into town.
The ordinance, currently under City Council review, rolls out potential rules for how exactly the city can manage and regulate the influx, namely to make sure scooters and other micro-mobility vehicles meet safety requirements and don't clog crosswalks, ramps, and other street utilities.
Walsh, in a letter to councilors, said the devices offer the chance to expand public transit accessibility while also reducing emissions and traffic congestion.
"Our streets and sidewalks are public resources, and we want to ensure that mobility options in our city are safe, reliable, and equitable," Walsh said in a statement. "We're committed to creating a strong transportation network by investing in both short and long-term projects that will create greater transportation access for all users of our city's streets. This ordinance will help create a stronger, safer transportation network across Boston."
Last summer, Bird, a California-based scooter-sharing company, put dozens of its vehicles in Cambridge and Somerville overnight, leaving local lawmakers scrambling to find a way to manage the new gadgets lining and zipping down their streets.
Boston, at the time, was designated as a "no ride zone." Walsh, while not opposed to eventually allowing the company to operate within the city, said Bird should not drop off scooters without advanced notice and in absence of any sort of governing oversight.
Any Bird scooters that touched ground would be promptly plucked by the city and relocated to the tow yard, he warned. In Cambridge and Somerville, Bird was issued cease-and-desist notices.
Under Walsh's proposal, the city would create several regulations and standards for what the ordinance refers to as "small vehicles" — electric scooters, yes, but also "any electric vehicle, any vehicle powered by autonomous technology," and vehicles not motor-driven that travel at a maximum speed of 15 mph.
The measure spells out rules regarding where vehicles are available and the number of licenses doled out to businesses, including licenses for pilot programs.
Vendors would be required to make sure their vehicles don't block curb ramps, crosswalks, building entrances and exits, fire hydrants, and public utilities, the proposal says. License applicants would also need to file a safety plan that covers inspection and maintenance practices and how they will explain riding safety to their customers.
"Over the last few years we have seen new mobility devices and businesses emerge in cities around the country giving more people ways to access what they need without a car," Gina Fiandaca, the city's transportation commissioner, said in a statement. "The ordinance provides basic safety rules while also empowering our Transportation team to act nimbly to keep pace with a fast-moving industry."
While Walsh's plan only just began the review process before the City Council Wednesday, it already has the backing of a key supporter.
Lime, a San Franciso-based micro-mobility company that has long expressed a desire to bring electric scooters to the Boston area, is already on board with the proposal, representatives said in a statement.
"Shared dock-free scooters can make transportation reliable, affordable, and green for all Bostonians," said Scott Mullen, director for Northeast expansion for Lime, which currently has dockless bicycles deployed in Greater Boston. "Allowing scooters will go a long way to solving the region's growing transit needs."
Likewise, City Councilor Matt O'Malley said Wednesday he was "delighted" to see Walsh's proposal filed.
"It's really important as we talk about moving people around the city that we think of innovative ways that we embrace innovation, but (that) we also put up some safe guards in place," he told fellow councilors. "A lot of it is touched upon in this ordinance."
Still, O'Malley said he'd like the council to consider looping a revenue sharing component into the law, and emphasized the importance of ensuring the law creates an equitable system.
"We certainly shouldn't leave money on the table," he said.
In October, O'Malley expressed confidence for a pilot program to potentially take flight this spring, although it could be quite some time before scooters are given the green light in Boston.
The ordinance would take hold 90 days after it attains council approval, and other issues that plague the rollout of electric scooters still remain under state law.
Motorized scooters in Massachusetts are required to have brake lights and turn signals — features not commonly on electric scooter models.
A bill to exempt the electric vehicles from the law was filed by Gov. Charlie Baker earlier this month.