Local
11 black women were murdered in Boston 40 years ago. A local artist is remembering them across the city.
"These black women do deserve to be memorialized."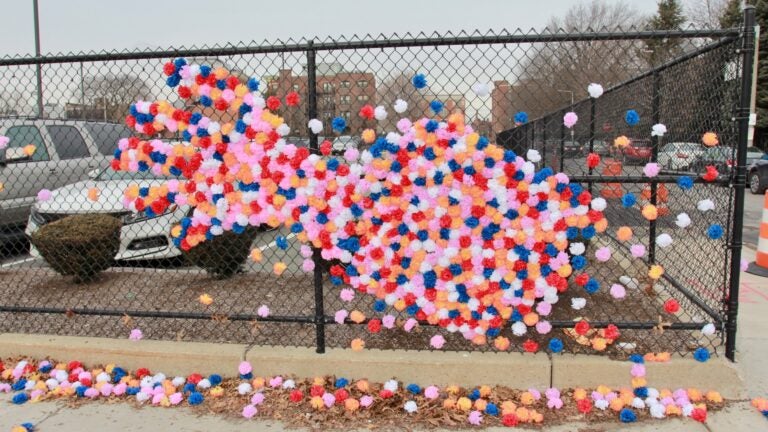 Forty years ago, the body of 29-year-old Daryal Ann Hargett was found by her landlord in her South End apartment.
The social worker, who was described as quiet and serious by those who knew her, had been stabbed to death. She was the fifth black woman to be murdered in Boston that year, and she wouldn't be the last.
By the end of May 1979, the number of women murdered in Boston would rise to 12. All but one were black.
The bodies of the 11 black women — all between the ages of 15 and 34 — were found in Roxbury, Dorchester, Jamaica Plain, the South End, and Back Bay. 
Kendra Hicks, a local artist and community organizer, will remember Hargett's death on Thursday with a 24-hour art installation near where the 29-year-old's body was found. Since January, Hicks has been putting up temporary artwork for each of the women who died in the rash of violence 40 years ago.
"One of the things I wanted to pose really was, 'Who gets memorialized in the city and who's allowed to be memorialized? Who has monuments erected in their name?'" Hicks told Boston.com.
A Boston native who grew up in Egleston Square, Hicks said she started doing community organizing work in her teens. Through her activism, she began studying black feminists and black feminism, which led her to discover the Combahee River Collective.
"The Combahee River Collective is a black, queer socialist collective that was here in Roxbury from 1974 to 1979, and they were one of the groups of women who basically responded to these murders when they were happening," Hicks said. "They were creating literature for the women in the neighborhood when these murders were happening."
It was about a year and a half ago that Hicks said she learned of the string of murders that rocked the black community at the time and decided to create artwork that would commemorate the 40th anniversary of the women's deaths. With the help of a Kickstarter campaign and a crew of volunteers, she has been designing the installations for the 10-part memorial she calls "The Estuary Projects."
"This is a guerrilla art project, so we don't have any permits for them, so we've been putting them up and then going in and also taking them down," Hicks said.
Putting up the artwork without permission is part of her message, she said.
"Taking space out in the city, on purpose in the public and without permission is very intentional as part of the project," Hicks said. "Because I really do want to say that these black women do deserve to be memorialized."
The installations go up early on the anniversary of each woman's death near where they were found and come down 24 hours later.
https://www.facebook.com/theestuaryprojects/photos/a.1151512651665831/1245142988969463/?type=3&__xts__%5B0%5D=68.ARDjAVJSK9okG9oruWNXim_C_1G9VtL2MDx8CAVIbgqNexoqnxyK8IQg_HdJbHsVmhkES4IBoHMszaBMSIDh3jyTG__94wbc4vNR3dGodAQgkWAbh8CRt_WqdoEzcne4Z9Iq_MuN5J1gxnLZCAU7k7-D3-LmxqVEIIgHOy7439APxW-qdjKiHrlSEWvIUXbRYdk0m-ujvbmPasCgAiA2RP9hb90U44da-1_Btnj74z1DYJHfdg4gNZEHrW5Fg-GsRhWyrc0E__YWyWmrDH5QBaT9HQzIUMWVKX-3_cY68gJ0Co7vk9NNwnREEwoOYGtjethTlW_JpiQIx0zLVEPqXl-EE3gC&__tn__=-R
"The other reason why I wanted to do installations is because the installations are really invitations for people in the community to remember our collective history but also what we survived in our community," Hicks said. "So I knew that an installation right smack in the middle of where people are walking and spending their regular lives was going to be the way that I was going to be able to invoke that in people. To kind of spark that attention of, 'Oh, what's this thing that's in the middle of my neighborhood and what does it mean?' I wanted them to be very prominent and I wanted it to be visible and I wanted it to be public and I wanted it to be in the midst of people's everyday doings."
Hicks said the project has become very personal for her. She started it off by communicating the names of the 11 victims in the Bay State Banner, hoping she would be able to reach family members and friends of the women.
Then she spent hours reading about the women in newspaper archives — learning how the young women lived and the details of their violent deaths.
"It becomes overwhelming for me because you get to know all these women, and I'm creating an installation for each of these women," she said. "But you also have to familiarize yourself with how they were taken."
That impact is why Hicks said each of the installations features an alter and starts with a 9 a.m. ceremony where attendees light candles, say prayers, and sing songs for the victim.
The moment of remembrance is a reflection of her own process through the project, she said.
"There is a political statement that I'm making with these installations," she said. "But it's not lost on me that these are people and that these are women whose lives were lost. So the ritual and the ceremony is a way to honor them and to honor them as people who are our ancestors and as people who were taken in these moments."
As she was developing the project, Hicks heard from the families of two of the women, and then a family friend showed up at one of the installations and was able to connect her to a third family.
"People are stumbling on the installations and being like, 'Oh I knew this woman or I was around during this time,'" Hicks said. "And they start telling stories and kind of remembering."
https://www.facebook.com/theestuaryprojects/photos/a.1151512651665831/1156430724507357/?type=3&__xts__%5B0%5D=68.ARD-6tdqIpI2tViDFOW1bhw2v7DHBIcYcnlsK4NV5Uyi_iHd3sZUrmYEtdXlCiiRcfUA3911xXlNJnrejxDcQtc61x1yblulc7tznc8RsMu-fyLu2pDfbh_5F11qAxSfZB70Oik99d4maLtF0pjAPwBf0AMjlzjh86eE39j82qTmZRXD_RbJPEOpEt_IBEcBw1a3B4ZZmbsrh7akKaLDFbUOX8rVHoLta_Fb0FrDX2vwcwxtJ_BeknR-9ea_6qUQSM4Ansf9iL5nXGrwhJlf6Yon8ioutbQTNVkXJWMUP4KCnYQGlYBTkO7jNfevMJP7kuDGhpSz87JzV5YxjzgbuDMDBWqe&__tn__=-R
The installations, which run through May, are just the first part of the project.
For part two, Hicks wants to bring people together who were moved by the installations and work together to develop "alternative systems" for the neighborhoods.
"The story of the project for me is that the end of the world has come for black and brown people multiple times again," Hicks said. "We've experienced things that could be considered apocalyptic. Similar to the time that we are in now. We're having a lot of conversations about what's happening in the world — climate change, politics, family separation, state violence — and it feels like a lot. Everybody's kind of like, 'Oh my God, what's going on, the world is crumbling around us.' So the installations are a reminder — no actually we've been here before. We've survived these kinds of things, and we've done it by being creative, by coming together, and by creating new things. So for me, I really want us to see this ending, this ending of the world, as an opportunity for us to build the new world."
That's why she chose to call the works and process "The Estuary Projects" — it's meant to symbolize an ending and beginning at the same time.
"The other thing with an estuary is an estuary has its own ecosystem," Hicks  said. "And so actually at the moment where an ending and beginning meet, where the river and ocean meet, there's something brand new that's created there. There's like a brand new ecosystem. So I'm trying to signal us to think of this as an estuary moment."
After the installation for Hargett, works for six other women will follow through May: 17-year-old Desiree Denise Etheridge, 22-year-old Darlene Rogers, 31-year-old Lois Hood Nesbitt, 19-year-old Valyric Holland, 30-year-old Sandra Boulware, and 34-year-old Bobbie Jean Graham. Artworks remembering Christine Ricketts, 15, Andrea Foye, 17, Gwendolyn Yvette Stinson, 15, and Caren Prater, 25, have already gone up and been taken down.