Local
After complaints, Boston issues permit cutting back on 3-day 'Hempfest'
"If we want to progress we have to compromise. We're certainly not happy about it, but we're willing to work with the city."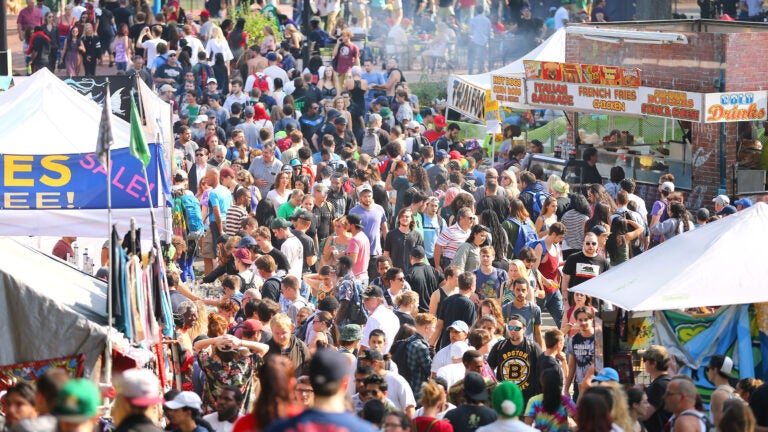 When the Boston Freedom Rally takes to Boston Common this fall for its 30th year, the popular marijuana education and advocacy festivities will no longer be a three-day affair, city officials say.
Following a multitude of complaints about trash, noise, and damage to the rally's yearly home at the historic park last September, this year's event — commonly referred to as "Hempfest" — will instead be limited to one day, according to a permit recently issued by the Parks and Recreation Department.
In a letter earlier this month to rally organizer Massachusetts Cannabis Reform Coalition (MassCann), parks Commissioner Christopher Cook said the decision to cut back "will ensure both that the park is protected from sustained damage and that the City can properly maintain permit conditions."
Cook and other officials extensively detailed complaints against MassCann at a contentious City Council meeting in November, where they said rally organizers violated their permit by allowing people to park vehicles on the Common and attendees to smoke in the park. An abundance of litter was also left behind, they said.
"The damage to the park was exacerbated by the fact that you or your vendors committed the … permit violations throughout the course of the three-day event," Cook wrote in the Feb. 8 letter.
At November's council hearing, rally leaders said they were willing to work on making sure they comply with the permit regulations, and suggested they could potentially consider having the always-growing event fit into a two-day schedule.
But Cook says this year's rally is permitted only for Saturday, Sept. 21 between noon and 8 p.m. MassCann will have access to the park both the day before and the day after, but only for the purposes of setting up and removing equipment.
Maggie Kinsella, MassCann press secretary, told Boston.com Wednesday that rally organizers were hopeful that the event would retain its three-day schedule, but also understand that city could have also denied their permit outright.
"I think if we want to progress we have to compromise," she said. "We're certainly not happy about it, but we're willing to work with the city, to let them get to know us."
Organizers hope to have a discussion with city officials regarding whether the rally could at least run a second day, Kinsella said. A two-day event could ease the challenge of communicating to attendees about the switch from three days to one day, especially as crowds have only grown larger over the years, she said.
But organizers will ultimately not fight City Hall about it, Kinsella said. When it began decades ago, the rally was a one-day event before expanding in recent years, she said.
"If we continue arguing about the past, we're never going to move into the future with what it could be," she said.
Last summer, the Friends of the Public Garden, which helps maintain and preserve the Common, urged city leaders to enact changes to the event, including either relocating it or scaling it back.
A post on the group's website in July said the rally "is tantamount to an occupation of the Common, which feels under siege by the huge number of tents, vendors, people smoking marijuana, and loud and profane music and speeches from the stage." More criticism followed after last year's rally in September.
The group's executive director, Elizabeth Vizza, thinks a one-day rally is a good compromise since the size of the event has grown beyond MassCann's ability to manage it, she said this week.
"I think that everyone's needs can be met, and, again, it feels like a reasonable response to a very hard year last year," Vizza said.
Parks and Recreation Department spokesman Ryan Woods said in an interview the city hopes that the rally is in line with other day-long events that take place on the Common throughout the year.
"We'll take it one year at a time, and hopefully there aren't any violations after this year's event," he said.