Local
Anti-Trump protesters held a rally in Falmouth. Then they got splashed by a snowplow driver.
"I'm sure as if he met us in a small group, we could have talked with him."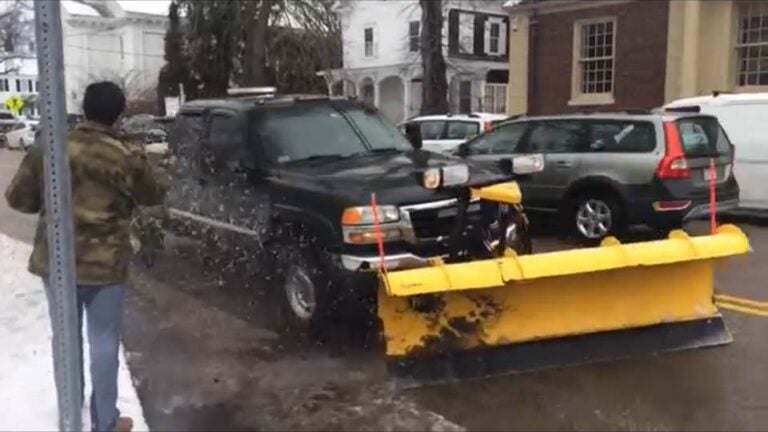 Anti-Trump protesters in Falmouth Monday say they were targeted because of their political views when they were splashed with slush and snow by a passing snowplow driver, who is now facing charges from police.
John C. Pimental, 31, of Mashpee, was allegedly behind the wheel of his snowplow when an icy flurry washed over demonstrators on the Falmouth Village Green that afternoon, The Cape Cod Times reports.
Police charged Pimental, who will be summonsed to court, with assault and disorderly conduct, according to the newspaper.
Demonstrators who were there told Boston.com about 55 people turned out to voice opposition against President Donald Trump's policies. The group was particularly fired up about Trump's decision last week to declare a national emergency to secure funding for his proposed wall at the U.S.-Mexico border.
Joe Andreassi, who attended with his wife, Kim, said he watched the truck's plow drop as it sped up toward the triangular park and spray those who didn't see it coming.
Many demonstrators were holding homemade signs, he said. Some attend similar, smaller demonstrations held there every weekend.
"He knew what we were doing and why we were there," Andreassi said.
Falmouth police believe this guy intentionally splashed anti-Trump protestors pic.twitter.com/J0zcS4Vt38

— Bill Shields (@ShieldsWBZ) February 19, 2019
He then watched the truck turn the corner of the green, where it sat for a few minutes, before Pimental allegedly started driving again to come back around and splash the protesters a second time, according to Andreassi.
He estimated the truck was traveling at least 40 mph.
"These people were a curb stone away from the road. … He just walloped them with snow," he said.
The crowd was mainly senior citizens, according to co-organizer Sandra Faiman-Silva, who said, collectively, the group's average age was probably 70 years old.
"It's pretty benign, so it did seem aggressive," she said in an interview, adding that police, not demonstrators, opted to press charges.
No one was injured or left the scene afterward, although some demonstrators feared the driver would take more drastic action, Faiman-Silva said.
"We were hostage to his whim," Kim Andreassi said. "If he wanted to run us over, we would have got run over."
According to James Grady, highway superintendent for the Town of Falmouth, Pimental has plowed snow for the town for years as a subcontractor without issue.
Grady said the Village Green is not on Pimental's assigned route but it is near it.
The town will not make any determination on his employment status until after the investigation concludes, Grady said in an interview Thursday.
Pimental could not be reached for comment.
Both Faiman-Silva and Joe Andreassi said they believe the incident represents the political aggression and violence ushered in by Trump, who as a candidate once told supporters to "knock the crap" out of protesters at a rally, among other controversial phrases both in and out of office.
"I think it's a microcosm of what's going on in this country right now fed in by the man in charge," Joe Andreassi said. "His whole campaign was negative."
Faiman-Silva said, however, she hopes it doesn't overshadow the sentiment behind the protest.
"We just hope that this event doesn't erase or subvert the real message of the day, which is the corruption of our government and how civil society is really just being undermined by the inappropriate and disgusting (actions) of our leadership," she said.
Still, the group is considering how to move forward from the incident. Demonstrators would like to have the opportunity to talk with Pimental on the issues facing the country, Faiman-Silva said.
"I'm sure as if he met us in a small group, we could have talked with him," she said.