Local
What is CBD? Here's what you need to know.
The trendy extract from the cannabis plant is making appearances in a spectrum of products.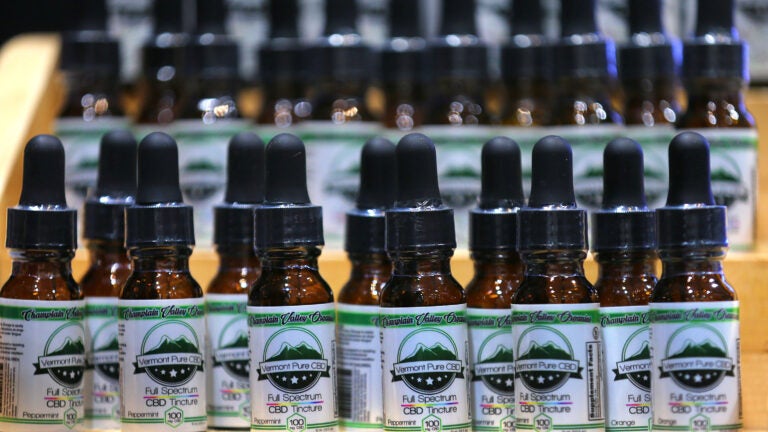 You've probably seen the advertisements by now.
From bath-bombs to lattes, products infused with CBD seem to be appearing out of the woodwork, promising relaxation and relief from ailments ranging from stress to depression. The growing popularity of CBD even has celebrities, from former Celtics star Paul Pierce to Willie Nelson, jumping into the market.
But what exactly is CBD — and what makes it different from marijuana?
Below, four questions and answers about the popular ingredient being added to everything from pizza to cocktails to smoothies.
What is CBD?
CBD, or cannabidiol, is one of the two most prominent molecules found in the cannabis plant. But unlike the other more well-known cannabinoid, THC (tetrahydrocannabinol), CBD doesn't have any psychoactive properties.
"[CBD has gotten] very popular because it has effects such as helping with insomnia, helping with pain, helping with anxiety," Peter Grinspoon, a primary care doctor at Massachusetts General Hospital, said in an interview. "So it just happens to be another one of the hundred or so cannabinoids that are in cannabis, but it's one that has properties that people find very attractive, so it's become very popular."
The cannabinoid can be extracted from both marijuana and hemp, the doctor said, resulting with different makeups.
"Hemp-derived CBD has very low THC, usually less than 0.3 percent, so it is very hard to get high from," Grinspoon said. "CBD in and of itself doesn't have any psychoactivity. And if it has very low THC you don't really get high from it. CBD-derived from marijuana can have higher levels of THC, so you can derive it either way."
What is the science behind it?
Just like THC, CBD works on the cannabinoid receptors of the brain.
"We have this whole neurotransmitter system, the endocannabinoid system, which is how marijuana and THC and CBD are mediated," Grinspoon said. "There are THC1 receptors in the brain, which is why THC can get you high. … And then there are cannabinoid two receptors in the immune system, which is why CBD can help with things like irritable bowel syndrome, things like that. And the CBD just has a different effect on the CBD1 receptors on the brain."
It doesn't get you high, like marijuana, but it does affect the parts of your brain that can help with anxiety and insomnia.
A key aspect of CBD is that it doesn't have any addiction or abuse potential, Grinspoon said. The World Health Organization announced its position in 2017 that CBD has no public health risks or abuse potential.
"It doesn't, again, get you high or lead to any kind of recreational use," Grinspoon said. "But it does alleviate uncomfortable situations, such as anxiety and insomnia."
What do people use it for?
CBD can be consumed as a pill or an oil, or it can be vaped or used in a topical formulation.
"People use it for anxiety — there's evidence behind that," Grinspoon said. "People use it for insomnia. People use it for social phobia, for performance anxiety before speaking."
Grinspoon said there is "some evidence" that CBD is useful for treating pain, though its effectiveness is not as as strong as medical marijuana.
"There's some really, really interesting research coming out that it may be quite helpful in addiction," he said.
He said he has a lot of patients who have responded well to using CBD, but that in the United States, study of the medical applications for the cannabinoid have lagged until recently.
About 536 studies involving CBD are currently listed on the National Institutes of Health database, ranging from examining its effectiveness treating PTSD to Parkinson's disease. Last year, the Federal Drug Administration approved the first drug containing CBD for the treatment of seizures in young children.
"I think it's very exciting," Grinspoon said. "You don't want to over-promise. And again, just like marijuana, there are many more claims of success than there are actual hardcore studies of success. But CBD is very safe, and if it helps people I think that's fantastic. I would love to see the scientific research catch up to the perceived effectiveness that patients are finding. But so far so good, it's pretty interesting how much people believe it helps them."
With the flood of CBD-infused products hitting the market, Grinspoon cautioned that time will tell whether data will back up the claims — labeled as snake oil promises by skeptics —  being advertised for CBD.
"I think it's really going to play out for addiction," he said. "Whether it's that strong a painkiller, we'll see. We don't have the data yet. … I think snake oil might be too strong a word because I think it's going to be something."
It just might not turn out to be the "wonder drug" some hope it will be, he said.
"I just hope that it's not being over-promised," Grinspoon said.
Grinspoon said it's hard to say what levels of CBD will provide the sought-effects, especially since studies of the chemical typically look at "very high" doses compared with what is typically marketed.
"Who knows what dose you're actually getting when you're getting an ice cream or a CBD cookie, because it's not standardized," he said. "So it's really hard to tell. But I would say that there is a lot of trial and error involved. And the good part is that CBD is very safe. You're not going to overdose. You're not going to have a bad reaction."
What should consumers know about regulation?
In Massachusetts, CBD containing more than 0.3 percent THC is considered cannabis and is regulated by the state's Cannabis Control Commission.
Otherwise, products containing CBD are not regulated.
Until the passage of the 2018 farm bill in December, CBD was still considered a controlled substance under federal law, and it was illegal to grow hemp nationwide. The passage of the bill allowed hemp to be designated as an agricultural crop, but the FDA issued a statement after it was signed that restated the agency's position that CBD is a drug ingredient, making it illegal to market or introduce it into food or as dietary supplements without the agency's approval:
Cannabis and cannabis-derived products claiming in their marketing and promotional materials that they're intended for use in the diagnosis, cure, mitigation, treatment, or prevention of diseases (such as cancer, Alzheimer's disease, psychiatric disorders and diabetes) are considered new drugs or new animal drugs and must go through the FDA drug approval process for human or animal use before they are marketed in the U.S. Selling unapproved products with unsubstantiated therapeutic claims is not only a violation of the law, but also can put patients at risk, as these products have not been proven to be safe or effective.
In Massachusetts, the Department of Agricultural Resources has jurisdiction over hemp. It issued a policy for commercial growing and processing of industrial hemp in April 2018. Under it, growers and processors of industrial hemp are required to obtain licenses, complete with testing and oversight, from the state.
The state requires that products made for human consumption containing CBD be labeled with a breakdown of the cannabinoid profile. Labels must also identify that the product was made from industrial hemp and warn the consumer that it has not been "analyzed or approved by the FDA" and that it "has not been tested or approved by the Massachusetts Department of Agricultural Resources."
Otherwise, there is no day-to-day regulation of the quality of products containing CBD, according to Kevin Conroy, a partner at the Boston-based law firm Foley Hoag and former Massachusetts deputy attorney general.
"CBD is often sold in various stores, and [MDAR is] not going to regulate that product," he told Boston.com. "They're not going into stores and doing that regulation, they're not checking the quality of those products in any way. Whereas the Cannabis Control Commission has a pretty in-depth regulatory scheme for regulating everything related to cannabis."
The lack of regulation of CBD is Grinspoon's "main concern" when it comes to the burgeoning market.
Consumers should be careful when they buy products advertising to contain CBD and do their best to ensure they know what dose of the cannabinoid they are getting, he said.
"You can't just go to any old store and buy any old CBD, because it's just not regulated," he said. "People need to get CBD from a reputable supplier."
Conroy agreed.
"Buyer beware," he said of his advice for consumers. "For one, they should check out the products, check out what the products do and whether there are complaints about those products. Many folks just kind of recommend using some of the more well known brands of CBD. But there's no institution out there regulating this."
From time-to-time, Conroy said the FDA exerts some regulation of the products containing CBD but it doesn't extend to day-to-day oversight.
"The only regulation that they've done over time has been when a CBD manufacturer makes claims about its products that implies that it is going to cure cancer or cure a disease or something like that," he said. "Then the FDA has in the past told those entities they must cease and desist because that product has not been demonstrated to do that."
The Massachusetts lawyer said he expects that CBD will be taken up as a federal regulatory issue in the future.
"Right now, the state doesn't do much regulation in quality of drugs or in pharmaceutical products," Conroy said. "So I think it's more likely that you're going to see federal regulatory authority over CBD than it is going to be state regulatory."