Local
Jassy Correia left a Boston nightclub and was found dead days later. Now a suspect is facing charges.
Louis D. Coleman III, 32, of Providence, is charged with kidnapping, failure to report a death, and mutilation of a dead body in Rhode Island.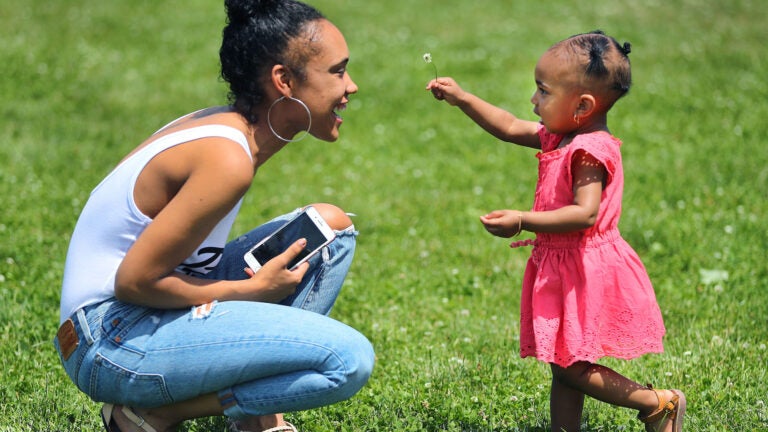 Louis D. Coleman III, the man arrested in connection with the kidnapping of 23-year-old Jassy Correia, will face multiple charges in Rhode Island, including failure to report a death, authorities said Friday.
The 32-year-old Providence resident was arrested in Delaware Thursday and is awaiting law enforcement to bring him back to New England.
The criminal complaint filed in Rhode Island also charges Coleman with kidnapping and mutilation of a dead body, according to a statement from the Rhode Island Attorney General's office.
"All documents in this case remain confidential at this time," the statement reads. "It is not known at this time when the defendant will be brought back to Rhode Island to appear in court. Our office will have no further comment on this matter until the defendant appears in court."
Coleman was arraigned as a fugitive from another state in New Castle, Delaware, after he was taken into custody alongside Interstate 95, Carl Kanefsky, a spokesman for the Delaware Attorney General's office, told Boston.com.
He was in the Howard R. Young Correctional Institution in Wilmington, Delaware, as of Friday morning, Kanefsky confirmed in an email.
Authorities in Delaware recovered a body from Coleman's car Thursday afternoon, hours after Boston police posted his picture, naming him as a suspect in the kidnapping. Correia's family members say authorities have told them that the 23-year-old was found dead in the trunk of the car.
The discovery was made following a brief pursuit on I-95 that ended in Newark, Delaware, around 2 p.m., court records obtained by Boston.com show.
Suffolk County District Attorney Rachael Rollins told reporters Friday that Correia's body was at the Delaware Medical Examiner's Office.
She said city, state, and federal authorities across Massachusetts, Rhode Island, and Delaware have worked together "seamlessly" in the search for answers in what she described as "a very complicated and complex case" rife with moving parts.
It was unclear Friday afternoon if prosecutors will bring charges against Coleman in Massachusetts. Rollins said investigators are still examining evidence.
"Whatever this case is ultimately charged, wherever it's charged and tried will be based on the evidence and the law. We're following that wherever it takes us," Rollins said during a press conference. "But let me be clear: We agree if possible this case belongs here in Boston, either in Suffolk County or in the U.S. District Courts of Massachusetts. Jassy was and is a part of our community. Her family is a part of our community, and her community deserves the chance to see justice done in this city."
WATCH LIVE: DA Rollins, Commissioner Gross providing update on homicide investigation involving woman last seen leaving Boston nightclub. NOW on 7News.

Posted by 7News – WHDH Boston on Friday, March 1, 2019
The timeline of the case
Correia's father, Joaquin Correia, of Dorchester, told The Boston Globe that his daughter went out on Saturday night with two female friends and a man, although it wasn't clear if that man was Coleman.
According to Boston police, Correia, who was most recently living in Lynn, was last seen early Sunday morning after leaving Venu nightclub, which is located at 100 Warrenton St. in the city's Theater District.
She was spotted in the area of 255 Tremont St., also in the Theater District, at about 12:15 a.m. Sunday with a man, who police have now identified as Coleman, and later seen entering a vehicle, believed to have been a red Nissan Altima, with the same man in the area of Tremont and Herald streets, which is just south of the Mass. Pike.
Boston police posted a "missing person alert" for Correia, a mother of a 2-year-old girl, on Wednesday night, as well as a video of the man she was last seen with.
Missing Person Alert issued for 23-year-old Jassy Correia

Missing Person Alert: BPD Seek Public's Help in Effort to Locate 23-year-old Jassy Correia: The BPD is issuing a Missing Person Alert and asking for the public to review video of a person of interest in effort to locate 23-year-old Jassy Correia. Shortly after leaving the Venu Nightclub, Correia was seen in the area of 255 Tremont in Boston in the company of an unknown male (see video) at about 12:15AM on Sunday, February 24, 2019. Correia was later seen entering a motor vehicle, believed to be a red Nissan Altima, with the same male in the area of Tremont and Herald Streets. When last seen, Correia, who is approximately 5'7" tall, was wearing big hoop earrings, an orange jumpsuit and a jean jacket with an image of red lips and pink wings on the back of it. Anyone with information regarding the whereabouts of Jassy Correia, the identity of the unknown male or vehicle is asked and advised to contact District B-2 detectives at 617-343-4275.Community members wishing to assist this search anonymously can do so by calling the CrimeStoppers Tip Line at 1 (800) 494-TIPS or by texting the word 'TIP' to CRIME (27463). The Boston Police Department will stringently guard and protect the identities of all those who wish to assist this investigation in an anonymous manner.

Posted by Boston Police Department (Official) on Wednesday, February 27, 2019
A unnamed law enforcement official told the newspaper that both Correia and Coleman were seen in a surveillance video entering his Providence apartment, with Coleman carrying her, although it was unclear what condition Correia was in at that time.
Correia was never seen leaving the building. Coleman is seen later carrying baggage that authorities allege held Correia's remains, the Globe reports.
Midday Thursday, police posted Coleman's picture, referring to him as a suspect in what had become a kidnapping case. They said Coleman's red vehicle was last spotted in Providence on Thursday.
His arrest was announced roughly five hours later.
Coleman appeared in Justice of the Peace Court 11 in New Castle, Delaware, Friday before Judge Thomas Kenney on the fugitive charge, court records show.
A Delaware State Police detective wrote in a affidavit that Coleman was pulled over on the highway after a broadcast describing his vehicle was put out by the State of Rhode Island.
Upon stopping Coleman, the detective wrote, "a deceased female was found in the trunk of the vehicle."
Given the continuing probe, Rollins and Boston Police Commissioner William Gross told reporters Friday they could not address specifics of the investigation.
"We're not trying to be evasive in any of the questions that we're asked, but we must maintain the integrity of this case," Gross said, adding that Coleman would receive due process.
What we know about the suspect
Police held a press conference Thursday outside Coleman's residence at 95 Chestnut St. in Providence. Officials were seen searching a dumpster at the apartment building and said they carried out a search warrant in Coleman's home.
In the photo released by authorities Thursday, Coleman is wearing what appears to be a Raytheon lanyard.
"As this is a criminal investigation we defer any further inquiries to law enforcement. We are cooperating fully with the investigation," a company spokesman, Michael Doble, said in an emailed statement when asked if Coleman was an employee.
The Globe reported Coleman earned a master's degree in experimental physics from California State University in Long Beach two or three years ago.
Professor Thomas Gredig, Coleman's co-thesis adviser, told the newspaper that Coleman worked in an electrical engineering lab during his time as a student and was interested in bioengineering.
Coleman's personal website describes him as a "Developer, Engineer, Physicist," according to the report.
"Louis Coleman encourages clients to rethink their design, process and service by helping them break free from preconceived ideas, refesh (sic) team creativity with solutions that make the final product and research highly competitive, and maximize savings passed on to consumers by helping management minimize project risk," the website reportedly reads.
A man who lives at 95 Chestnut St. told the Globe that he considered Coleman a "normal guy" who seemed to be "clean cut."
"No weird behavior," Hector Fuentes, 30, said, adding that he was "shocked" by the news.
Support for Correia's family
Family of Jassy Correia speaking

Posted by Boston 25 News on Friday, March 1, 2019
A day after he made an emotional plea for his daughter to be found safely, Correia's father, Joaquin, told the Globe he couldn't imagine why anybody would hurt her.
"People make mistakes, but this is not the solution, (to) take the person's life," he said.
In Dorchester Friday morning, Boston Mayor Mary Walsh, Gross, and Rollins met with Correia's relatives, who Gross called "a beautiful family."
"They don't deserve this," he told reporters.
Walsh declined to comment outside the home, but wrote in a tweet: "The pain that we feel as a city right now is real as we mourn the loss of a young life that was taken too soon. My heart breaks for Jassy's family and friends, and her young daughter. Together, let's watch over one another. We are our brothers and our sisters' keeper."
The pain that we feel as a city right now is real as we mourn the loss of a young life that was taken too soon. My heart breaks for Jassy's family and friends, and her young daughter.

Together, let's watch over one another. We are our brothers and our sisters' keeper. -MJW

— Mayor Marty Walsh (@marty_walsh) March 1, 2019
Rollins said her staff reached out to Correia's father Thursday to express their commitment to finding answers.
She also said Friday that Jassy "was not in the wrong place at the right time."
"She was right where every woman has every right to be: celebrating her birthday, on a night out with friends," Rollins said. "Let's not fall into a discussion about whether we should walk home alone or how many people we should call when we're leaving the club.
"If anything, let's remind the men in our lives that violence against women isn't a women's issue," she continued. "It's a problem that men take responsibility for in their lives, in their sons' lives, and in the social lives with friends and colleagues."
Donations to a GoFundMe campaign set up to support her family poured in Friday, far surpassing the initial $50,000 goal.
Over $95,000 was raised before 5 p.m.
"Please donate anything you can to [ease] the burden on the family," the page says. "Any and all additional money raised will be used to [set up a] college fund for Jassy's daughter. Please help Jassy's family in this very difficult time of need as we suffer through this horrific tragedy."
Katia Depina told reporters Thursday that her cousin, Jassy Correia, was "brave" and "strong."
"She did not deserve this," Depina said. "She went out to celebrate her birthday and never returned home."
"We want justice for her death," she added.