Local
Here's what the Martin Luther King Jr. and Coretta Scott King memorial on the Common will look like
"The Embrace" will find a home near the Parkman Bandstand, where MLK once spoke in 1965.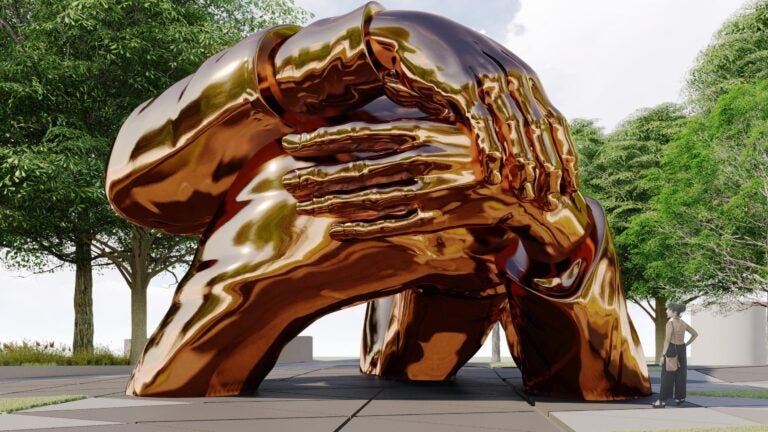 Whether it was through the roads of southern cities or elsewhere across the country, the Rev. Martin Luther King Jr. and Coretta Scott King marched in united embrace, their arms linked as they pushed forward, together.
That image, usually found in history books, will now have a notable place in Boston after it was announced this week "The Embrace" had been selected by the King Boston initiative to be the design for a new memorial honoring the civil rights leaders on Boston Common.
The statue, a 22-foot-tall, bronze sculpture depicting the Kings' arms joined together, was designed by artist Hank Willis Thomas and MASS Design Group, who were inspired by those images of the Kings taken decades ago.
"On multiple occasions, the nation witnessed the Kings locked together at the frontlines of a march," a proposal for the sculpture reads. "A monument that captures this embrace declares that love is the ultimate weapon against injustice. In evoking the love shared between the Kings, their commitment to each other, and their ideals, The Embrace is overwhelmingly simple and accessible: it is about what we share, not what sets us apart."
The memorial, slated to be unveiled next year, will rise in the heart of the Common, just north of the Parkman Bandstand where Martin Luther King Jr. once spoke in 1965.
King Boston, a privately-funded effort, is also in the early stages of creating "The King Center for Economic Justice" in Roxbury, the neighborhood where Martin Luther King, Jr. and Coretta Scott met over 60 years ago through a friend at the Twelfth Baptist Church.
The group, among other plans, has also commissioned Boston filmmaker Roberto Mighty to produce and direct "America's first documentary, multimedia and online project about Martin Luther King Jr. and Coretta Scott King's pivotal years in Boston in the early 1950's," according to a press release.
"The documentary will explore the early relationship between Coretta Scott and Martin Luther King Jr., where they spent time in the city, and their dreams for a life of activism and family," the statement says.
In the meantime, here are a few renderings showing what the King memorial will look like once completed: