Local
Boston's Seaport doesn't have a school, library, or police and fire stations. City councilors want to change that.
Amid its rapid transformation from an industrial landscape to a cultural destination, the neighborhood is only expected to grow more by 2030, officials say.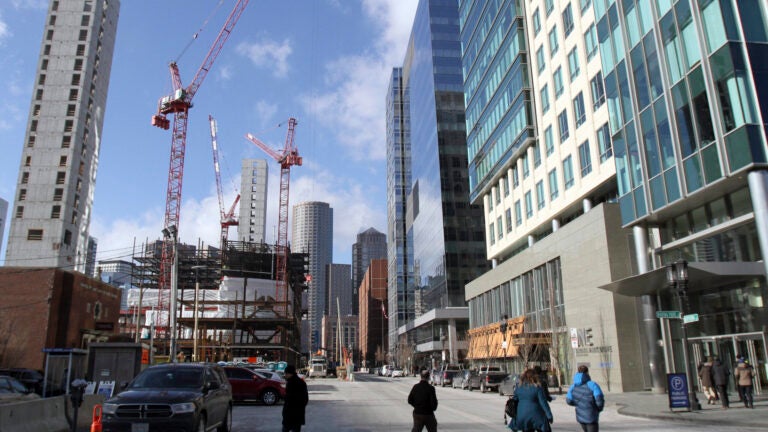 New restaurants? Check.
A popular music venue? Check.
Shiny new apartments? Check.
What Boston's booming Seaport District doesn't have though are some of city's most critical services, according to a several city councilors.
There's no school, library, community center, nor are there any police or fire stations.
"There are no ball fields if kids want to play baseball or basketball," Michael Flaherty, an at-large city councilor, said Wednesday. "There's not even a polling location."
Although it's on track to eventually be home to over 20,000 residents within the next decade, the city's newest neighborhood does not have the basic public amenities that are in the standard fabric of other communities throughout Boston, despite its immense and rapid growth in recent years, officials say.
Plans to change that will be at the center of an upcoming City Council hearing, which Flaherty, along with councilors Ed Flynn and Michelle Wu requested during a meeting Wednesday.
They anticipate the discussion will revolve around scouting out locations in the Seaport for those services and building partnerships, they said.
In 2012, the Seaport's residential population was anticipated to triple by 2030 and parallel the rise of 13,000 additional local jobs, according to statistics cited by councilors.
Wu said residents are frustrated that they don't "even have spaces to gather, to organize, to amplify their voices" as their neighborhood has transformed.
"Every neighborhood desires not just services and access to those services but (also) just gathering spaces for people to create community," she said, adding that residents have felt the rate of commercial development has outpaced the work to improve residential services.
Talk of bringing a Trader Joe's to the area, which would be the neighborhood's first supermarket, only came about last month.
State Sen. Nick Collins, a South Boston Democrat, made a push on Beacon Hill in 2017 for funding for a library — a request for $10 million that was ultimately granted in the state's 2019 fiscal year budget.
Collins has said many places in the Seaport, including the District Hall innovation venue, are available for public use, but are leased by private owners. It's not certain that those places will always be an option for residents.
"Sen. Collins has been banging this drum for a while and this hearing is long overdue for us to support his efforts and also his ideas," Councilor Frank Baker said Wednesday.
While the lack of a public institutions presents civic issues, officials also have immediate concerns about public safety in the neighborhood.
Several fire houses in South Boston and downtown currently serve the Seaport, but Boston's ever-growing traffic congestion raises worries about how quickly firefighters from those stations could make it to the scene in the event of an emergency, Flynn said.
"I had the opportunity when I was young to work in the South Boston Waterfront when there was only two or three buildings down there … and there was virtually no traffic down there," he said. "Now it's very difficult to get in and out of there so it is a public safety concern for me."
Flynn said councilors will seek to work with Mayor Marty Walsh's office ahead of this year's municipal budget planning process on what can be done to usher in services to the area.
Councilor Lydia Edwards said she hopes the discussion ultimately gets at the larger issue of how the city can make sure that growing communities are equipped with the infrastructure needed to support them.
"I hope we can get some standards for growth in Boston," she said.