Local
What to know about the opening of Brookline's recreational marijuana dispensary
The Brookline Village dispensary is the first adult-use cannabis store you can get to via the MBTA.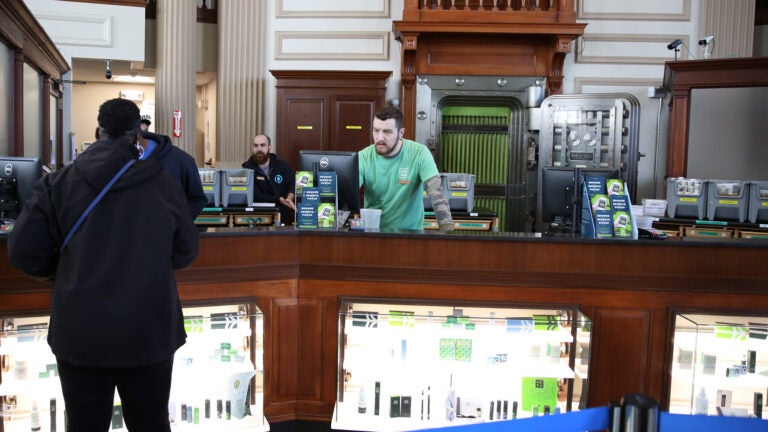 Purchasing recreational marijuana will be just an MBTA ride away Saturday.
More than four months after the first adult-use cannabis shops opened in Massachusetts, the first Boston-area dispensary is slated to follow suit. New England Access Treatment — whose Northampton store was one of the first two places in the state to sell recreational marijuana — announced Friday that it will begin adult-use sales at its Brookline medical dispensary on Saturday, March 23.
The 160 Washington Street dispensary, located in an old bank building in Brookline Village, received a commence-operations notice earlier this month from the Cannabis Control Commission, just eight days after it secured a final retail license from the agency.
Amanda Rositano, the director of operational compliance for NETA, says it's been a long time coming.
"We want to thank the Brookline Select Board and the Cannabis Control Commission for the confidence they have shown in our organization," Rositano told Boston.com in a statement. "We also want to thank the community of Brookline, the Police Chief, and the public safety and town departments for the support they have provided over these past months of preparation."
During a press conference Friday, she said NETA is prepared for "large crowds" Saturday given the dispensary's proximity to Boston, though she declined to predict an approximate number.
"This is a really significant moment," Rositano said.
Here's everything potential customers need to know if they plan to visit.
So… when exactly will they be open?
9 a.m. Saturday, March 23.
While the Brookline medical dispensary currently runs limited hours on the weekend, Rositano says the Brookline store will be expanding their hours with the start of adult-use sales. NETA plans to be open from 10 a.m. to 10 p.m. on weekdays and 9 a.m. to 10 p.m. on weekends.
How to get there?
Did we mention the MBTA?
Given their location on the corner of the busy intersection of Boylston and Washington streets, NETA officials are strongly encouraging customers to take public transportation. The dispensary will also be closing its small on-site parking during its initial opening period to provide space for customers to line up. Fortunately, the MBTA offers a number of ways to get there.
The Brookline Village T stop, which is the Green Line's D branch, is virtually across the street from NETA. However, due to scheduled maintenance on the D branch on most weekends this Saturday through May 5, the dispensary is recommending that customers take the E branch to the Green Line's Riverway stop, which is a roughly 10-minute walk down Washington Street from NETA.
There are also several bus routes (39, 60, 65 and 66) with nearby stops in Brookline Village.
"Those without access to public transit may consider cabs, ride-sharing programs or biking," Rositano said.
There are also two BlueBike stations near NETA, and Brookline residents may even have the option of dockless electric scooters come April.
If driving is the only option, Rositano says the dispensary will have 25 reserved parking spots one block away at the Homewood Suites by Hilton Boston. According the company's transportation guide, customers who drive will first have to stop at NETA's on-site lot and and pick up a valet card from an attendant, which they can trade for a parking pass at the Homewood Suites lot. From there, it's a short walk back to the dispensary.
NETA's transportation guide also notes that there a few other paid parking alternatives — both garages and a limited amount of metered street-side spaces — within walking distance. For registered medical marijuana patients, the company has reserved a small lot across the street from the dispensary during initial opening period.
"But again, we encourage public transportation," Rositano said.
What will the scene be like at the store?
For those curious what the dispensary, which is located in the renovated Brookline Bank building, literally looks like, NETA does have a virtual tour of the space. However, its opening period will likely be a lot more crowded than in looks online.
"In the neighborhood, there's been very little controversy about this opening, but there's been a lot of concern," Neil Wishinsky, the chair of Brookline's select board, said Friday, alluding to issues caused by the crush of customers at other dispensary openings in the state.
"Brookline Village is a distinctly urban location and it's at a major east-west crossroads and gateway into Boston," Wishinsky said
Rositano says the company is encouraging Brookline customers to use their online "reserve ahead" platform to "minimize lines and wait times." The online system allows customers to browse the dispensary's menu and reserve the products they want, before paying for and picking up their purchase at the physical location. The company says customers using the "reserve ahead" platform will receive an email when their order is ready.
With the parking lot closed during the initial opening period, NETA will use the space for two distinct adult-use lines: one for full service and one for for "reserve ahead" orders. Rositano noted that they expect the "reserve ahead" line to be shorter. 
"NETA will have staff inside and outside of the facility to manage customer flow and Brookline police will be on site to assist with traffic flow," she said.
Rositano says the dispensary is communicating with medical marijuana customers so that they can plan accordingly with regards to the Brookline opening. However, they should nevertheless be able to bypass the lines and have direct access inside the store.
"Patients will always receive prioritized service, will not be subject to the adult-use queue outside, and NETA will maintain separate service areas inside the dispensary just for patients," she said.
Rositano added Friday: "We look forward to welcoming our new customers, but we want our patients to know that they will always be our top priority."
Per state law, adult-use customers must show a valid, government-issued ID proving that they are at least 21-years-old. And like at their Northampton dispensary, the Brookline store will accept cash, debit cards, or credit cards with a pin number for adult-use purchases.
The Brookline store's menu includes several different strains of flower, pre-rolled joints, concentrates, topicals, and edible gummy cubes and chocolate bars.
In order to "ensure adequate supply," Rositano expects the dispensary will start with "modest" purchase limits on certain products, including an one-eighth ounce limit on flower.
While the legal state maximum for individual transactions is 1 ounce of flower or the equivalent of 5 grams of concentrate, most of the dispensaries in the nascent Massachusetts adult-use marijuana market have enacted lower limits in order to ensure they have a enough inventory to go around. NETA's Northampton dispensary has similar purchase limits for individual transactions, including a one-eight ounce maximum on flower.