Local News
Charlie Baker explains why he thinks safe injection sites are a 'non-starter'
The Massachusetts governor has a different definition of "harm reduction."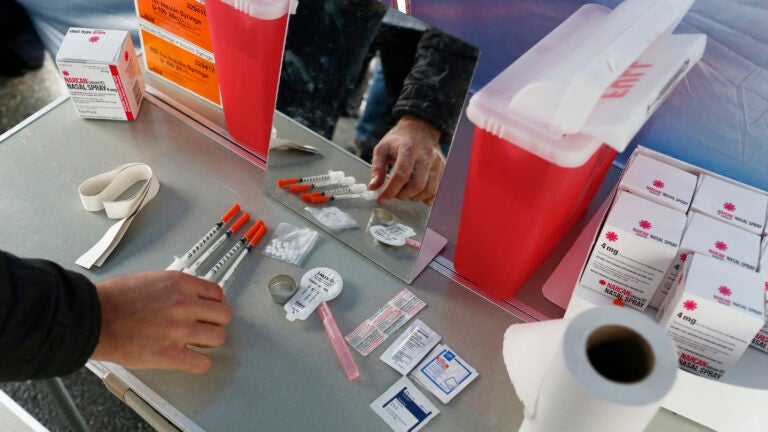 Despite the opinions of local experts and lawmakers, Gov. Charlie Baker says supervised injection sites for drug users won't be happening in Massachusetts anytime soon.
Last month, Baker dismissed the recommendations by the state's Harm Reduction Commission, a government-appointed group of local elected officials and health experts, who said lawmakers should approve the creation of sites where people struggling with addiction could more safely use heroin or other illegal drugs they obtained elsewhere. And in his monthly appearance Thursday on WGBH's "Boston Public Radio," the Republican governor elaborated on his reasoning.
Baker said the "first thing" he did after seeing their recommendations was call several members of the commission to ask about the data about the people who used the facilities getting treatment or recovering from addition.
"The answer I got was there is no data on that because the whole thing is completely anonymous," he said.
"I think the goal here should be harm reduction," Baker said, referring to the concept that is generally understood to be about reducing the negative consequences associated with drug use. "And harm reduction, defined as I think about it, means doing a better job of helping people keep from getting addicted in the first place — which as a nation we failed miserably on for 20 years. We're finally getting to the point where we're starting to do some things that I think will make a difference there."
During the interview, the governor said Massachusetts has made more progress on addressing the opioid crisis than "most other states over the course of the last four years," noting that overdose deaths dropped slightly for the second year in a row in 2018, even if overall overdoses themselves actually increased. The state's efforts include expanding access to the overdose treatment drug naloxone, needle exchange programs, and prevention awareness campaigns.
Baker said there was a simple reason for his opposition to safe injection sites: The federal government considers such sites to be illegal. That includes Andrew Lelling, the U.S. attorney for Massachusetts, who recently made his position clear in a recent Boston Globe op-ed.
"It was a very strongly worded, unqualified statement that if people try to open up a safe injection site in Massachusetts he will prosecute them," Baker said. "I think that puts the onus on us to chase alternatives that we can actually implement. And this is one that, at least for the time being, is just going to be a non-starter."
The governor also suggested that he agreed with the federal government's stance.
"I talk to people all the time, who say to me — who are dealing with this right now, either themselves or on behalf a family member — who say opening up something that's not a path to treatment, that doesn't require somebody to engage in any significant way around their health generally, is not a good idea," he said. "And on top of it, it's illegal under federal law and the U.S. attorney has made clear he will arrest and prosecute."
Pressed by WGBH host Jim Braude on whether that meant he's personally opposed to injection sites, Baker reiterated that he found "nothing" in the state's report that indicated they would help people would "get better."
Braude countered that he found there was a "compelling case" that safe injection sites in Vancouver had dramatically reduced overdose deaths in the area.
According to NPR, there are at least 100 such sites around the world, mostly in Europe, Canada, and Australia. A 2014 review of studies concluded that they promote safer conditions, reduce overdoses, and increase access to health services. Another review last summer questioned the strength of those conclusions, but was shortly thereafter retracted by the author for "methodological weaknesses." Still, while there's no evidence the supervised injection sites lead to more crime or drug use, some experts remain cautious as the concept gains traction in the United States.
Boston Mayor Marty Walsh and Cambridge Mayor Marc McGovern, both of whom are Harm Reduction Committee members, say they came away with positive impressions after personally visiting injection sites in Canada in January.
But Baker remains unconvinced.
"For me, the key issue is what can you tell me about the people who are actually using the site, and is it tied in any way to anything that has to do with helping them get better," he said Thursday. "And as far as I can tell the answer, in most cases, is there's just not a lot of information."