Local
Here's how the first day of recreational marijuana sales in Brookline went
The opening of the Boston area's first adult-use dispensary wasn't the "apocalypse" some had feared.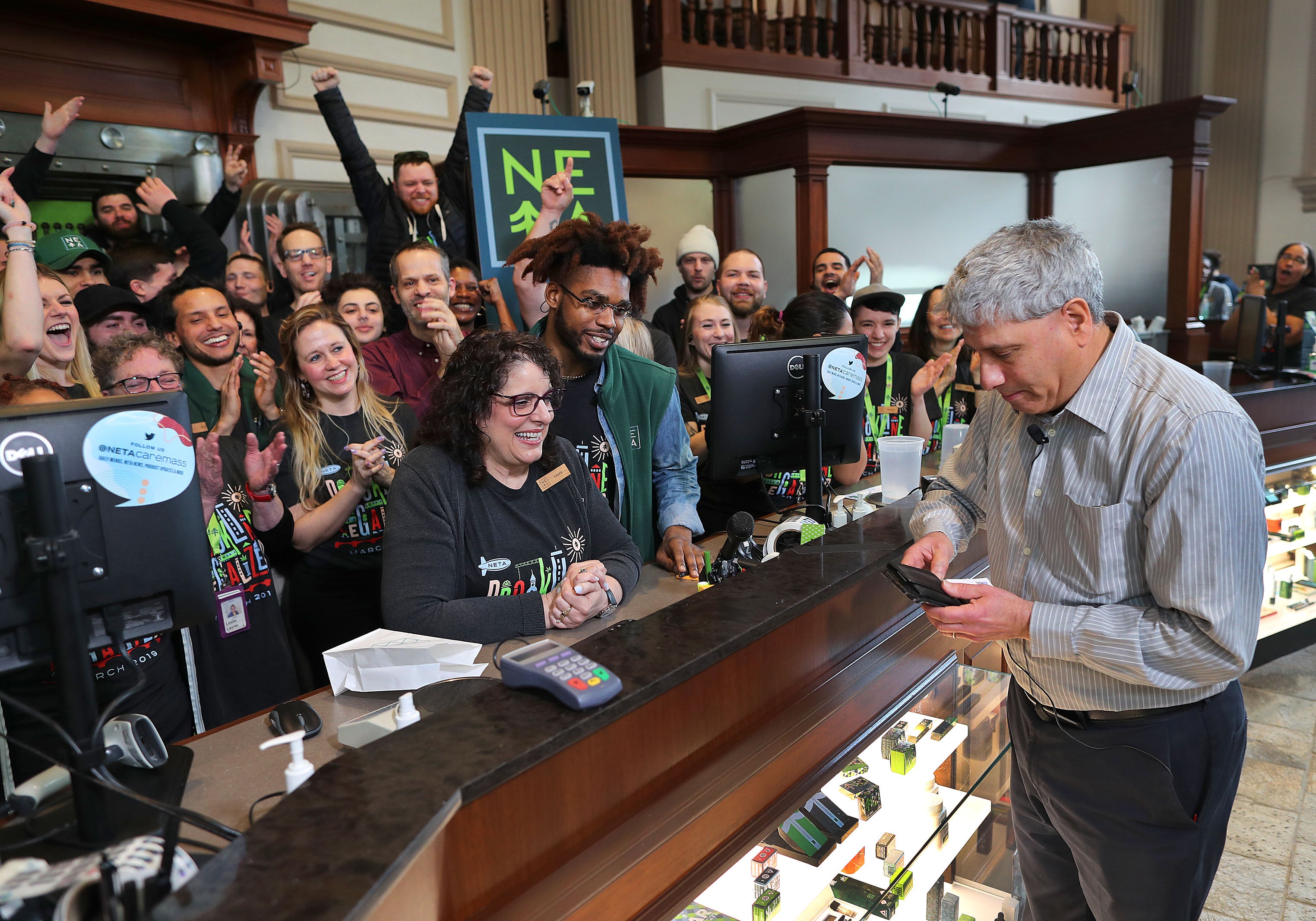 The first day of recreational marijuana sales in the Boston area brought in more customers than either of the state's first two adult-use pot shops did upon opening back in November — but without the same degree of disruption. 
New England Treatment Access served 2,515 customers Saturday at its Brookline dispensary, according to company spokesman Peter Brown.
Despite concerns about potential disruption, Brown said traffic remained light and lines Saturday stayed within NETA's parking lot Saturday. Brookline police tweeted Saturday afternoon that the opening was an overall success.
NETA opening review. BPD found limited disruption to area from 9 am opening, coordination went well. Schedule ahead worked, thus lines had less impact on pedestrian traffic. Mbta service not affected, heavy media presence. Overall successful 1st morning as a result of planning

— Brookline PD (@BrooklineMAPD) March 23, 2019
"The predictions of an apocalypse are not coming true," Neil Wisinsky, the chair of Brookline's select board, told The Boston Globe.
Here it is: the moment recreational marijuana sales began at NETA in Brookline. Brookline Selectman Neil Wishinsky purchased the first products. pic.twitter.com/aH3iAU1xzd

— Felicia Gans (@FeliciaGans) March 23, 2019
Earlier in the week, Wiskinsky had acknowledged that the opening of the Brookline Village dispensary — a quick jaunt down the street from the Boston border — had created "a lot of concern" in the neighborhood.
In November, when the two medical marijuana dispensaries, Cultivate in Leicester and NETA's other store in Northampton, became the first retailers in the state to sell adult-use cannabis, the former community was swamped by traffic and some neighbors complained about misbehaving customers.
On the other hand, police said disruption around NETA's Brookline store was "limited" Saturday.
Due to limited parking, NETA officials had urged visitors to take public transportation to the store. Located a short walk from two MBTA Green Line stops, the dispensary is the first T-accessible adult-use marijuana store in Massachusetts. And to minimize wait times, the company had encouraged customers to use their online "reserve ahead" platform. According to the police, the system "worked."
NETA had a separate, quicker line for reserve-ahead customers. But even for those who chose not to reserve their purchases ahead of time, wait times were only about 45 minutes to an hour by early afternoon Saturday, a far cry from the multi-hour waits that greeted customers in Leicester and Northampton on the state's first day of recreational marijuana sales in November. The two dispensaries announced opening-day customer counts of roughly 1,000 and 2,000, respectively, at the time.
And while the Bay State's first two adult-use dispensaries were experiencing long lines weeks after their grand opening, NETA's Brookline location — the 13th marijuana retailer to open in Massachusetts — opened its second day of adult-use sales with no line at all, the company tweeted Sunday morning.
Opening the day with no line here at #NETABrookline!

Come on down for some coffee, muffins and premium #cannabis.

Browse our menu and reserve your order ahead of time here: https://t.co/PpoPdy20yz

We look forward to serving you! pic.twitter.com/GRGk88H59D

— NETA (@netacaremass) March 24, 2019
"I guess this is a situation where you hope for the best and plan for the worst, and the best is coming true," said Wishinsky, made the ceremonial first purchase at the shop Saturday morning, told the Globe.