Local
Boston City Council gives green light to electric scooter, micro-mobility licensing ordinance
Legal issues for dockless scooters remain, however, under Massachusetts state law.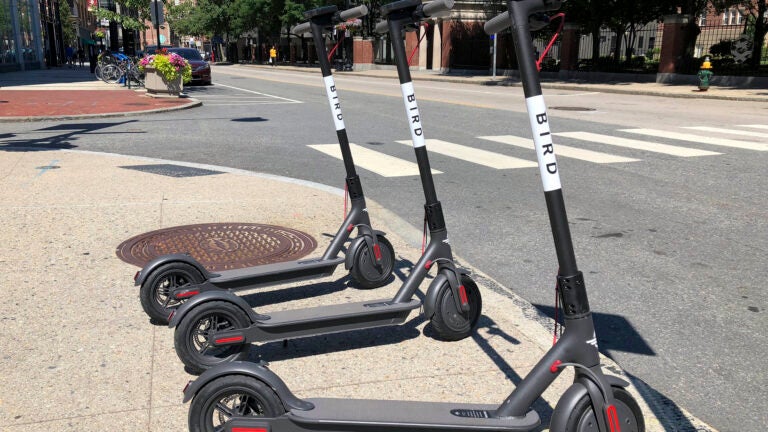 The Boston City Council Wednesday cleared a hurdle for dockless electric scooter and other micro-mobility companies looking to ride into town, although other legal obstacles still remain before they take to the streets.
The group unanimously passed an ordinance, first proposed by Mayor Marty Walsh in January, that creates regulations for the growing industry and puts in place a flexible, city licensing system for vendors. The new rules set fees and certain standards, while giving jurisdiction to the Boston Transportation Department and creating an accompanying advisory committee.
The approval comes as interest around small, individual transportation grows in the region, and only two weeks after Brookline officials signed off on a pilot program to let California-based, scooter-sharing companies, Bird and Lime, rent out vehicles this spring and summer.
Last year, neighboring Cambridge and Somerville grappled with creating a system to manage the influx of Bird scooters left on city streets before issuing cease-and-desist notices. Boston, meanwhile, was designated as a "no ride zone."
City Councilor Matt O'Malley, a vocal supporter of the ordinance, said Wednesday micro-mobility could be key in cutting down vehicle congestion and greenhouse gas emissions in Boston, while providing the city with a feasible revenue stream.
"We're going to do it right," he said. "We're going to do it the Boston way."
Under the new regulations, city officials can issue pilot licenses and set limits on the number of licenses given out per year and how many vehicles can be deployed at a time. Other provisions require companies to submit plans for safety and how they will relay safety information to riders.
Businesses would have to pay a $500 license application fee, plus an annual fee that's yet to be determined by the transportation commissioner.
Councilors added two amendments to the initial proposal, including a requirement that a city councilor must serve on the Small Vehicle Sharing Business Advisory Committee — a group made up of members from the mayor's administration, Disabilities Commission, and Environment Department.
Officials also added that that body must submit quarterly reports to the mayor and City Council on its actions and recommendations, according to a report on file with the City Clerk.
The ordinance, which O'Malley touted as "an incredibly important first step," is indeed only one piece for clearing legal setbacks for electric scooters.
Motorized scooters in Massachusetts are required to have brake lights and turn signals — features not on models commonly offered by rental-sharing companies.
Gov. Charlie Baker filed a bill in January that exempts the electric vehicles from the law. The proposal is set to go before a joint Committee on Transportation Thursday.
In the meantime, Bird told Boston.com in a statement Wednesday the company hopes "to bring Bird to Boston as soon as city leaders are ready for us to put wheels on the ground."
"Bird is thrilled to see Boston become the first major city in the Northeast to embrace our environmentally friendly transportation solution," the company said. "We are committed to working with the City of Boston to help reduce its congestion and improve mobility for residents. "
Lime, which already has dockless bicycles deployed in Greater Boston, has long expressed an interest in bringing scooters to the area.
"We applaud Mayor Walsh, the mayor's team and the Boston City Council for this huge step toward more affordable and accessible transportation options for all, and we hope to be serving Bostonians very soon," Scott Mullen, director for Northeast expansion for Lime, said in a statement Wednesday.
O'Malley, moments before the council voted in favor of the new rules, said he couldn't wait to get to work.
"I can't wait to see all of us on scooters in the not too distant future," he added.