Local News
Piece by piece, a memorial for the Boston Marathon bombing victims takes shape
"This is something that's forever."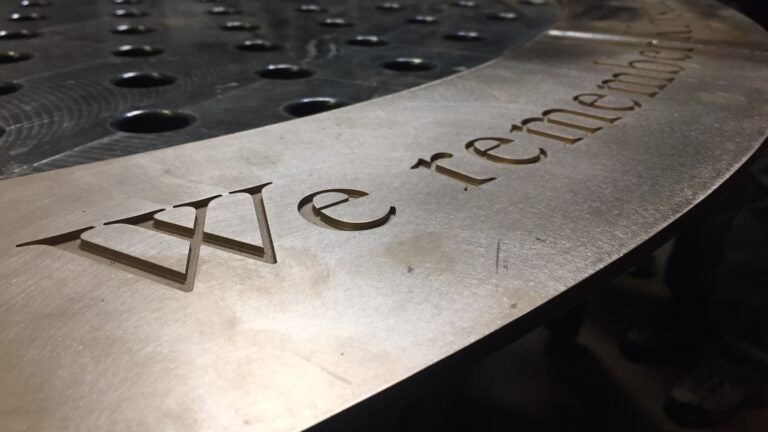 When artist Pablo Eduardo set out to design two memorials near the Boston Marathon finish line, the first move was a simple one: curving the curb along Boylston Street.
But the cuts that jettison out into the roadway, each marking where homemade bombs detonated on April 15, 2013, are in some ways larger than their small physical footprints.
"Boylston Street was never going to be the same again," Eduardo said Tuesday. "We wanted to do something that showed that."
Those lines, curved but never broken, will weave through four bronze towers that will eventually rise above the sidewalk. In the darkness of night, a light in each will shine, illuminating the granite sculptures below and red bricks surrounding them.
The tribute is one that's taken years to come to fruition.
Eduardo, a Bolivian exile who lives in Gloucester, has worked closely with the families of victims Martin Richard, Lingzi Lu, and Krystle Campbell on crafting a fitting memorial. Over the past year, workers have set about creating each part piece by piece after Eduardo's initial design transformed and evolved through the collaboration.
Speaking to reporters in a Chelsea workshop Tuesday, he and others said the lengthy process, although longer than initially anticipated, has allowed them to make certain the awaited, $2 million tribute is as close to a perfect piece as possible.
He hasn't felt pressured, but rather, honored, he said.
"We had to rethink everything," Eduardo said. "It's always changing … you have to allow the families to go through the process because they're lending their tragedy to us, for us to remember. That's a very hard thing to accept for us, and then when you do accept it, you have to be very careful with it."
The memorials will not be ready for this year's April 15 race, but they're coming closer to making their debut this summer.
The bronze pillars, the tallest reaching 20 feet high, are currently being retextured — a process designed to spot and fix any issues before installation, officials said.
On Boylston Street, crews laid the brick foundations this winter, while monitoring the growth of four cherry trees planted in October, all shielded underneath two tents, according to Patrick Brophy, the city's chief of operations.
"The sculpture and the installation that Pablo has created has never been done before, so we're taking an awful lot of time to make it right," Brophy said. "Every person on this team is very aware of what this means to the families and to Boston. … This is something that's forever."
Eduardo said the designs call on elements of architecture from across the city, specifically the materials, and notably, the red brick that covers Boston's most historic places.
The granite that forms three sculptures is locally sourced: one from Spectacle Island, a place that Campbell, 29, held close to her heart; another from Franklin Park in Dorchester, where Martin, 8, lived; and the third was donated by Boston University, where Lu, 23, was a graduate student.
Where Campbell was killed near the finish line, a bronze circle will display her name and how she was killed. Her family and local poet Daniel Johnson crafted the accompanying words: "All we have lost is brightly lost."
Down Boylston Street, near the site of the other blast that killed Martin and Lu, a similar tribute will grace the base of the memorial. There, an inscription will read: "Let us climb, now, the road to hope."
A black diamond symbolizing the violence of the bombing will lay among the bricks, but so too will two bronze bricks likely to catch the eyes of visitors.
They will feature the badges belonging to MIT police Officer Sean Collier, 26 — who was killed by bombers Tamerlan and Dzhokhar Tsarnaev in the days after the marathon — and Boston police Sgt. Dennis Simmonds, 28, who died in 2014 after sustaining a head injury in the gun battle with the two brothers in Watertown.
Each of the towers will illuminate glass housed inside each structure, embodying ideas and "the fragility of our lives," Eduardo said. The curved and twisted bronze will serve as a reminder of the lengths taken by a community to shield those values.
"They're ideas that we as a community hold true," he said. "I'm thinking, after the marathon bombing, we didn't build walls, we didn't do anything that's crazy. We came together. We celebrated our diversity, we celebrated our ideas, respect. All these things are fragile things that we have to work very hard to protect."
The polls, which will be placed where the two bombs went off, will stand 20 feet tall and will light up at night. (A final color to illuminate the sites has not yet been selected.) pic.twitter.com/vJZFqBpQYS

— Christopher Gavin (@chris_m_gavin) March 26, 2019
Dan Kendall, owner of Sincere Metal Works, the foundry where the installations are being crafted, said the long days working with small tools offer a lot of time for reflection.
The process is meditative — a sentiment that comes with many projects.
But this one, this one is special, he said.
"It is impossible not to consider how important this project is to the city and to the families," Kendall said. "So we put everything we have into making it just right."
<subheading> Photos: The Boston Marathon through the years:
[bdc-gallery id="138482″]