Local
The MBTA is renaming Yawkey Station after another nearby street
Coming soon: Lansdowne Station.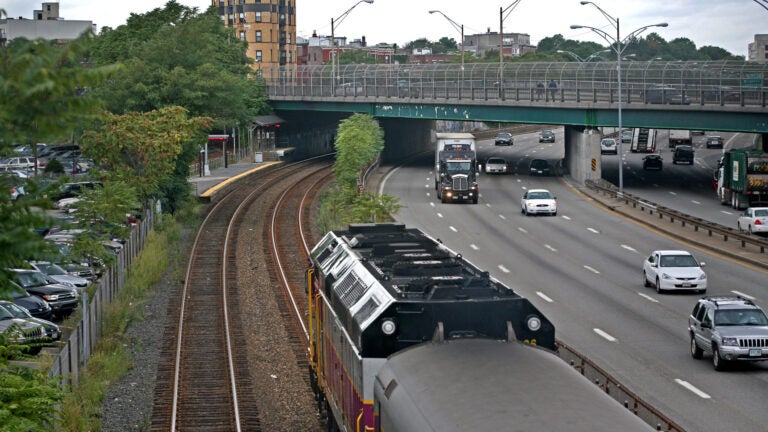 Yawkey Way is no more, and soon so will be Yawkey Station — at least in name.
Following last year's name change of nearby Yawkey Way to Jersey Street, the MBTA announced Thursday afternoon that the commuter rail stop will be renamed after another well-known Fenway Park-adjacent street: Lansdowne.
In the hopes of avoiding potential confusion, transit officials say the name change will take effect on April 8, the day before the Red Sox are scheduled to play their 2019 season home opener. According to the MBTA, the name change has no effect on commuter rail schedules on the Framingham-Worcester Line.
The agency's naming policy says that commuter rail stations should refer to municipalities, neighborhoods, districts, or nearby streets. And according to MBTA spokesman Joe Pesaturo, the renaming of Yawkey Way rendered the station name "outdated."
"The street for which the station was named decades ago, no longer exists (in name)," Pesaturo told Boston.com in an email.
Last April, the City of Boston approved a request by Red Sox ownership to change Yawkey Way back to its original name, Jersey Street, following a renewed debate over the allegations of racism against former Red Sox owner Tom Yawkey, for whom the street was named.
However, that decision raised the question of whether Yawkey Station, which reopened in 2014, would have to also be renamed. The MBTA said at the time that the agency would "work collaboratively with its city partners to change the station name, and ensure consistency and familiarity for T customers, visitors to the area, and for public safety officials."
The Yawkey Foundations, which protested the renaming of Yawkey Way, said it was "disappointed" by the MBTA's decision, but would continue to fulfill the philanthropic mission of Yawkey and his wife, Jean — "a legacy of giving that has provided more than $500 million to organizations in Boston and beyond."
"The work Tom and Jean began while they were alive is as important as ever, and we will continue to focus our efforts on sustaining their dedication to helping those in need," the foundations said in statement Thursday to Boston.com.
According to officials, the MBTA and its commuter rail operator, Keolis Commuter Services, will be updating the stop and system signage, as well as online schedule information, with the new Lansdowne Station name "in the coming days."