Local News
Historic Friendship to make its return to Salem
The replica of an 18th century merchant ship has spent three years in Gloucester for repairs.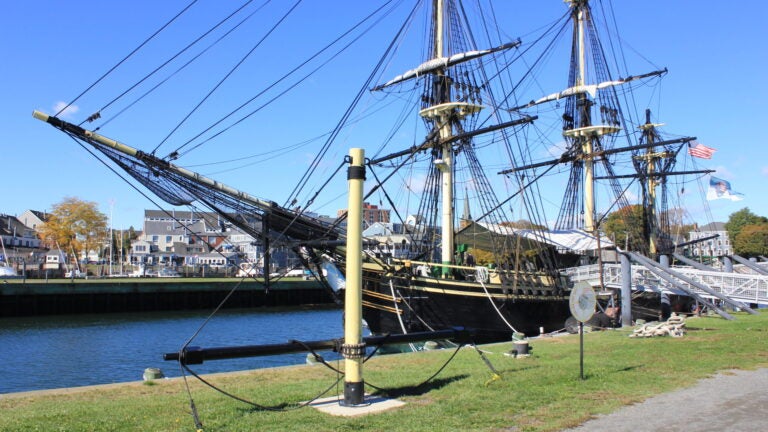 After nearly three years of repairs, the replica of a historic Salem merchant ship will make its return to the city in a matter of days, and will be ready for visitors to climb aboard once again.
The Friendship of Salem was brought to Gloucester and taken out of the water for a multitude of repairs, according to the National Park Service, which built the ship and usually keeps it docked at the Salem Maritime National Historic site.
But photos of the wooden, three-masted "East Indiaman" ship show it back in the water on Wednesday. The service hopes the ship will be cleared to return home to Salem next Monday, Susan Russo, the historic site's chief of visitor experience and community engagement, said.
Breaking News!!! After nearly 3 yrs the FRIENDSHIP OF SALEM is afloat again! She launched at 9am & will be tied up for a few days at an adjacent dock. Watch here for updates on her return.(SJR)#FindYourPark #KeepAmericaBeautiful#EncuentraTuParque#NPSOnAMission#GetInvolved pic.twitter.com/dTNcZzFjzX

— Salem Maritime (@SalemMaritime) April 17, 2019
The original Friendship hit the water in 1797, according to the National Park Service, and traveled the world.
"She made 15 voyages during her career to Batavia, India, China, South America, the Caribbean, England, Germany, the Mediterranean, and Russia," according to the service. "Built for the Salem mercantile firm Waite and Peirce in the South River shipyard of Enos Briggs, she ended her activities as an American merchant vessel when she was captured as a prize of war by the British Sloop of War HMS Rosamond in September 1812."
The announcement of the Friendship's return has garnered much interest on social media. Russo said the ship "makes the [historic] site complete."
"There's a lot of excitement right now," she told Boston.com on Wednesday afternoon.
There's some final smaller tasks workers need to complete, but, when the ship returns, visitors will be able to venture to climb aboard the same day, Russo said.
Work on the Friendship isn't fully complete just yet. Another project is planned for the fall and winter to completely replace the deck. There will be occasional visitor access during that time, according to Russo. By 2021, the ship should be fully rigged with sails.
"The community's excited, we're excited," Russo said. "We ask for visitors and the greater Salem community to be patient as we go through this next project and work toward getting her back to how people like to see her."