Local News
Joe Biden lends support to striking Stop and Shop workers outside Dorchester store
"What's happening here is that workers are not being treated across the board with dignity. They're not being treated like they matter."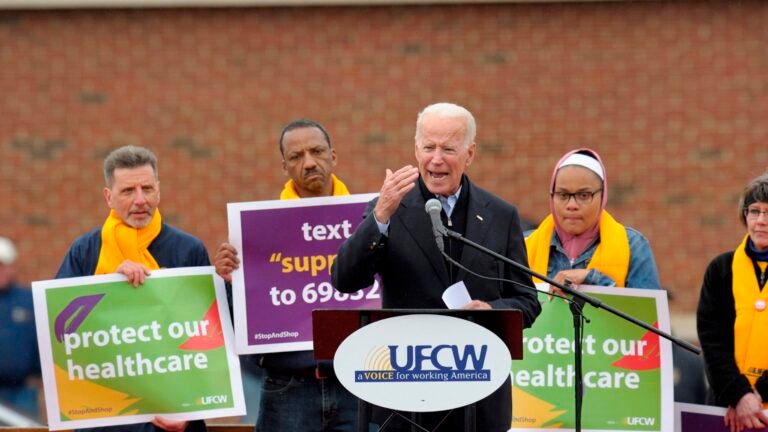 Former Vice President Joe Biden took the stage outside a Dorchester Stop and Shop on Thursday afternoon with words of encouragement for the supermarket employees who walked off the job a week ago after months of negotiations between the company and unions leaders failed to produce a new contract agreement.
"What's happening here is that workers are not being treated across the board with dignity," he said. "They're not being treated like they matter."
Biden, who has been considering a run for the Democratic presidential nomination, told the crowd gathered in the South Bay Center parking lot that looking out at them, he was reminded of his "old neighborhood" of Scranton, Pennsylvania.
"People who bust their neck, people who go out and make a living, people who play by the rules, people who have done everything they're supposed to do, and people who are entitled to be treated with decency and respect and fairness," he said. "My dad used to say, 'Joey, a job is about a lot more than a paycheck. It's about your decency and your place in the community. It's about how you're treated.' It's about decency and honor and being able to look your kid in the eye and say, honey, it's going to be OK and mean it."
The challenges the Stop and Shop workers are facing in their strike, he said, are not unique, but rather are challenges that are occurring across the country.
Biden said he's "had it up to here" with the way American workers are treated by "Corporate America."
"This is wrong, this is morally wrong what's going on around this country, and I've had enough of it," he said. "I'm sick of it. And so are you."
He encouraged everyone in the crowd to stand together not just for their strike, but to recognize and support all workers whose jobs so often go unnoticed.
"We've got to stand together and if we do, we will take back this country, I mean it," he said. "Don't give up, keep it going!"
Between chants of "Don't cross the line," members of the crowd called out "Run Joe, Run."
Nancy Pleasant, 64, was one of the members of the crowd carrying a sign with those words. She said as a retired union carpenter, she came to the rally to show her support for the striking Stop and Shop employees.
A long supporter of Biden, she said she's been wanting him to run for years and that she believes more people should be supporting him.
"He's not saying this today, he's been saying it for 50 years," Pleasant said of the message the former Delaware senator brought to the rally. "Joe Biden is the real deal."
Biden's remarks followed speeches by Stop and Shop employees, Boston Mayor Marty Walsh, Senator Ed Markey, and State Treasurer Deb Goldberg, whose family founded the grocery store.
Goldberg said her family has been devastated to see how the employees of the company they used to own are being treated. She said her grandfather would be "wanting to kill himself if he saw this."
"My parents, Carol and Avram Goldberg are at home, 88 and 89 years old, and they want me to tell all of you, they stand with our families," she said.
Watch the full speeches below — Biden's remarks begin around 58:00. 
https://www.facebook.com/boston/videos/2214392951979608/?__xts__%5B0%5D=68.ARBa8Si4jLk1DlvqIHTyDYoGA6SxR4OW3Z-huhHcX5nY5_QmasNTqodJDxzADHtGnXBdYpBQaffv9yHQwDmUbY8RgCi6QZxikIUpUlhcGz2nPUL18GoCGTtt2Heh22kzYd5pimQPpCEJiv5V9fOFdQhMie8UjeMB-59DjhhwrXmylDqrSLFl7IhIDej_y2hccmc23xjZH7pm0pWiR-Au8z26JM71TiwD8QaUw2aI58q3_UdaqONydFlynwkUnngGEPK7OFKB2s9Kr1wZlJDVOOS9MynjXHPFLrtbe4gzQ6pMtUHzzs6UmyW8qqlwvjMKjw3oIgBWiTny1cIXAW-gI2C1&__tn__=-R