Local
'Dunkin' Knight': A new superhero pokes fun at Boston's love of Dunkin'
"Everyone up in New England is big on the Dunkin' train, and people have gotten the joke."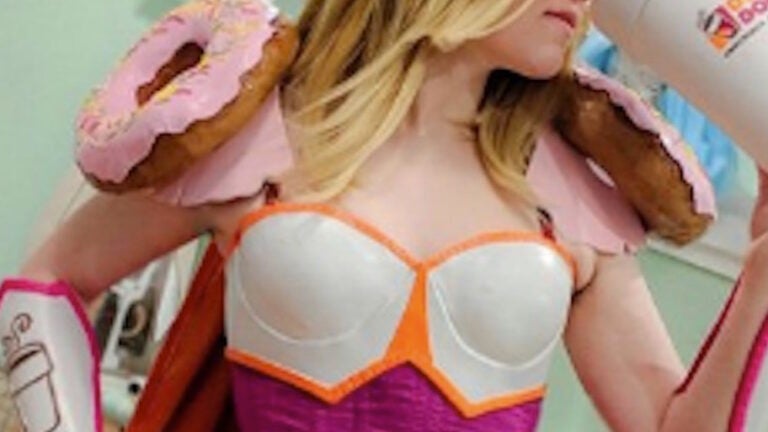 Some may be into superheroes like Spiderman or Batman, but Boston has a new superhero: Enter Dunkin' Knight.
That's right.
With the familiar pink and orange Dunkin' logo on white armor, and pink-frosted doughnuts on her shoulders, Dunkin' Knight is headed for her debut at the Anime Boston convention this weekend.
The cosplay was created by Cowbutt Crunchies Cosplay, made up of Kelley Kullman and Regan Cerato who live in Roslindale; the name stems from a joke about their cat. The duo have been creating cosplays for the last 10 years, stacking up to about 100 all together.
Dunkin Warrior-Chan is headed to Anime Boston this Sunday! Never under-estimate how much we like coffee. pic.twitter.com/Ta2RpuZLMW

— Cowbutt Crunchies @ Anime Boston (@Cowbuttcrunchie) April 18, 2019
Kullman said the two of them are "big" Dunkin' fans and thought it would be great to blend their love of coffee and cosplay into a new character.
The cosplay took about a month to make, according to Kullman, noting that they worked on it "almost every day" after work.
"People seem to really like it," she said. "It's cool to see something elaborate, but also doesn't take itself too seriously. Everyone up in New England is big on the Dunkin' train, and people have gotten the joke."
Cosplay is a major part of Anime Boston, according to Kullman. The plan is for her to wear the costume at the convention, but also visit the Dunkin' on Newbury Street, grab a coffee, and take pictures in the cosplay.
There's a lot involved in making cosplays, Kullman said. Depending on the cosplay, work could involve sewing, facial prosthetics, and engineering.
"Honestly, that's what I enjoy about it," she said.