Local News
2 men stabbed early Saturday morning in Downtown Crossing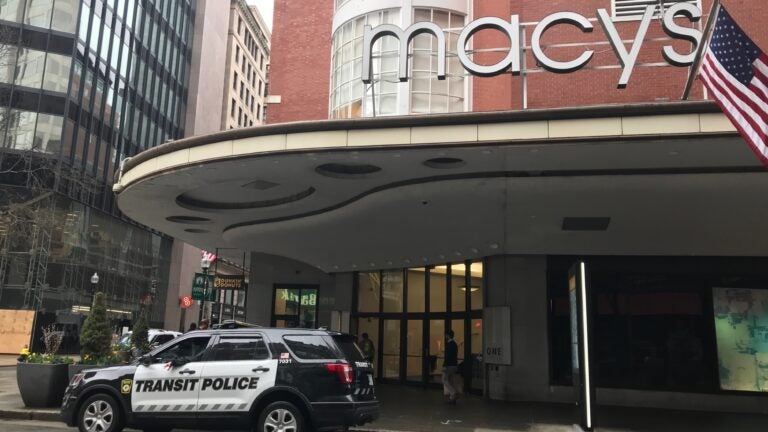 Two men were stabbed in the heart of Downtown Crossing in Boston early Saturday morning, leaving one with critical injuries, police said.
Around 2:28 a.m., officers responded to a call for a person stabbed near 1 Summer St., where they found the men with stab wounds, said Maisha Miraj, a spokeswoman for Boston police. The stabbings apparently occurred as the result of a fight among a group, Miraj said.
Both were taken to area hospitals, one of them with life-threatening injuries, Miraj said. She described the more seriously injured man's condition as "critical but stable,'' while the other man received a non-life-threatening injury.
No arrests had been made Saturday morning, and the incident is under investigation, she said. No further information about the victims was immediately available.
At the scene late Saturday morning, weekend shoppers huddled under overhangs and umbrellas as rain slapped the pavement.
There was no police tape or other marker of the violence that had occurred just hours earlier, other than the presence of security officers at each entrance to Macy's, the main tenant at 1 Summer St., and of an MBTA Transit Police SUV parked at Summer and Chauncy streets.
Scott, who stays at the nearby Boston Rescue Mission on Kingston Street, said the incident had been widely discussed among the homeless men and women who spend time on the streets of downtown Boston.
"I just heard a couple of people got stabbed, and then I came out this morning, the 'CSI' team was here,'' said Scott, 47, who declined to give his last name.
"It really doesn't happen that often here. Why would you do it right here, downtown? . . . There's plenty of cameras out here,'' he told a reporter as he sought pocket change from passersby outside the 7-Eleven store near the crime scene.
After 25 years on the streets, Scott said, he wasn't fazed by the violence.
"I've been through a lot. . . . It had nothing to do with me, so I have to survive,'' he said, pointedly rattling the coins in his plastic coffee cup.
Eugene Glinets, 28, a visitor from Israel who was shopping downtown as he ended a five-day visit, also said the stabbings didn't make him feel less safe.
"It doesn't surprise me because violence will always happen, especially in big cities,'' Glinets said. "It depends how rare it is. If it's, like, really rare, then fine. If it happens every few days, then it's an issue.''