Local
A North End chimney collapse paralyzed Erin Field. But it didn't break her.
"I have learned so much from it that if I went back I would lose so much."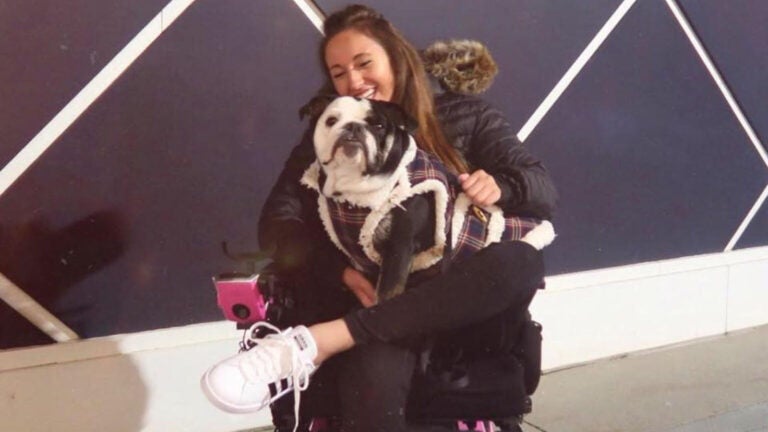 She was told she would get depressed.
Over and over, she was told that it was OK if she did. That she should expect it.
But Erin Field decided that it wasn't going to happen.
Instead, in the months immediately after she was paralyzed when the chimney on a North End rooftop fell on top of her, the native of Sydney, Maine, set her sights on returning to college.
Field recently told Boston.com that she doesn't remember much from the day of the accident in July, 2017. It was summer break for then the 21-year-old Goucher College student, and she and her boyfriend, Jack Benziger, decided to meet in Boston, where Field's younger brother, Todd, was living in the North End. Benziger drove up from Pennsylvania; Field drove down from Maine.
They had ordered pizza and were just "hanging out," she said.
"We're like, 'Let's just go hang out on the roof because it's really pretty up there,'" she recalled. "You can see the whole North End. My brother had set up a hammock up there. He went up there every night in the hammock. It was attached to the wall and the chimney."
Field sat on the hammock first, sideways like it was a swing. Then Benziger sat beside her.
She doesn't really remember anything after that.
"I guess it instantly fell," the now-23-year-old said. "I kind of remember [first responders] lifting me off the roof because the stairway was too small for them to bring me on a stretcher. And then I don't remember anything until right before my surgery. Before they gave me all the meds, I was sitting in this one hospital room, and I remember it was so small. Everybody had to come up to me one by one and give me a hug."
Field had been rushed to Massachusetts General Hospital, but she didn't remember why she was there in the room.
"My brother was like, 'I'm so sorry,' and I was like, 'For what?' I was just like, 'I don't know where I am,'" Field recalled. "I was so confused. That's pretty much all I remember until the last few days of ICU."
She'd suffered injuries to her ribs, lungs, and cervical spine. The damage to her C-5 and C-6 vertebrae left her paralyzed from the waist down with limited arm function and no finger function.
"It could have been worse," Field said.
From Mass General, Field went to Spaulding Rehabilitation Hospital to begin her recovery. Field's parents and her younger brother moved from Maine to Boston after the accident to be nearby.  
The 23-year-old described her time there and the fall after her injury as the hardest. As her boyfriend, brother, and friends returned to school, she remained in Boston.
Field, like Benziger, had been set to go study abroad that semester.
"Everyone was at school still, and I was still here," she said. "I was definitely like, 'This is not fair.'"
Her mother, Heidi Field, recalled that it was during that time that her daughter made a decision.
"She decided, 'I'm going to go back to school. I'm going to make my life the best it can be, and you're not going to tell me I can't do it,'" Heidi Field said.  
Field went back to Goucher in January 2018 to finish the school year. She only missed one semester of school due to her injury.
"It had only been six months since the accident, so I was kind of a mess," she said. "Mostly just physically. I was so dizzy. I'd get in my chair, and I'd have to lean all the way back in my chair, and I would just sit there."
The first day was the hardest mentally, she recalled.
"When I got there I was like, 'This sucks,'" Field said. "Because I realized I had never been anywhere since the accident. I never went home [to Maine]. I never had to go back into my house and be like, 'Oh, this is what it feels like.' … It was the first place that I had been in my wheelchair that I had been before the accident."
But being surrounded by her friends, her boyfriend, and her brother at the college lifted her up. She took on a course load of 12 credits to stay on track for graduating with a degree in English.
Now in Boston, she's taking online classes from Bunker Hill to fulfill her remaining credits. She didn't want to return to Goucher, she said, since all her friends graduated in 2018.
She'll get her degree next month and plans to start studying for the LSAT in the fall. She hopes to attend law school in the fall of 2020. She wants to practice disability law.
But Field's real focus since returning to Boston from Goucher has been on getting stronger. Her next physical goal is to get into a manual wheelchair and to be able to transfer herself in and out of it.
She works on building the strength in her wrists and arms at home in the Somerville apartment she shares with Benziger. Then in addition to her outpatient sessions at Spaulding, she heads to Canton-based Journey Forward twice a week for several hours to work on getting her neck, back, and shoulders stronger.
"I love it," Field said of the nonprofit, which focuses on an "exercise based" program for people with spinal cord injuries.
Field has been documenting her recovery on Facebook for her friends and family. And around the year anniversary of her accident, she began posting videos on YouTube about her experience.
The clips range from documenting her first year since becoming a quadriplegic to showing how she uses her phone without the use of her fingers.
She said after her accident she started following people online who had injuries similar to hers and found the information they posted helpful. She decided she wanted to help others through her experience through creating her own videos.
"It's also that I will be able to see my progress if I make a video," Field said. "Five years from now I can look back and see myself the first year I was out, and I feel like that's really cool."
Field asks her followers for video ideas, but also uses her own experiences to come up with subjects as she goes through her recovery.
That's what led her to making a video about how she uses her phone — she was searching for examples of how people with similar injuries deal with using them and couldn't find anything helpful for her situation.
"I was like, 'OK, I guess I'm going to just come up with my own way,'" she said.
Field also volunteers at Spaulding once a week where she speaks to people with similar spinal injuries. She said loves it, especially when the patients are around her age. She said it's rewarding to be able to help people who are in early stages of their injuries.
"At first, I was like, 'Oh I'm so scared.' But then you go in and I'm like, 'Oh my God, I have so much to say,'" Field said. "Because I was here literally two years ago, and I know exactly what they're thinking. I like talking to the girls that are my age, because I just say everything that I wanted to know. And they get so excited."
As she comes up with more ways of doing things, she said she plans to share them on her social pages for others to use as a resource.  
"Right now, I feel like I don't do a ton on my own, so I just kind of do, 'Oh this is how I do this,'" she said. "But as I learn more ways, I want to post that because it's really hard to figure things out sometimes."
She wants to be transparent, even if it might not be easy for her, such as in one video where she explains her focus on staying positive.
She didn't want to make it at first, but it was the question she was being asked most often, Field said.
"It's hard, because I don't want people to think that I'm always, that it's like you're always happy," she said. "That's what I tried to say in my video, that it's OK to have a bad day. Because obviously there are days when I wake up and I'm like, don't want to go to therapy, don't want to go anywhere, don't want to talk to anyone today."
The best thing for her, she said, is that she has surrounded herself with people who support her and tried to keep busy.  
"From the day of the accident, she's never been like, 'Why me, why did this happen to me?'" Heidi Field said. "She's had bad days, but we all have bad days. That's how you get through it. You pick up, and you do it again."
When you were told that you would never be able to even sit in your power chair without a headrest👌🏻

Posted by Erin's Journey on Thursday, April 11, 2019
Heidi Field said her daughter's focus on the positive is not new. It's how she's always been, and her attitude has helped the whole family through this, she said.
"At the end of the day, she's the same person," Heidi Field said. "And I think that at one point I was so afraid it was going to change her. I was so nervous when she was in ICU, and it was three weeks [where] she was kind of in and out not talking. And I was just so afraid she was going to be a different person."
The realization that her daughter was still the same person after her injury came one day while Field still couldn't talk because she had breathing and NG tubes in. Her family had to read her lips to understand what she was saying.
Heidi Field was trying to read her daughter's lips, but couldn't understand what she wanted. Her son, Todd, jumped in.
"He was like, 'Mom, she wants iced coffee,'" she recalled. "And I just started laughing. It was just such a relief to me. Because I'm like, 'Oh my God, she's the same. She's the same person she was before the accident.'"
Field said wouldn't go back and change things even if she could.
"I obviously miss walking and all that stuff, and I miss a ton of things, but I guess I wouldn't change it because it's — I think — made me who I am today," she said. "And I think I have learned so much from it that if I went back I would lose so much."
"Everything would have been so different that I'm like, 'This is the path I'm supposed to be on,'" she added. "And even though certain things might suck right now, I think that they'll get better."