Local
Meet the Cambridge mother-daughter pair who pushed for a women's suffrage monument
Sofia and Kim Bernstein are working to close the gender gap in local public art.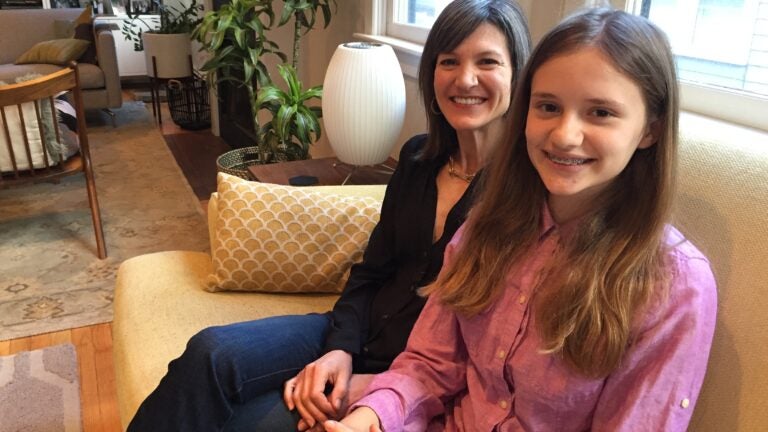 A couple of years ago, the distance of a long shot bid became much shorter once a letter reached Sofia Bernstein's Cambridge mailbox.
While Washington, D.C., is a few hundred miles down the coast, Sofia's voice had been heard there.
"My mom pretty much thought nothing would ever happen," Sofia, now 14, recently recalled of her letter to then-President Barack Obama in 2014.
Perplexed, she wrote to him after school one day, explaining how a class project on famous men and women throughout American history revealed to her a glaring absence of women on the country's dollars and coins.
Obama went on to give Sofia's note a shoutout in a speech a few months later, and, before long, his administration announced it would work on putting Harriet Tubman on the $20 bill by 2020.
Sofia, of course, also got a letter back from the president himself.
But since then, the Trump administration has not explicitly indicated whether or not it will follow through on the effort.
And these days, Sofia's mother, Kim Bernstein, says the mother-daughter pair isn't holding out hope anything will happen.
But the unexpected possibility that they can affect change — that a letter could grab a president's attention and help drive a national conversation — has fueled another, more successful effort: building a monument honoring Cambridge's women suffragists.
"Places are starting to take an inventory of public art, and it is, you know, one more area where women are just grossly under represented," Kim Bernstein, 49, told Boston.com.
Earlier this month, the Cambridge City Council voted to form a committee tasked with reviewing potential artists and rolling out a for design the installation, which it will present on Aug. 26, 2020 — 100 years after the ratification of the 19th Amendment, which gave women the right to vote.
The group, lined with local experts, leaders, and officials, has $300,000 to work with as they determine what the piece will look like and develop a request for proposals. The Bernsteins were named honorary members.
Kim Bernstein said the idea for the display came out of the same message behind her daughter's push for new faces on the nation's currency.
"Symbols matter, especially to kids," Sofia said at a recent city council meeting.
"If we don't see any statues of women in Cambridge, how can we learn about all the important things they did to make Cambridge great?" she added.
While they said it isn't clear how wide the statue gender gap is in Cambridge, the Bernsteins often pointed to statistics in New York City, where of 150 total statues in public outdoor spaces across the five boroughs, only five are of women.
"People may believe that only men made significant contributions to building our country or our city."
Sofia told councilors there are many statues of men — especially generals riding atop horses.
Yet in Cambridge, the only woman that came to mind for the Bernsteins is a part of the Irish Famine Monument on Cambridge Common.
A policy order for the project approved last June also lists "the Revolutionary silhouette figure at Fort Washington Park, and the Park Bench Group in the Pine Street Tot Lot," although of those three, none include an actual historically-significant figure.
Cambridge, meanwhile, embraced granting voting rights to women notably earlier than the federal government, allowing women to vote in school committee elections starting in 1879, according to officials.
"People may believe that only men made significant contributions to building our country or our city," Sofia Bernstein said.
The two brought their idea to the city's historical and women's commissions last year before city councilors passed the policy order.
"Sofia is somebody that is very impressive and is very savvy in knowing how to get things done," City Councilor Alanna Mallon, one of the four women on the council who co-drafted the order, said in an interview.
"She really struck me as somebody that we'll hear a lot from," she said.
Mallon also sees a key opportunity in the monument itself.
How the suffrage movement is portrayed in history is often through a whitewashed account in which the contributions of white women leaders like Susan B. Anthony are praised while black women who also fought for the cause have been written out, advocates say.
Furthermore, black women weren't fully guaranteed the right to vote until decades later, with the passage of the Voting Rights Act in 1965, Mallon said.
"The narrative about the suffrage movement doesn't always tell the whole story, specifically the role of white feminism and how there was a schism in the movement and how many women — namely African-American women — were left way behind," Mallon told her fellow councilors at this month's meeting.
Sponsors of the policy order say they've paid close attention to recent backlash against a planned monument in New York's Central Park.
The installment was originally set to feature depictions of only Anthony and Elizabeth Cady Stanton, two white women who had a pivotal role in shaping the 19th-century movement, with Stanton looking over a list of 22 other women's names and quotes, among which were seven black women, including Ida B. Wells and Sojourner Truth.
Critics said the design minimized the work of black leaders in the movement, while highlighting Anthony and Stanton, who edited the "History of Woman's Suffrage" — an account that's criticized as having erased the contributions of black suffragists from the modern historical narrative.
Ultimately the monument's design was changed, slightly, by replacing the list with a ballot box and listing Anthony and Stanton as "women's rights pioneers."
"There were a lot of lessons learned about what happened in New York, and it is important to name the marginalization of black women in the suffrage movement," said City Councilor Sumbul Siddiqui.
Fellow Councilor Denise Simmons called for having young women, especially women of color, to be involved in the project, so they feel a sense of ownership to it.
The experts on the committee will be very thoughtful in their selection process as they begin to delve into reviewing possible local candidates to commemorate, Kim Bernstein said.
"The folks on this commission are really expanding the idea and really wanted to make sure that the narrative is not going to be about elite white women who led the suffrage movement and that it's going to be much more of an inclusive story," she said.
Over the coming year, the Bernsteins will attend the monthly group meetings. It could be a couple of years until it's time for the city to break out the scissors for the monument's ribbon cutting.
Until then, they're unsure what their next project may look like.
"It's hard to say because I think both of these things both grew out of a moment in time of feeling something was unjust and wanting to make a difference about it," Kim Bernstein said. "It'll have to just appear, and we'll know we need to get on it."
Sofia has a message to others in the meantime: "I just hope that everyone knows that even if you think there's no possible way that anyone will ever read your letter or pay attention, you never know."