Local
Why are there 2 CVS stores 499 feet apart in Coolidge Corner?
"It certainly seems like an oddity."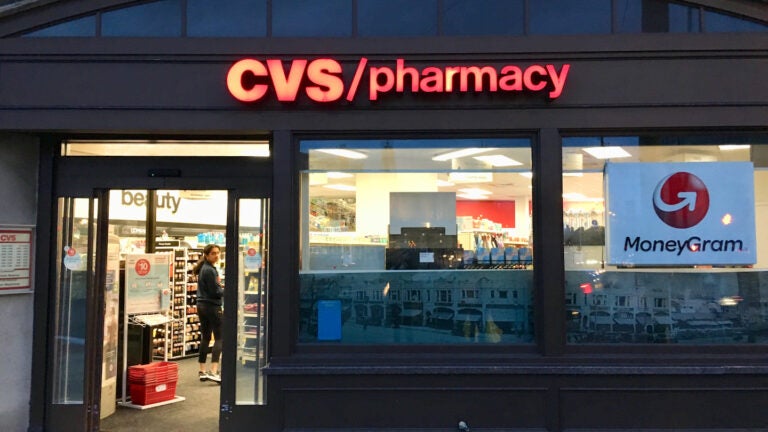 In Brookline's Coolidge Corner, two CVS stores are fewer than 500 feet apart. Ever wonder how the pharmacies came to be such close neighbors? Locals have their theories.
The drugstores sit diagonally from one another at 294 Harvard St. and 1322 Beacon St., neighboring the theater and Brookline Booksmith. According to Google Maps, the stores are exactly 499 feet and a two-minute walk apart.
Ken Liss, president of the Brookline Historical Society, said the two CVS locations speak to Coolidge Corner's history as a pharmaceutical mecca. A "number of pharmacies" speckled the residential area through the 20th century, in buildings now occupied by businesses like Paper Source and Peet's Coffee (which recently closed).
"The neighborhood clearly had a need. There was enough business," Liss said. "I've often thought that it might be that there's a number of senior housing projects in the area, so perhaps more need for pharmacies."
The older CVS — the smaller of the two — replaced a Rexall drugstore at the corner of Beacon Street in the 1960s, Liss said. The second location opened about 30 years later.
Jens Dao, supervising manager at the Harvard Street CVS, can see the other shop from her storefront. She suspects her newer location was added to stock products that can't fit in the historic corner store.
"The other location is much smaller than this one, so they don't have [many] options to buy stuff," she said.
CVS officials declined an interview request for this story.
Neighboring managers have their own theories on how the close proximity came to be.
Peter Win, co-manager of Brookline Booksmith, said he's spoken to the manager of the Beacon Street location at local events. The manager told Win that stocking products is uniquely difficult for him — the corner store is unusually small, and one of the few businesses in Coolidge Corner without a backroom or back door.
"He described they need to get their deliveries, they need trucks to pull up either on Beacon Street or Harvard Street. It gets congested," Win said. "But he really has no option because they don't have a back door."
The drugstore stays in business, Win believes, because of its prime location.
"I just have to imagine, seeing the kind of foot traffic that goes to that corner," he said. "It's right across from the T stop. It's right on Coolidge Corner."
A manager at Paris Creperie in Brookline said he's never heard an explanation for the duplicate pharmacies but has always found the situation "silly." He added that he exclusively shops at the larger store — never the one at the corner. The layout, he said, is cleaner and less cramped.
The Beacon Street location is rated two stars on Yelp — half a star less than its counterpart.
"I think this one is on the corner for advertising purposes," a customer wrote in a review. "Just do yourself a favor and go to the other CVS right across the street!"
Beyond the two drugstores, Coolidge Corner is no stranger to multiples. Walk down Harvard Street from one CVS to another and you'll pass three competing pizza shops — Oath, Otto's, and Upper Crust Pizzeria — all within a span of 200 feet.  
"A while back there were three frozen yogurt places in Coolidge Corner, and now I think there's only one," Liss said. "I'm sure other people have wondered about that, too. It certainly seems like an oddity."
Several factors help explain why the area attracts multiples, Liss said: Coolidge Corner is walkable, accessible by the Green Line and bus, and has an established history as a well-traveled shopping area. It's a profitable area for businesses.
Win said he patronizes both drugstores regularly and equally.
"I guess it works for them," he said.