Local
A Mass. judge and court officer allegedly helped a defendant evade ICE. Now both are facing federal charges.
The two face multiple charges, including obstruction of justice.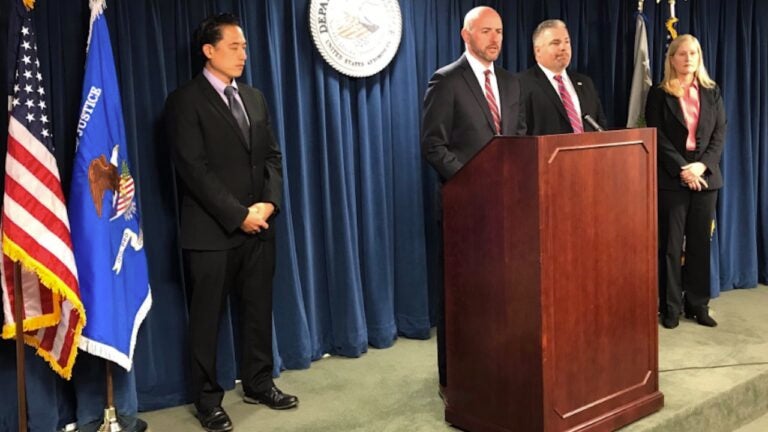 A Massachusetts district court judge and a court officer are facing federal charges after authorities say they helped an undocumented immigrant defendant evade ICE custody.
Judge Shelley M. Richmond Joseph, 51, of Natick, and Wesley MacGregor, 56, of Watertown, now a former trial court officer, were indicted Thursday on two counts each of obstruction of justice — aiding and abetting, and one count each of conspiracy to obstruct justice. Wesley also faces a perjury charge, according to a news release from the U.S. Attorney's Office District of Massachusetts.
The "alien defendant," identified by The Boston Globe as Jose Medina-Perez, was arrested in Newton back on March 30, 2018, on charges of being a fugitive from justice and possession of narcotics, according to officials. The defendant had been deported from the U.S. in 2003 and again in 2007, officials said, and federal authorities had barred him from re-entering the country until 2027. U.S. Immigration and Customs Enforcement found out about the arrest and issued a "Federal Immigration Detainer and Warrant of Removal, which stated that the defendant was subject to removal from the United States," according to the release.
On April 2 of last year, the defendant was brought to Newton District Court, and an ICE officer was sent there to take him into custody following his release, officials said. Ultimately, authorities say Joseph and MacGregor conspired to allow the defendant to escape out a back door.
"MacGregor was also charged with perjury for falsely testifying before a federal grand jury on July 12, 2018, that, prior to releasing the defendant from the sally-port exit, he was unaware that ICE agents were in the Courthouse and that there was a detainer for the defendant," according to the release.
#BREAKING: USA Lelling and HSI SAC Fitzhugh announce obstruction charges against Massachusetts Trial Court Judge Joseph & Court Officer MacGregor for allegedly preventing an ICE Officer from taking custody of an alien defendant in #NewtonDistrictCourt pic.twitter.com/MVDCf8LTZk

— U.S. Attorney MA (@DMAnews1) April 25, 2019