Local
Sri Lankan police wrongly identify Brown University student as suspect in terror attack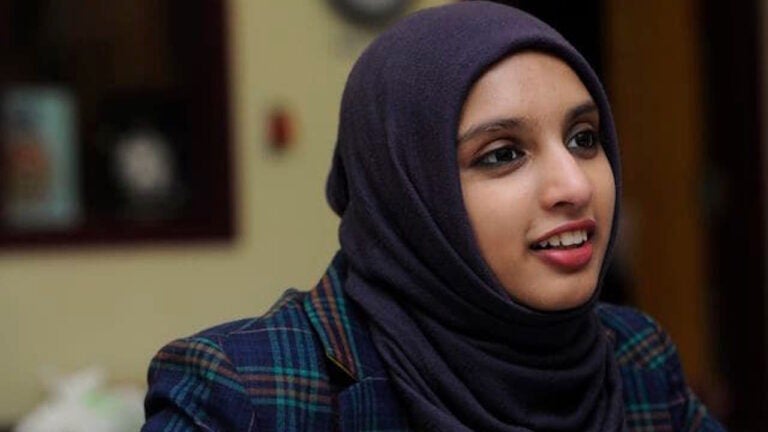 Amara Majeed had an unpleasant surprise waiting for her when she awoke on Thursday morning.
Earlier that day, police in Sri Lanka had released the names and photos of six suspects wanted in connection with the Easter Sunday terrorist attacks that killed hundreds, and asked for the public's help in locating them. But somehow, an old photo of the Brown University senior and Maryland native had made it into the news release. The black-and-white image appeared next to the name of Abdul Cader Fathima Qadiya, one of the wanted suspects. Already, people had figured out that the woman pictured was actually Majeed, and flocked to her Facebook profile to accuse her of being a terrorist.
"What a thing to wake up to!" Majeed, who previously made national headlines for her activism on behalf of Muslim women who wear the hijab, wrote in a Facebook post. "This is obviously completely false and frankly, considering that Muslim communities are already greatly afflicted with issues of surveillance, I don't need more false accusations and scrutiny."
Police issued a retraction later on Thursday, saying that they had included the wrong photo and that Majeed, 22, was not wanted for questioning. But the blunder had already revealed the limitations of Sri Lanka's nationwide ban on social media, which was supposed to stop the flow of misinformation. It also did little to inspire confidence in the government's handling of the tragedy, which came under further scrutiny later that day when authorities revealed that they had likely overestimated the number of people who died in the bombings.
While police haven't said how Majeed's photo made it into their bulletin, Twitter users in Sri Lanka quickly pointed out that a reverse Google search showed the image had been featured in a 2015 Daily Mail article about an open letter Majeed had written to President Trump, asking him to stop making comments that demonized Muslims. The article accurately identified her as a child of Sri Lankan immigrant parents who had lived in the United States her entire life.
Despite an official ban on social media, word spread throughout the day on Thursday, and Majeed woke up to a deluge of hatred. A public Facebook status that she posted on Wednesday – notifying her friends that Brown was looking to hire a new Muslim chaplain – was bombarded with hundreds of comments. While some speculated that there could have been a mistake, others called her foul names or accused her of being a terrorist.
Majeed, who couldn't be reached for comment late on Thursday, told the Baltimore Sun that the experience had been "startling and jarring." It was painful to be associated with the tragedy that had devastated her family's homeland, she said.
"Please stop implicating and associating me with these horrific attacks," she wrote on Facebook on Thursday, stressing that she had been misidentified by the police. "And next time, be more diligent about releasing such information that has the potential to deeply violate someone's family and community."
Though police quickly issued an official correction, it evidently did little to dispel the false rumors that Majeed had been partially responsible for the bombings. Her Facebook post explaining the mix-up was flooded with thousands of comments, many of which insisted that she was hiding something or made graphic suggestions about how she should be punished.
The error came as Muslims in Sri Lanka braced themselves for retaliation and potential violence amid a government investigation into Islamist militant groups' role in the bombings. Noting that not everyone who saw the original post with Majeed's photo would also spot the correction, Zainab Chaudry, the director of Maryland outreach for the Council on American-Islamic Relations, suggested Sri Lankan officials had put the college student at risk.
"As religious tensions grow in Sri Lanka, this incompetence in the aftermath of the devastating Easter attack has placed Amara and her family in even graver danger," Chaudry told the Sun.
The mistake also highlights the limits of Sri Lanka's social media ban, which was intended to stop the spread of false reports that could potentially lead to further violence. Hours after the attacks, the government blocked access to Facebook, YouTube, Instagram and other social media sites, a decision that was praised by some Western journalists who saw it as proof that social networks have failed to control the spread of misinformation.
But the ban, which was still in place on Thursday, hasn't stopped fake news from circulating, Sri Lankan writer and data scientist Yudhanjaya Wijeratne pointed out in Slate. The order for Internet service providers to block access to social media sites, he noted, was easy to circumvent through virtual private networks.
Meanwhile, he wrote, the government had taken a "chaotic approach" to releasing information.
"Official information sources are increasingly starting to resemble hoaxes themselves," he wrote, noting that social media users in Sri Lanka figured out the government had erred in spreading Majeed's photo. He had been "forced to conclude the police are incapable of looking up an image on Google."
Amid the confusion, officials also walked back their estimates for how many people had died in the Easter Sunday attacks. In the aftermath of the bombings, the official death toll rose over several days to reach 359, The Washington Post's Siobhán O'Grady reported. If correct, that would make the attacks one of the deadliest acts of terrorism since 9/11. But health officials said Thursday that the actual death toll was likely closer to 250 people, a significant revision of their earlier estimate.
Sri Lankan leaders have also faced outrage over revelations that they had been warned about the potential for suicide attacks targeting local churches and failed to act. Top officials, including Sri Lanka's defense secretary and the national police inspector general, announced their resignations on Wednesday.
Misidentifying an American activist as a suspected terrorist may have added further fuel to the fire: Early Friday morning, the official Twitter account for the Sri Lankan police, @SriLankaPolice2, was deleted without explanation.
For Majeed, who grew up in suburban Baltimore, facing online abuse is nothing new. As a teenager attending Towson High School, she achieved national recognition after founding The Hijab Project, a website intended to fight prejudice against Muslim women who choose to wear headscarves. A 2015 Baltimore Sun profile, written while she was still a senior in high school, noted that she had also self-published a book aimed at combating stereotypes about Muslims and had her commentary published by CNN and HuffPost.
But her outspoken advocacy on behalf of the Muslim community frequently has been met with vile personal attacks, as she acknowledged in an interview with the Brown Daily Herald in 2016.
"It doesn't really bother me on a personal level anymore," she said. "What bothers me is that the fearmongering and anti-Muslim rhetoric created by many media sources and politicians has made it routine."
___
The Washington Post's Niha Masih in New Delhi and Amantha Perera in Colombo contributed to this report.