Local News
MIT 'hackers' turn Great Dome into Captain America's shield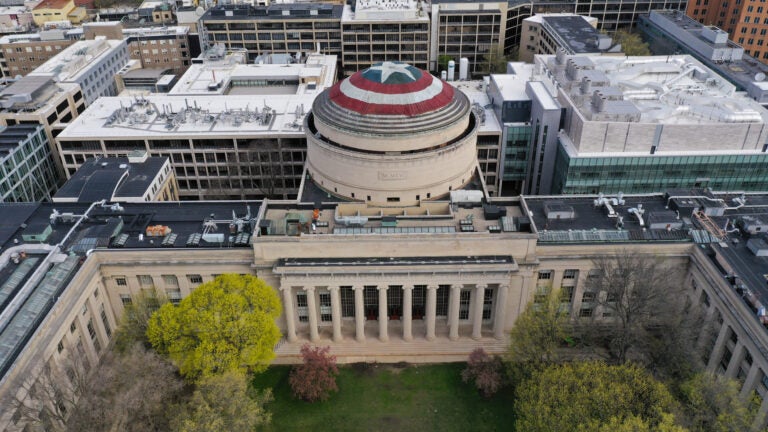 A group of Massachusetts Institute of Technology pranksters transformed the school's Great Dome Saturday night into Captain America's shield in celebration of the new "Avengers'' movie.
One of the jokesters — they cheekily call themselves "hackers'' — reached by the Globe Sunday said dozens of people worked on the project for months, which they started planning about a year ago after learning a new Marvel movie was going to be released.
The hacker, who spoke on the condition of anonymity due to the secretive nature of the pranks, said the current generation of MIT students grew up with the "Avengers'' franchise, and that the shield was a symbol of their gratitude toward the series.
"Putting things on the dome is a big challenge,'' the hacker said. "We hope people look at it and it gets their imagination going.''
MIT officials could not be immediately reached for comment Sunday evening.
The group of hackers are not alone in their love of the Marvel universe. "Avengers: Endgame''demolished records with an estimated $1.2 billion in ticket sales globally when it opened this weekend.
The hacker said the group's process and planning is a secret, but did note that they spent "a lot of time'' on the project — while also keeping safety in mind.
"The priority is safety for people, and safety for MIT structures,'' the hacker said.
Raymond Huffman, a sophomore at MIT, shot a video of the shield Sunday morning with a drone and posted it on YouTube.
"It was super exciting to see it in the morning all set up,'' Huffman said in a telephone interview, adding he was not directly involved in organizing or executing the hack, and simply filmed the result after he was tipped off about the prank. "Everyone thinks it's awesome.''
The shield also has a local connection: Chris Evans, who portrays Captain America, is a Sudbury native — and is also the nephew of former US Congressman Michael Capuano.
Students have pranked the Great Dome for years. In 2009, a replica of an MBTA Red Line train was placed on the dome. And twenty years ago, the dome was made to look like R2D2 from "Star Wars.''
Take a look at MIT "hacks'' of years past: