Local
In his small Massachusetts hometown, he keeps rich history alive
"There's just so many good stories here."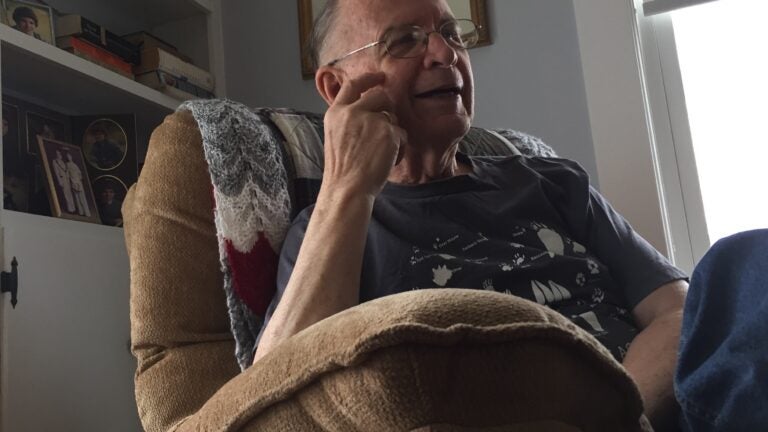 Not long before he retired in 2001, Dan Malloy would hear the common, daunting question: What are you going to do?
"I'd say, 'I don't know, but I don't get bored that easily so something will turn up," he recently recalled.
And it was not long after he left his job as an elementary science teacher that something did.
Malloy, now 77, has spent nearly his entire life in Hopedale, a small town with less than 6,000 residents, roughly a 45-minute drive southwest of Boston.
He has fond memories of growing up here. Malloy and his cohort of friends built huts in the woods, delivered newspapers, and, sharing in the amazement with countless others in 1950s America, crowded around the first television they had ever seen.
Later, leaving town only for college and the beginning of his marriage, he'd return to raise a family of his own and live out his career as a teacher in Mendon-Upton schools.
For decades, he knew little of the local lore — the heaps of rich history packed into the five square miles that make up Hopedale  — aside from his own stories.
But these days, in his retirement, Malloy is the self-described "Hopedale history guy" — a fitting title as those around the area who know him will tell you — best known as a loyal scribe, archivist, and curator for his website, "Shelter from the Wicked World: Stories and Pictures from Hopedale's Past."
The website (hope1842.com) generates thousands of hits a month, with readers leaping between the entries that make up this collage of old memories and textbook facts.
There's pages on the Drapers, the prominent family whose factory long shouldered the local economy; Hopedale's humble beginnings as a progressive Universalist community; and even the early days of a band named Aerosmith, who played gigs in the area with a local boy, Joe Perry, on lead guitar.
And there's a monthly e-zine Malloy sends out, loaded with pictures of places around town — the nearby pond on a sunny warm day, for example — and snippets of news of years past, carefully pulled from microfilm of old newsprint at the public library. On the days the newsletter hits email inboxes, Malloy said he can see anywhere between 500 and 800 visits to the page.
"It seems like he is always snooping around in the Bancroft Library and coming up with all sorts of stuff," said Mike Cyr, who grew up in town and now resides outside Tampa. "Not only that, but he has this string of people that when they're doing historical research … they always end up talking to Dan. He's kind of the old sage of Hopedale history for sure."
The hobby is a daily habit for Malloy. 
"It would be a rare day that I don't add something," he said, sitting on a recent morning in his living room arm chair.
He's kind of the old sage of Hopedale history.
While his website seems nearly boundless, it is precisely for that reason it exists at all.
In 2001, Malloy and his late wife, Elaine — Hopedale's then-recently retired library director with a passion for history — got involved in a project to publish "Hopedale, Images of America" — a book in the national series that compiles photographs of towns across the country.
But the book, lined with photos, did not offer the space that some of the quirkiest stories needed in order to be told, he said.
And so, around 2003, he launched the website to capture what tidbits of the past were too fascinating to let fall to the cutting room floor.
"I would spend a few hours a day at least, for about three weeks, until I finally got over some problems of just putting text and pictures and links on and getting over some of the little glitches I had to figure out," he recalled.
But as those early days grew into years, Malloy continued to expand the site, creating pages on a host of different topics, anything and all things Hopedale related.
There's one on how the Celtics, still only about 10 years old, played in the Draper Gymnasium during the late 1950s. Others outline the rise and fall of the Draper Corp. factory — a town institution that employed generations of workers who cranked out textile machinery used around the world.
Yet another contains the extensive family tree branches of the Drapers, who have a Founding Father-esque status in town.
Malloy can pick any of the tales out of the air and recite them as if he were reading from his own website. He recalled one in conversation: the peculiar story of how one Draper patriarch, William F. Draper, a celebrated Union general during the Civil War, would go on to marry his second wife, Susan Preston, the daughter of a Confederate general from Kentucky.
What he doesn't read in books and newspapers comes to him through reader emails, which sometimes make it to the website, too. He also solicits the memories of those from the area, with many writing down their own family histories, recollections, and aches of nostalgia.
"For a tiny town, these little stories just pop up endlessly," Malloy said. "There's always somebody who has another story of what happened during the 1955 flood or some pictures of the Blizzard of 1978. All kinds of things keep popping up, so far anyway."
Cyr, 65, who as a young Boy Scout knew Malloy from his days as his scout leader in the 1960s, said the website gives him a connection to his hometown between his trips back every now and again.
He reads it regularly.
"A lot of the older history is the something I enjoy reading about, and then, of course, the stories of people," said Cyr, who can trace his own ancestry back to Hopedale's earliest days. "They are people I grew up with and they put their stories in; the teachers that taught me in school … I get to read their reminisces of things in '30s and '40s and things like that. It's kind of like getting in touch (with the) roots and the history of the town."
While there's no indication it will happen anytime soon, when the day comes for him to step down from the website, Malloy is looking to have a local group, maybe the library, keep watch over it, if interested, he said.
In the meantime though, there are still tales to tell.
"I'm just happy to do this," Malloy said. "Like I said, there's just so many good stories here."