Local News
What you need to know about sharks if you're heading to Cape Cod beaches this summer
"They're super close to shore whether I see them or not."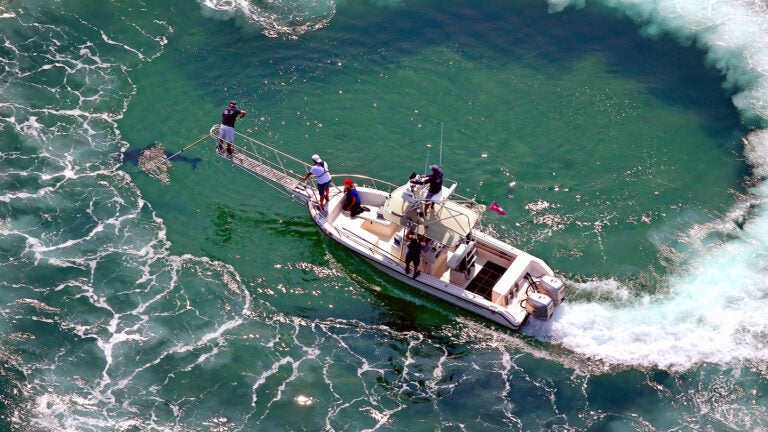 Summer temperatures are settling in New England, heralding the start of the beach-going season in the region — and the return of great white sharks to the waters off Cape Cod.
Last summer, the Bay State saw its first fatal shark attack in more than 80 years when 26-year-old Arthur Medici of Revere was bitten and killed while boogie boarding at Wellfleet's Newcomb Hollow Beach in September. A few months before the fatal attack, a New York man was severely injured after he was bitten by a great white while swimming off a Truro beach.
In the ensuing months, politicians, locals, and experts brainstormed and discussed options for improving public safety, seeking to balance the Cape's existence as a summer vacation destination against the reality that great white sharks swim in abundance off its shores.
Here's what you need to know heading into the 2019 summer season on the Cape.
What will be different at beaches this year
Shark researchers and officials have emphasized repeatedly that there is "no silver bullet" for completely preventing shark attacks. But officials on the Cape are exploring what options — used elsewhere around the world — could work for the Bay State beaches on the Atlantic. Towns on the Cape, along with the Cape Cod National Seashore, have hired the Bourne-based Woods Hole Group to evaluate measures to prevent human and shark interactions — from shark repellant technologies to detection mechanisms and nets. A report from the group is expected in September 2019.  
In the meantime, steps are being made locally to improve responses to emergencies on the beaches.  
One of the major issues raised following the two shark attacks in the summer of 2018 was the lack of cellphone service on the beaches of the Cape, with some people expressing concern that responses to the attacks were hampered by poor access to communication systems.
Efforts to improve communication on the remote beaches — and updating signage about sharks — are a few of the measures for improving safety that have been specifically earmarked in the proposed $42.7 billion annual state budget, which is being debated in the Massachusetts Senate this week.
In an April statement, which itself did not include the word "shark," state Sen. Julian Cyr of Truro and state Rep. Sarah Peake of Provincetown said six towns on the Cape with Atlantic Ocean-facing beaches (Chatham, Eastham, Orleans, Provincetown, Truro, and Wellfleet) would get $383,000 for "municipal preparedness and response programs." The funds will go toward the purchase of emergency call boxes for areas where cellphone service is limited, utility terrain vehicles that can "reach a patient on the beach," satellite phones for local lifeguards, and "specialized medical equipment."
Cyr called the funding a "good first step" in the statement.
According to Peake's office, an additional $200,000 is secured in the House's budget for shark safety. Of those funds, $75,000 would go to the Center for Coastal Studies and the Department of Marine Fisheries for an "ecosystem-based study" of white sharks within the shore areas of Cape Cod. An additional $75,000 would go to the fisheries department to continue the ongoing shark tagging program.
Both research efforts, Peake's office said, would inform future public safety decisions through the collection of more data about the predators and their environments. The Cape Cod Region Shark Information Network — a recently formed group of businesses, scientists, and public officials dedicated to disseminating a unified message about sharks in the area — is also slated to get $50,000 to develop and implement a "shark-related communications plan."
Leslie Reynolds, chief ranger of resource and visitor protection at the Cape Cod National Seashore, told Boston.com that for this summer season, all 50 lifeguards hired to watch over the park beaches will receive formal Stop the Bleed training, which fire departments in various Cape towns have been running since last fall and continue to offer.
Anyone planning on recreating in waters off the Cape should consider taking the free course, she said.
"They could save a life — they take this training and they choose to act if there's a situation," she said. "It doesn't have to be a shark bite. This training came along because of active shooter situations, so gunshots, motor vehicle accidents, stab wounds. Yes, we have shark bites, but the whole principle is save a life — you can stop the bleeding."
Lifeguards go on duty at national seashore beaches on June 27. Reynolds said for off hours Stop the Bleed kits will be placed near the lifeguard chairs and in boxes on more remote parts of the beaches for use in an emergency.
The seashore is also installing updated shark signs at its six beaches during the first two weeks of June. Emergency, 911 call boxes are set to be installed "as soon as possible," she said.  
"This is just another way that the public can communicate an emergency," Reynolds said. "And it could be any emergency. It might be nothing to do with a shark."
The same approach — installing emergency call boxes, updating signage, and stashing kits to help with traumatic injuries — is being taken at town-run beaches on the Outer Cape.
Truro is making improvements to its public radio system in the next 30 days, while also installing call boxes and placing tourniquet kits at beaches. Wellfleet lifeguards go on duty starting June 22, by which time the town should have an all-terrain vehicle for use and emergency call boxes installed at its beaches. In addition to a 911 call box and cellphone repeater, Orleans is placing "shark bite first aid response kits" — complete with hemostatic bandages and tourniquets — at remote sections of beaches and public beaches during lifeguard off-hours.
What researchers want you to know about sharks
Great white sharks come to Massachusetts waters for their preferred prey: seals.
Greg Skomal, the senior fisheries scientist for the state Department of Fish and Game who leads the Massachusetts Shark Research Program, has spent the last five years working with the UMass School for Marine Science and Technology and the Atlantic White Shark Conservancy to gather more data on the sharks, with the hope that researchers can calculate the local population and learn more about the predators' movements and behaviors off the Outer Cape.
Last season marked the final year of "counting fish" off the Cape's coast for the population study, but Skomal told Boston.com that he and his colleagues will once again be out on the water this summer where they will continue to tag sharks. They will also expand their area of focus from the Outer Cape to examine the presence of sharks in Cape Cod Bay.
"They move almost throughout all of state waters, but their greatest abundance is on the Outer Cape as well as Cape Cod Bay, north of Wellfleet," Skomal said. "So that's where their greater abundance [is]. Based on that distribution — that appears to be where the greatest number of seals are, so they're definitely focused on seals as their prey. So they're not equally distributed throughout the state. Although they could be detected in waters throughout the state, they are not detected very often in waters throughout the state."
Sharks begin showing up in Massachusetts waters and off the Cape starting in June, and most of them exit the area by mid-December, according to Skomal.
The "peak months" for the ocean predators in the area are August, September, and October.
"Their movements are very dynamic," Skomal said. "They can cover the entire outer coastline of the Cape over a very short period of time, over just a couple of days." 
The great whites are focused on hunting seals, which in turn have become aware of the predators, he said. The seals tend to stay "very close" to the shoreline during the summer, which is when the sharks are in the waters in the greatest numbers.
"As a result, the sharks are moving closer to the shoreline in order to feed on the seals," Skomal said. "And that, of course, poses a risk for swimmers."
Swimmers and others in the water, he advised, should know that proximity to shore doesn't mean lessened risk for sharks.
"If there's deep water close to shore, the sharks can get into that area," the researcher said.
He estimated that the sharks can get into five or six feet of water.
"People can make their own choices, that's for sure," Skomal said. "And every day people do. There are surfers and bodyboarders and kayakers and windsurfers and such that go out great distances and such and have no problem taking that risk. And that's fine. Everybody can make their own personal decision, but realizing that sharks can get into water as shallow as five of six feet deep is something that people need to realize."
What officials say you can do to mitigate risk
In addition to considering taking a Stop the Bleed course, swimmers should stay close to shore in shallow water so rescuers can reach them in an emergency, Reynolds said.
"Swim, paddle, kayak, and surf in groups, and don't isolate yourself," she said. "Avoid areas where seals are present, avoid areas where schools of fish are visible. Avoid murkier water with low visibility."
The Atlantic White Shark Conservancy has a free app, Sharktivity, which provides information on white shark sightings and movements, which officials recommend using to report sightings of the predators and to keep updated on your swimming area.  
Prior to Medici's death, the last fatal shark attack was in 1936, when a 16-year-old died after being bitten in Mattapoisett. Sporadic interactions with sharks and humans occurred in later years. In 2012, a man bodysurfing with his son in Truro survived being bitten on both his legs, and, in 2014, two kayakers were knocked out of their boats while in the water off Manomet Point in Plymouth. The shark swam off, and the kayakers were rescued, but the ocean predator left behind tooth fragments in their boats.  
"We're land animals, and the sharks are there to kill and consume seals," Skomal said. "This is a classic well-established predator/prey relationship that has evolved over a very long period of time. So the sharks, their goal is to get to the seals to feed, and we're basically superimposing ourselves over the distribution of that very dynamic relationship. So we need to realize first of all that we're land animals — we're not particularly well adapted for the ocean and we need to know our own strengths in the water."
Reynolds said the most important thing for the public is to know what hazards they face when recreating in the ocean. Off Cape beaches, that includes sharks, she said, but it also includes rip tides and strong currents.
Over a five-year period, she said, seashore lifeguards rescued people who were drowning approximately 700 times, and another thousand people required assistance out of the water.
"It's a personal responsibility, and we're each responsible for our own risk-based decisions," she said. "And ultimately it will be up to us human beings to adapt our behavior. We have a very important marine predator rebounding off of our coast, and they're not going to change their behavior, right? So we have to adapt ours to recreate as safely as possible."
Reynolds said that she has made the decision to change her own behavior to mitigate her own risk as a swimmer.
"If it's a low tide and the lifeguards are on duty and the water is warm enough, I'm going to boogie board," she said. "If the lifeguards are on duty and it's high tide, I am not. I've consciously made that decision, because I know the sharks are right there. They're super close to shore whether I see them or not, whether they're tagged or not, whether it's June, July, August, September, or October or November or December, they're there, the sharks are there."
Skomal cautioned that there may be a spot that is deep regardless of the high or low tide. The best option, he said, is to be familiar with how deep the water is where you are swimming, and, if you don't know, ask a lifeguard.
With their research, Skomal and his colleagues are working to better understand when, where, and how sharks feed on seals.
"That's going to give us a better understanding of that relationship, which will lead us perhaps to helping protect lives," he said. "There may be areas that these kinds of things are more likely to happen. There may be times of day, there may be certain environmental conditions that drive that relationship. So that's what we're trying to do. We're trying to figure that out."
https://www.youtube.com/watch?v=GyoiMedqy4Q