Local News
Chris Evans and Smash Mouth blasted the idea of a 'Straight Pride Parade' in Boston — and they weren't the only ones
"Straight Pride Parade????? F*** OFF!!!!!!!!"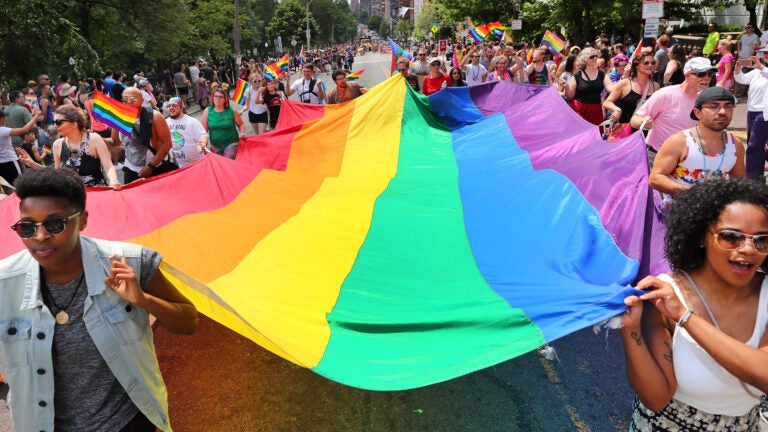 A proposal for a "Straight Pride Parade" in Boston this summer is being met with widespread condemnation and ridicule.
Mark Sahady, vice president of Super Happy Fun America — the group organizing the event — wrote on Facebook Thursday that after a discrimination complaint was filed against the City of Boston, officials are "working with us on the parade."
"We will have the streets closed and be allowed floats and vehicles," he wrote. "The tentative date is 8/31 but will be finalized in the next few weeks."
He shared a map of the route (the same path as this weekend's Boston Pride Parade), winding through Boston's streets from Faneuil Hall through the South End to Copley Square. Organizers have designed a flag and claimed actor Brad Pitt as their "mascot," according to the group's website.
According to Boston magazine, Sahady is involved with another group, Resist Marxism, which has organized other controversial rallies in the city, including the 2017 "Rally for the Republic" and a pro-gun protest in response to the March for Our Lives last year.
"This is our chance to have a patriotic parade in Boston as we celebrate straight pride," Sahady wrote of the proposed "Straight Pride Parade."
In a statement on the group's website, John Hugo, president of Super Happy Fun America, wrote that "straight people are an oppressed majority."
"We will fight for the right of straights everywhere to express pride in themselves without fear of judgement and hate," the statement reads. "The day will come when straights will finally be included as equals among all of the other orientations."
Hugo told The Washington Post that a "very famous gay conservative" would serve as keynote speaker at the parade and that the group is advocating for the acronym LGBTQ to have the letter 's' added to it, for "straight."
The City of Boston has been in contact with the group pushing for the parade, but the necessary permits for the event have not been issued.
Mayor Marty Walsh issued a statement in response to questions about the proposal that didn't address the event specifically.
"Every year Boston hosts our annual Pride Week, where our city comes together to celebrate the diversity, strength and acceptance of our LGBTQ community," he said. "This is a special week that represents Boston's values of love and inclusion, which are unwavering. I encourage everyone to join us in celebration this Saturday for the Pride Parade and in the fight for progress and equality for all."
On Tuesday, news of the proposed "Straight Pride Parade" spread on social media after a screenshot of Sahady's post was shared on Twitter.
It was met roundly with condemnation and criticism:
They're planning a "straight pride" parade in Boston, presumably to commemorate that historic moment when courageous heterosexual frat bros finally stood up to the gay cops who had been harassing and arresting them for decades.

— George Takei (@GeorgeTakei) June 5, 2019
we'll be at the parade that matters and this one isn't it

— AXE (@AXE) June 5, 2019
ATTN: Straight People. Don't be upset that you don't have a pride parade … be grateful you don't need one!

— Ginger Minj (@TheGingerMinj) June 4, 2019
For those seeking a Straight Pride Parade: read this pic.twitter.com/7ZvlWl3H1C

— Shawn Olson ??? (@OOOlson) June 4, 2019
Wow! Cool initiative, fellas!! Just a thought, instead of 'Straight Pride' parade, how about this: The 'desperately trying to bury our own gay thoughts by being homophobic because no one taught us how to access our emotions as children' parade? Whatta ya think? Too on the nose?? https://t.co/gaBWtq2PaL

— Chris Evans (@ChrisEvans) June 5, 2019
Wow, the number gay/straight pride parade false equivalencies are disappointing. For those who don't understand the difference, see below. Instead of going immediately to anger(which is actually just fear of what you don't understand)take a moment to search for empathy and growth https://t.co/e98K0Z150T

— Chris Evans (@ChrisEvans) June 5, 2019
Will "Straight Pride" be a Freaky Friday type situation where all of our history books, movies, stories, media, news, etc feature mostly LGBTQ+ people & perspectives?

Will people have to come out as straight?

What would folks march in? Socks w/ sandals on? Dad jeans? https://t.co/7SUiWHWRMd

— Alexandria Ocasio-Cortez (@AOC) June 5, 2019
To celebrate how utterly ridiculous a Straight Pride parade is, I'm going to auction off one of my basses, match the final bid dollar-for-dollar, and donate all the money to the @TrevorProject. ?️‍?

— mark hoppus.?️‍? (@markhoppus) June 5, 2019
My straight pride parade is heading to checkout after selecting socks at Costco

— Andy Richter (@AndyRichter) June 4, 2019
Straight Pride Parade????? FUCK OFF!!!!!!!!

— Smash Mouth (@smashmouth) June 4, 2019
There are straight pride parades everyday ALL over the world. It's called walking down the street safely.

That said, we have #LGBTQ #Pride MARCHES because the first one was a RIOT!

What do we want?

EQUAL RIGHTS!

When do we want them?

NOW!! https://t.co/ibPXzn7ABX pic.twitter.com/QRlHjLfEnJ

— Wilson Cruz (@wcruz73) June 5, 2019
Ok #StraightPrideParade ?? Honey, nobody wants to see a float made by a bunch of heterosexuals. At least outsource that part to the gays. Gays, make sure you give them a nice, healthy upcharge. pic.twitter.com/M2F3Fpttd6

— Kathy Griffin (@kathygriffin) June 5, 2019
Linda DeMarco, president of Boston Pride, which organizes the currently underway Pride Month in the city, told the Post her group is focused on their celebrations.
"We know that straight allies of the LGBTQ community are among the thousands of supporters who come out every year to march, observe and celebrate," DeMarco said in a statement to the Post. "We are looking forward to seeing our straight friends, family, and neighbors at the Boston Pride parade and festival this Saturday along with members of the LGBTQ community."