Local
What's behind the so-called beer garden backlash?
A Senate bill aims to tighten the screws on seasonal beer gardens run amok in Boston. The only problem: Beer garden operators say it would force them to close.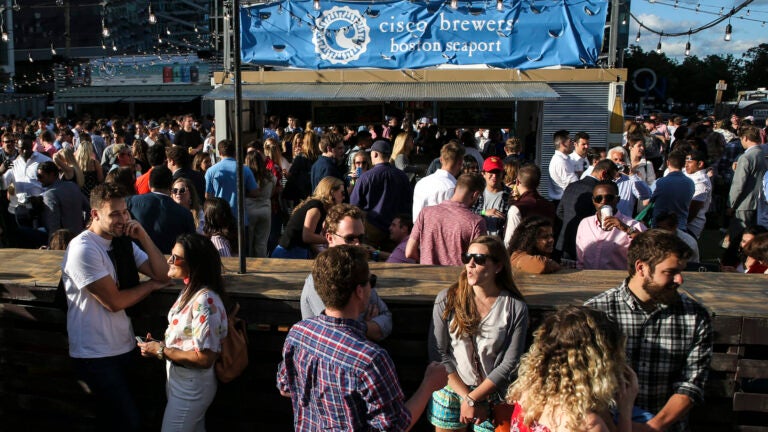 Boston is in the midst of a beer garden boom — as well as a backlash.
Last summer, it could seem like nearly every other week a new park corner or underutilized lot was roped off so that local residents and workers could enjoy a refreshing outdoor brew during the city's fleeting summer season.
Trillium's popular garden returned for its sophomore year on the Rose Kennedy Greenway, and was joined by a new Downeast Cider "drinkery." Wachusett opened its own spot next to City Hall. Night Shift launched two beer gardens along the Charles River. Castle Island Brewing posted up in a harbor-side parking lot in Charlestown. Cisco Brewers touched down in the Seaport. And that's not even mentioning the growing number of seasonal open-air drinking holes outside Boston's city limits.
Nearly all (City Winery took over Downeast's spot on the Greenway) of the gardens, along with several new summer pop-ups, are back again this year to the delight of the growing number of craft beer fans — and to the displeasure of a number of local businesses.
Bob Luz, the president of the Massachusetts Restaurant Association, says several members of the industry, which isn't known for its high profit margins, have seen 25 percent dives in revenue due to the opening of nearby beer gardens. Luz says he wants beer gardens — or "beer tents," as he calls them — to be successful. But he also wants legislation passed to tighten the current licensing process so that the system isn't "abused."
"The MRA is not where fun goes to die," he said.
Senate bill No. 158, which was introduced in January by state Sen. Ted Kennedy, of Lowell, would cap the number of one-day liquor licenses granted to a single entity to 14. However, local breweries say if it were passed and enforced as written, they would have to shut down their beer gardens. And to an extent, that's put some of the bill's supporters on their heels.
State Sen. Nick Collins, who represents South Boston and is co-sponsoring the bill, told Boston.com in a statement that his intent is not to ban beer gardens, but to "jump start a conversation about their long term sustainability."
"Clearly that is happening," Collins said.
What's the issue with the current process?
To understand the controversy around beer gardens, it's first important to understand how they're currently licensed. Boston doesn't have beer garden-specific licenses that they give out. In fact, the city's ability to issue liquor licenses of any kind has been restricted dating back to the 1930s, when Massachusetts state legislators took over control of alcohol licensing in Boston (the move was reportedly motivated in no small part by anti-Irish sentiment).
Currently, those looking to open a seasonal beer garden have to obtain a special one-day liquor license from the city. State law says that no "person" can be granted more than 30 such licenses a year. But breweries and others can skirt that provision by simply having different employees apply for the permits, so that their beer gardens can be open regularly through the several warm-weather months.
Kennedy's bill would not only cap the number of special one-day license at 14; it would also tighten the law's language so that entities could no longer use multiple individuals to effectively exceed the limit:
No person, firm, corporation, association, or other combination of persons, directly or indirectly, or through any agent, employee, stockholder, officer or other person or any subsidiary whatsoever, shall be granted, in the aggregate, more than 14 such licenses in the commonwealth in a calendar year
Luz says the bill would prevent breweries and others from abusing a license that was meant for one-off events, such as a fundraiser or wedding, that plan to serve alcohol.
"The current procedure to allow beer tents to exist is not the intention of the law," he said.
Beer garden operators don't necessarily disagree that the current process could be improved. But they also argue that they're simply working within the confines of the current system and helping activate public places in Boston. Jonathan Tompkins, the director of marketing at Trillium, says they would be "forced to close" their Greenway garden if Kennedy's bill passed as written.
"It's disappointing that the quick reaction is to completely eliminate something which is so popular with residents and provides an economic and social benefit to the surrounding communities they serve, rather than working towards reform," Tompkins said.
Rob Burns, the president and co-founder of Night Shift, said their two riverside pop-ups would be at risk if the bill passed, as well as the jobs that the brewery created for the locations.
"We're trying to solve the wrong issue," he said in an interview.
Boston Mayor Marty Walsh also does not support the beer garden bill, according to his office. Having consistently pushed to increase the number of liquor licenses in the city, Walsh most recently proposed a home rule petition (which must be approved by both the City Council and state legislators) to allow Boston to grant 184 new liquor licenses over the next three years.
In a statement, Walsh told Boston.com that expanding the availability of liquor licenses would work as "an economic development tool to uplift our neighborhoods and support our restaurants."
Collins told Boston.com that he has had "constructive conversations" about adding a seasonal liquor license tailored for beer gardens to the home rule petition.
"A more appropriate seasonal licensure that reflects the semi-permanent nature of their operations is what needs to happen," he said. "I think most people agree getting 90, one-day licenses is illogical and outdated."
The South Boston Democrat says he plans to amend the liquor license home rule petition to include seasonal licenses, if it reaches the State House without them. But the proposal might not solve the problem. According to Walsh's office, Boston has long been banned from issuing seasonal licenses (dating back to those same post-Prohibition-era rules), and, even if state lawmakers changed the law to allow them, they would not be able to be issued to beer gardens. According to the mayor's office, seasonal licenses currently only allow restaurants to expand their services for a few months.
How can beer garden and restaurants coexist?
The original reason that Luz and Collins jumped into the effort was not their concerns about the so-called abuse of one-day liquor licenses — but the impact of beer gardens on local restaurants. Considering that the best restaurateurs make around a 5 percent profit margin, Luz says there can be painful downstream effects on businesses and their employees.
"That nickel of profit is a very thin margin of error, and, sadly, not all restaurants fall into the very well run business mode," he said.
Collins decided to co-sponsor Kennedy's bill after a constituent came to him with concerns about Cisco's pop-up on Seaport Boulevard, which opened across the street from several restaurants and, they felt, without much public notice.
"We're trying to solve a problem of why people aren't going to restaurants by killing beer gardens, which seems kind of crazy to me."
After other community members voiced their concerns about the bill, Collins released a statement on his website saying that he felt "the playing field is tilted" toward beer gardens. He noted that the one-day licenses cost $75 a day, compared to full liquor licenses, which are valued at several hundred thousands of dollars. Restaurants also incur far more start-up costs and are subject to more regulations and licensing hurdles.
Luz wants Boston to take a similar approach to beer gardens as it did with food trucks to ensure fairness and that they aren't siphoning customers from restaurants. Under that system, the city has select designated sites where food trucks are allowed to operate, which are awarded through a lottery system. The competitive licensing and regulatory process is also one of the most expensive in the country.
Burns says the comparison is inexact, noting that nothing precludes restaurants from applying for the one-day licenses.
"You guys complain about the beer gardens, but you guys could have responded to the [city's requests for proposals] and opened up your own garden," he said. "There is a level playing field there."
While they exist in the same ecosystem, Burns says beer gardens are "inherently very different than a brick-and-mortar restaurant" with different customer bases, functions, and day-to-day business risks (i.e. weather). As part of their permitting partnerships, beer garden operators like Trillium, Night Shift, and Cisco also contribute a portion of their sales to nonprofits and state organizations to help sustain public spaces. Restaurants, Burns noted, "don't do that."
"We're trying to solve a problem of why people aren't going to restaurants by killing beer gardens, which seems kind of crazy to me," he said.
Burns says some sort of seasonal license, if possible, "to some extent would make life easier for us" by providing a more structured system. Tompkins says that Trillium is "open to a solution that addresses all concerns and allows beer gardens to continue serving the community," but added that they have "yet to be contacted by anyone to have a productive discussion."
"I think this is filling a consumer need to enjoy the outdoors in Massachusetts," Burns said. "I wish we would work more collaboratively before something like this gets thrown out there."