Local
Here's a list of the recreational marijuana shops that want to open in Boston
Dozens of businesses have applied for permits in the second step of a six-part application process.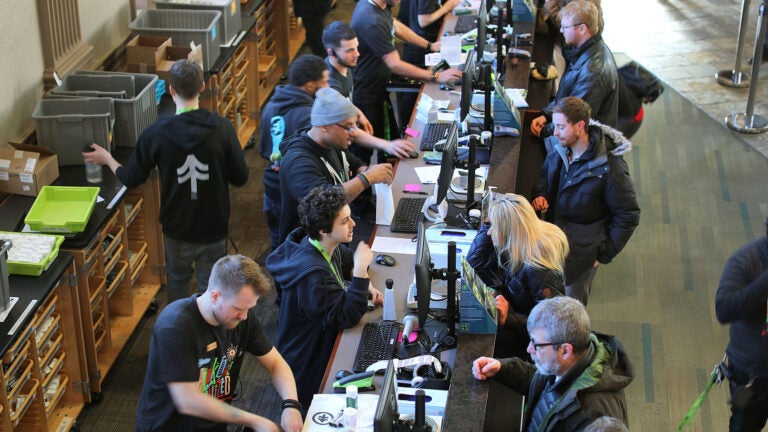 While Massachusetts began rolling out permits to recreational marijuana businesses last year, the start of the new industry in Boston has been slow going.
The city, which overwhelmingly voted in support of legalization in 2016, may not see its first dispensary open until toward the end of the year.
But that hasn't stopped applicants from lining up.
Dozens of businesses have applied for permits from the city's Inspectional Services Department to open up shop across Boston's neighborhoods, the second step in a six-step process to acquire the local approvals needed. (Beyond that, only a few have obtained a required Host Community Agreement after holding a mandated public meeting).
Here are the businesses that have submitted those permit applications:
Note: This list includes companies that have applied to open in Boston as of June 12, 2019. To date, none have been granted permission to open. All information is as it was proposed in applications provided to Boston.com by the City of Boston.
*Denotes a medical marijuana dispensary that would also sell recreational products
Allston
Union Twist*
259 Cambridge St.
Back Bay 
Sira Naturals, Inc.
827-829 Boylston St.
Bay Village 
Sanctuary Medicinals, Inc.
253-255 Tremont St.
Patriot Care*
310 Stuart St.
Brighton 
New England Cannabis Corporation*
204 North Beacon St.
Natural Ventures*
1688-1690 Commonwealth Ave.
Natural Selections
345A Washington St.
Happy Valley
1937-1939 Beacon St.
The Vape Shop
354 Chestnut Hill Ave.
Sira Naturals, Inc.*
470 Washington St.
Charlestown 
Bloominus*
116 Cambridge St.
Dorchester
617 Therapeutic Health Care, Inc.
130 Bowdoin St.
Cannabis Industry*
1102 Blue Hill Ave.
The 420
1624 Blue Hill Ave.
(Name N/A, owner: Frozen 4, LLC)
8-12 Hancock St.
Holistic Health Group, Inc.
1548-1558 Dorchester Ave., Unit 1
Pure Oasis
430 Blue Hill Ave.
Blue Hill Green
538 Blue Hill Ave.
Alchemy
60 Newmarket Square
Downtown 
Ascend Mass, LLC
268-274 Friend St.
East Boston
BR, Inc.*
253 Meridian St.
East Boston Local Roots
1006 Bennington St.
Bloom Market Garden
71 Maverick Square
Fenway
MedMen Boston
120 Brookline Ave.
Cypress Tree Management, Inc.
1114 Boylston St.
Sanctuary Medicinals, Inc.
601 Newbury St.
Hyde Park 
Evergreen Farms Group*
883-885 Hyde Park Ave.
Suns Mass, Inc.*
931 Hyde Park Ave.
Jamaica Plain 
Giving Tree Health Center, Inc.
769 Centre St.
Core Empowerment
401-411 Centre St.
Mattapan
Verdant Medical, Inc.*
1589-1593 Blue Hill Ave.
Mojos
1292 Blue Hill Ave.
Roslindale
The Hempest
884-886 South St.
South End
Edibl Greens
552 Columbus Ave., Unit 2
West End
Garden Remedies, Inc.
49 Causeway St.
West Roxbury
XHale, Inc.
1524 VFW Parkway