Local
The MBTA and Charlie Baker have announced a plan to complete improvements more quickly. Here's what to know.
"In the face of the major disruption caused by the derailment, the T was faced with figuring out how to think differently about tackling that work sooner and faster."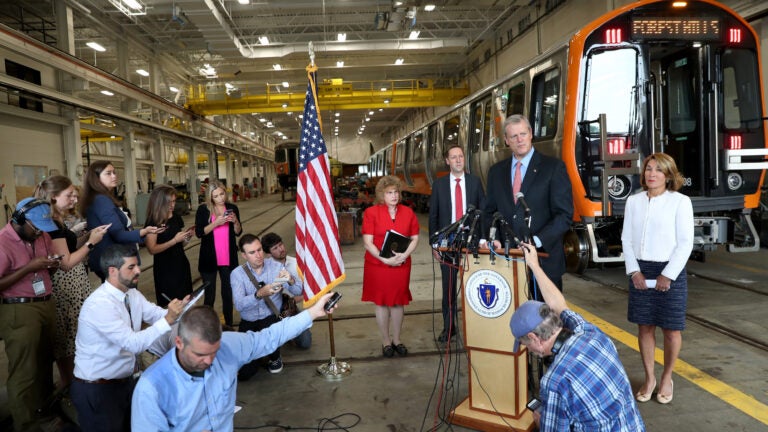 After the Red Line derailment earlier this month, causing delays that went days beyond the actual event and sparking politicians to take to social media to demand action, Gov. Charlie Baker and state transportation officials announced Tuesday that the MBTA will now work through a new "acceleration plan."
This includes the possibility of "more aggressive evening and weekend closures" to move improvements along, they said.
The plan, Baker noted, identifies ways the T can work through its planned $8 billion, five-year capital plan more quickly. The system was already scheduled for a "signals modernization project" next year.
"But in the face of the major disruption caused by the derailment, the T was faced with figuring out how to think differently about tackling that work sooner and faster," the governor said, while standing alongside Lt. Gov. Karyn Polito, MBTA General Manager Steve Poftak, and Stephanie Pollack, the state Department of Transportation's secretary and CEO. "To get more work done more quickly, the T's developed new approaches to step up proactive inspections, preventative maintenance, compressed project schedules, and more aggressively leverage industry leaders. We expect these new policies and programs will be and can be applied to other lines throughout the system."
A news release details how the T plans to make this happen.
The MBTA is expanding its focus to include ways to increase the pace of all investments, and ensure system reliability by increasing maintenance and inspection intervals that properly reflect the age and condition of many MBTA assets. Additionally, the MBTA has worked to identify and resolve barriers that prevent increasing investment efforts.

This proposal includes five key initiatives:
Explore scheduling more aggressive evening and weekend closures to expedite infrastructure improvements.

Increasing the frequency of proactive inspections and preventive maintenance to find and fix potential issues before they impact service.

Seek changes to law that remove impediments to force multipliers for capital investment, such as flexible procurement and project delivery approaches.

Negotiating with industry partners to expedite manufacturing, accelerate contract milestones, and compress project schedules.

Creating a new, flexible team of additional MBTA personnel and contracted resources to focus on expediting construction and infrastructure projects. This team will consist of flaggers, motorpersons, bus operators, engineers, and track, signals, and power personnel. The team will have the flexibility to work on both operating and capital projects, which would not currently be possible if funded in the capital budget. This will require a one-time infusion of $50 million in operating budget funds for the additional MBTA employees and outside experts to support capital project delivery, proactive inspections, and enhanced maintenance.
"These changes will give the T the ability to more aggressively expedite delivery of that $8 billion Capital Investment Plan to help riders see results faster and improve reliability across the system," Baker said.
Poftak called the MBTA improvement plan already in place "very aggressive," noting that $1 billion is being spent this year with a planned $1.4 billion to be spent next year. The T has also awarded $1.25 billion in contracts this year.
"However, we recognize that we can work faster, and the acceleration plan announced today will give us some of those tools which will allow us to be more aggressive with our cap investments and work with the urgency our customers demand," he said.
Watch the full press conference:
https://www.facebook.com/Boston25News/videos/480970982672339/