Local
'It was extremely horrific': Jarheads motorcycle club president describes New Hampshire crash scene
"It was like nothing I'd ever seen — never in my life."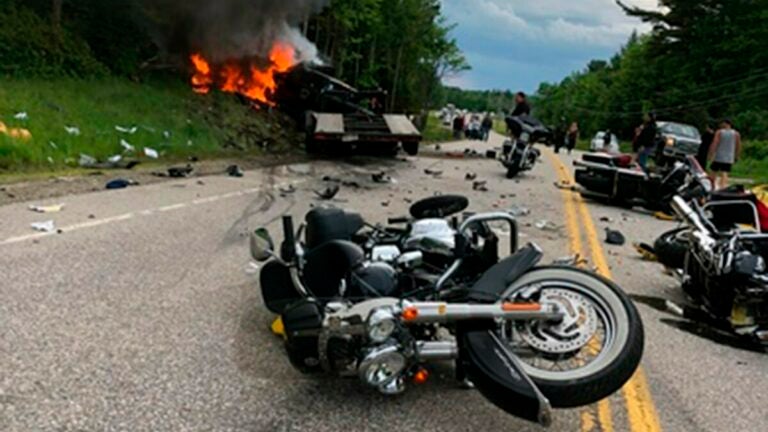 A Marine who survived the deadly New Hampshire crash that killed seven motorcyclists says what he witnessed that day was worse than anything he saw in combat. 
Manny Ribeiro and his wife, Valerie, were riding in the front of the group of motorcyclists with Jarheads MC, a New England-based club for Marine veterans and their spouses, when an oncoming pickup truck hauling a trailer collided with other bikers in the group on Friday evening in Randolph, New Hampshire. 
"It was like nothing I'd ever seen — never in my life," he told reporters on Monday, according to CBS Boston.
Manny Ribeiro, president of Jarheads MC, talks about the aftermath of Friday's crash in Randolph NH that killed seven members & spouses. Says it was worse than anything he's seen in combat as a marine. #WBZ pic.twitter.com/Ph1SnCRgkE

— Kristina Rex (@KristinaRex) June 24, 2019
The driver of the pickup,  23-year-old Volodymyr Zhukovskyy, of West Springfield, Massachusetts, was arrested and charged Monday with seven counts of negligent homicide. Authorities have not revealed details about the potential cause of the crash, only that Zhukovskyy was traveling west on U.S. 2 while the bikers were headed east at the time.
Ribeiro, who is now serving as president of Jarheads MC, told the Associated Press that the 21 riders in the group of 15 motorcycles had just finished dinner and were on their way to a fundraiser at a nearby American Legion post. 
The motorcyclist had been riding beside the club's president, Albert Mazza Jr., 59, of Lee, New Hampshire, at the time of the crash. 
"It was just an explosion … with parts and Al and everything flying through the air," he said. "He turned hard left into us and took out pretty much everyone behind me. The truck and trailer stayed attached and that is why it was so devastating … because the trailer was attached and it was such a big trailer, it was like a whip. It just cleaned us out."
Mazza died in the crash, and Ribeiro said when he saw his friend, he knew "he was gone right away."
"At that point, we just tried to figure out who needed help and got to work," he told the Associated Press. "There was debris everywhere and the truck was on fire. I was just looking for survivors, familiar faces and trying to find out who I had lost and … trying to help the living."
Motorcycles and bodies were everywhere, he said.
"It was extremely horrific," the Marine veteran told WMUR.
A fundraiser to support the families of the victims, set up by the motorcycle club, has raised more than $411,000 in three days.
https://www.youtube.com/watch?v=TqsOTNO27H4