Local
Here's what happened during the Wayfair walkout in Boston
"We know that there's injustice in this world, and we're going to do something about it."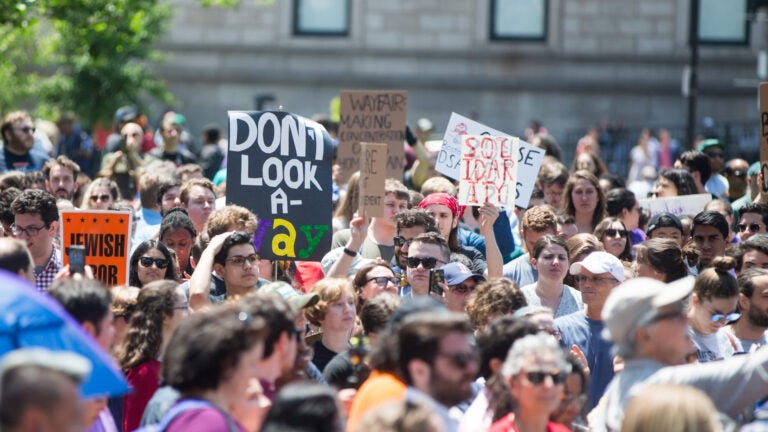 Hundreds of workers and supporters assembled Wednesday afternoon outside Wayfair's headquarters in Boston in protest of the company's sale of bedroom furniture for detention shelters for migrant children.
"I'm proud to work at Wayfair," Elizabeth Good, a manager at the online furniture retailer, told the packed Copley Square crowd. "And I'm proud to continue the dialogue that will lead to us ending the support of concentration camps at our southern border."
The walkout was quickly organized this week after Wayfair employees learned that the company had fulfilled a $200,000 order for bedroom furniture by BCFS, a government contractor that manages the camps for immigrants detained along the southern border. Some facilities have come under scrutiny for unsafe, unsanitary conditions and five children have died since late last year after being detained by border officials.
More than 500 Wayfair employees signed a letter to the company's leadership asking that they cease doing business with BCFS and other similar contractors. After the leadership team responded that they felt it was in their best interest to fulfill all orders from those acting within the law, the 1:30 p.m. walkout was planned.
the @wayfairwalkout has begun #WayfairWalkout @wgbhnews pic.twitter.com/GXOpTpW3bu

— Tori Bedford (@Tori_Bedford) June 26, 2019
Consisting of music, chants, and signs (including one that read "Wayfail") protesting the restrictive immigration policies of President Donald Trump's administration, the nationally covered Copley Square rally featured several different labor and immigrant rights groups. But at its center were several Wayfair employees who felt the need to speak out.
"This is the first time that I felt like I needed to hit the streets to make sure that I was proud of my company," said Madeline Howard, a Wayfair product engineer who said she'd been with the company for nearly seven years and helped organized the demonstration Wednesday.
Howard said that Wayfair should live up to the company promise that "everyone should live in a home they love."
"We don't want to profit off of being complicit in human rights violations," she said. "That's the message — pretty clear."
Employees of Boston-based Wayfair are protesting the company's sale of bedroom furniture to the government for a border detention facility. http://www.wcvb.com/article/wayfair-employees-walk-out-over-sales-to-border-detention-facilities/28197395

Posted by WCVB Channel 5 Boston on Wednesday, June 26, 2019
Wayfair cofounders Steve Conine and Niraj Shah announced to employees Wednesday morning that they would be donating $100,000 to the Red Cross in response to the concerns about the border crisis, in addition to their support of other humanitarian charities. However, walkout organizers were not satisfied and have demanded that profits from the detention facility sales (said to be roughly $86,000) be donated to the Texas immigrant legal services nonprofit RAICES.
.@Wayfair stated in an email today that they will be making a donation of $100k to the @RedCross. This is great news! And proof that Wayfair can & does do good.

However, the Red Cross has nothing to do with these ICE-operated facilities.https://t.co/UehtJibmWF

— wayfairwalkout (@wayfairwalkout) June 26, 2019
Wayfair workers at the rally repeatedly expressed general pride in their employer, but also dismay with actions they felt amounted to support of inhumane policies.
"We hire the best people," Tom Brown, a Wayfair engineer, said Wednesday. "We're looking for the best and the brightest, and those just so happen to be the people who care the most."
"We know that there's injustice in this world, and we're going to do something about it," Brown added.